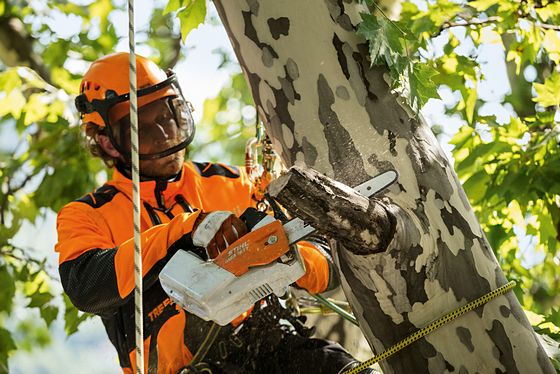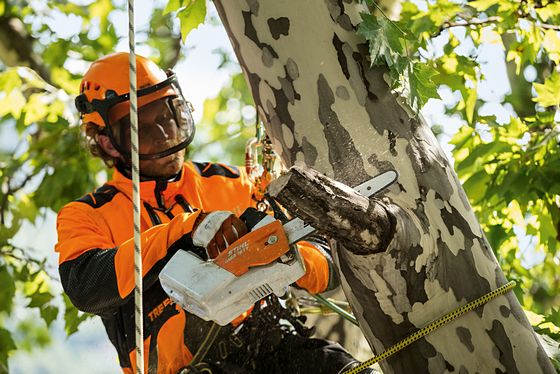 The new MSA 161 T battery-powered arborist chainsaw is available now through STIHL's approved dealers. The new model is an evolution of the MSA 160 T, with a more powerful motor and higher chain speed for quicker working and higher cutting performance. It also has a new trigger mechanism for safer working.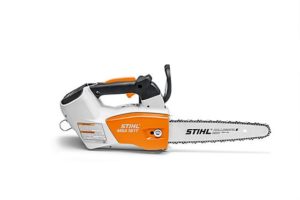 This new lightweight top-handle saw boasts a 40% higher chain speed which is now 16 m/s, and a 15% increase in motor power, making the MSA 161 T ideal for removing deadwood, crown maintenance and light reductions.  Whilst the number of cuts and run time will be the same as the MSA 160 T using STIHL's existing range of AP batteries, the new MSA 161 T will perform these cuts faster. In back to back comparisons in beechwood, the MSA 161 T was achieving a cutting speed of 39 cm²/second (compared to 34 cm²/second with the MSA 160 T).
Designed with comfort, safety and easy handling in mind, the MSA 161 T has a very precise cutting behaviour from the ¼ P chain, which gives a clean, efficient and smooth cut. Plus the operating system has been enhanced with a sidelock for added safety and extended interlock for more comfortable use.
This battery-powered arborist chainsaw is so quiet you won't need to wear ear defenders. The quietness of the MSA 161 T keeps disruption to an absolute minimum so it is the perfect choice for use in noise-sensitive areas such as schools, community gardens and hospitals. It also allows for easier communication with ground staff.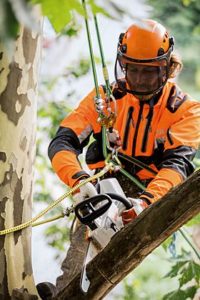 The MSA 161 T arborist chainsaw is part of the STIHL AP System and is powered by STIHL's range of 36V AP batteries, which use an intelligent electronics system. Using the recommended AP 200 battery, the new saw gives you an impressive run time of up to 42 minutes on a single charge. Using STIHL's AP 300 battery, this increases to a 50 minute run time.
The MSA 161 T battery-powered arborist chainsaw is available in STIHL dealers now. For more information, find your nearest STIHL approved dealer now.
Check out a review of the MSA 161T below.