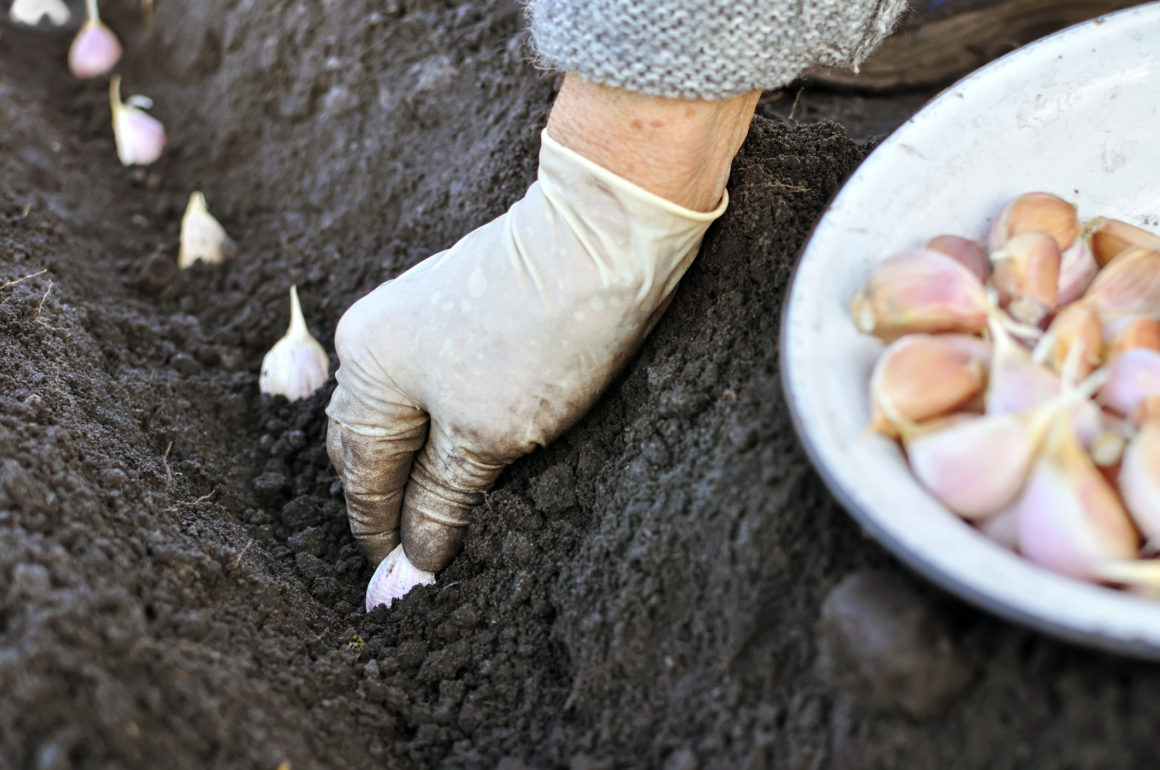 Late autumn sees us attempting to clear a season's worth of weedy devastation from our plot, retrieving the last of our cider apples and cutting down the spent bines from our trusty hop arch. Half of our raised beds will be tucked in for winter with blankets of weed- suppressant fabric, but we'll be prepping the rest so that they are ready to accept some tasty veg that will happily survive the cold winter months.
Here are three of our top autumn vegetable suggestions to plant…
Garlic
When deciding on which garlic variety to thrust into the soil, there are two types to choose from. 'Hardneck' varieties are ones that produce a long edible flower stem (called a 'scape') which you can fry and fling into stir-fries and salads. The 'softneck' varieties won't produce stems, but will keep for longer in your store cupboard.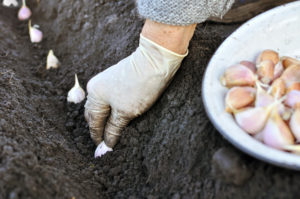 How to plant garlic
Select a sunny position with well-drained soil. If you have the chance, dig some well-rotted manure into your chosen planting site and give it a couple of weeks to settle.
Split the garlic bulb into individual cloves and push into the soil, making sure that they are positioned around 15cm apart. Each garlic clove should be planted just below the surface, with its pointy end facing upwards.
Greedy beaked birds will delight in demolishing emerging garlic, so it's advisable to cover your garlic bulbs with netting after planting.
Keep on top of weeding during the spring, and a sprinkling of 'blood, fish and bone' fertilizer will give them a welcome boost. Your tasty garlic should be ready to lift around June or July.
Three top varieties to look out for
Extra Early Wight (Hardneck)
This white-skinned garlic is one of the quickest croppers you can plant. Providing all goes well, you could be chomping this tasty fella as early as late May.
Picardy Wight (Softneck)
A super-strong variety, originating from northern France. Your garlic breath will wilt a sunflower at ten paces.
Germidour (softneck)
An easy to grow, reliable cropper with attractive purple streaked skin. Mild and tasty.
Onions
Growing onions is relatively easy, especially if you plant from onion sets – small onions that are grown from seed, ready for you to push into the soil. The only problem you may encounter is the pesky onion fly who will riddle your crop with maggots given half a chance. Thwart them by planting mint amongst your onion rows which will confuse their nostrils (or at least a fly's equivalent of nostrils).
How to plant onions
Onions – like garlic – prefer a sunny position in well-drained soil. Their beds will also benefit from the introduction of well-rotted manure, but do this a few weeks in advance as suggested above.
Plant your onions in rows, around 30cm apart, leaving about 10cm between bulbs. Push each bulb into the soil, so that you can just see the pointy end sticking out.
Onions are not keen on vegetal competition, so keep on top of weeding duties. They don't require regular watering but give them a sprinkle during prolonged dry spells.
Your onions should be ready to harvest in June or July. Carefully dig them up with a fork, shake off any excess soil and leave them out to dry in the sun for a couple of days before storing.
Three top varieties to look out for
Electric
A handsome, shiny, red-skinned variety with a mild flavour. Just the ticket for a cheese and onion roll.
Golden Shakespeare
A heavy cropping onion with a mild flavour. Stores well.
Autumn Champion
A mild, robust onion. Our favourite for pickling.
Broad Beans
Broad beans are a hardy wintering vegetable but can be damaged by hard frosts. To play safe, you might want to sow the beans under cloches to help them establish. It's also worth covering your beans with fleece if temperatures take a turn for the worst. Blackfly can be a pest, so pinch out the tops after the first flowers have formed pods. This will also encourage more growth. 
Growing broad beans
Sow your beans in rows – 20cm apart – at a depth of about 5cm.
When the beans start to emerge, keep the area free from weeds and keep them well watered.
Most varieties of broad bean will need a bit of support, so build a structure of garden canes and string up which they can grow. Check out our guide to the most cost-effective plant supports for top tips.
Your crops will be ready to pluck when the beans are visible through their transparent pods. Don't leave them too long on the plant, as they can quickly turn unpleasantly tough.
Three top varieties to look out for
Oscar
A small, tasty upright growing variety. Pick the pods before they fill out and treat them like a poor man's mangetout.
Super Aquadulce
A high yield variety that doesn't mind cold snaps. One of our fava-rites… 
Imperial Green Longpod
The clue is in the name – the pods of this tasty bean can grow to an impressive 30cm in length, producing up to nine beans per pod. 
Are there any other vegetables you like to plant in autumn? Let us know in the comments.