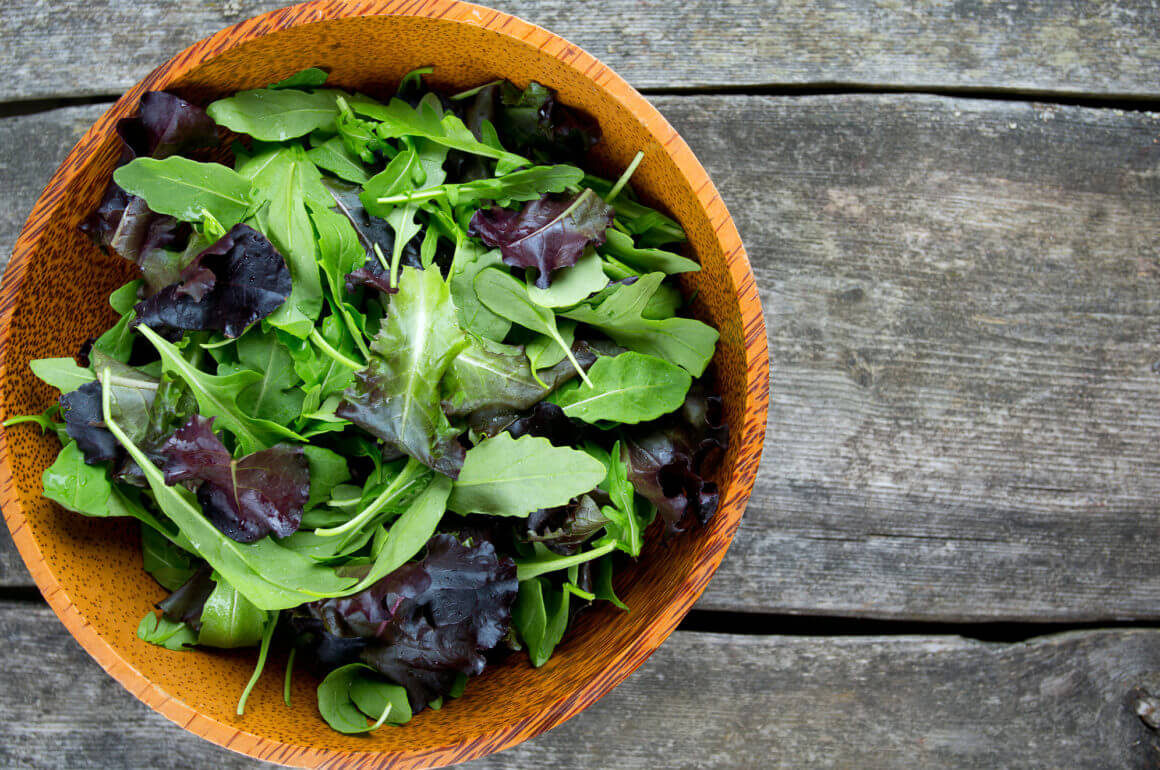 Summer is just about upon us and it's a busy time in the garden and on the allotment. Things start growing quickly, which either need thinning (carrots), tethering (peas), constant watering (everything) or destroying (weeds). But the good news about this period of warmth and rapid growth is that we can start regular sowings of salad leaves – a whole range of green (and sometimes purple) crops that will be ready to harvest in no time to be added to summery meals.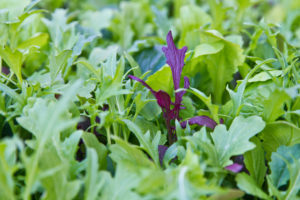 You only need a small amount of space to grow salad leaves and, once they're up, you can continuously pick them for weeks. This constant picking, rather than growing fully formed plants like whole lettuces, is known as 'cut-and-come-again'. We grow salad leaves between rows of other vegetables and in various pots and containers. You can even get a decent amount of leaves bursting over the edge of a small pot by the back door.
To sow, simply sprinkle seeds on top of damp compost and cover with another thin sprinkling of compost, ideally in the sunniest spot you have. As they grow you'll need to thin them out so they're not overcrowded (you can eat the ones you remove) and they'll need regular watering. When the leaves have reached a decent size – from around 8cm long – you can start snipping them off. Leave the base of the plant and you'll get a few more rounds of harvests from them over the subsequent weeks.
What to grow – three of our favourite salad suggestions…
Mixed leaves
Packets of mixed salad leaves have always been popular to grow. Just like those pre-packed salad bags you can find in the supermarket there is a huge range of mixes available based on everything from style (peppery leaves) to colour. Our favourite mix is known as 'mesclun', a traditional French combination of various lettuces and herbs that might include rocket, chervil and endives.
Rocket
The posh peppery leaves of rocket are among the most rampant growers, making them a great choice for salad novices. There are lots of rocket varieties available to try but some of them grow so quickly you'll need to stay on top of cutting them otherwise they'll get tough or turn to seed. Thankfully they store quite well in the fridge.
Mizuna
Another leaf that can be described as 'peppery', mizuna is great because it's less bothered about hot sun than other salads, so it has a longer outdoor growing season and can even be grown in the greenhouse or a polytunnel when it's nippy outside.
…and three more unusual salads
If you're getting into the swing of this salad thing, then here are some more plants you might like to try.
Nasturtium
A favourite flower for kids to grow, the nasturtium is an edible plant that can be used in the kitchen. The leaves are every bit as good as other peppery salads and you can even eat the colourful flowers.
Dandelion
Young leaves of the dandelion make an excellent addition to a mixed salad, providing a touch of bitterness to your meal. They're so good that some mesclun mixes (see above) include them as one of the ingredients.
Carrot and beetroot tops
If you're growing these rooty treats then don't ignore the tops – both are great in salads. Carrot leaves can be chopped up and sprinkled like herbs while young beetroot leaves can be used whole. Both of them are not only tasty but look great too.
Have you tried growing salad leaves in your garden before? Tell us about your summer salad successes in the comments!