Regular cleaning and lubrication is key for prolonging the life of your STIHL machine. We're making it even easier for you to do that now, with our new STIHL FS and HS Care Kits. These handy care & clean kits include the cleaning agents and lubricants required to keep your STIHL hedge trimmers or brushcutters in tip-top condition.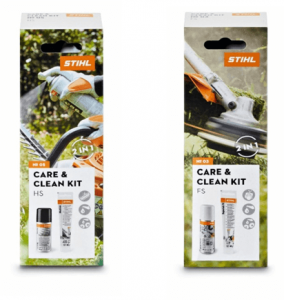 HS Care Kit for STIHL Hedge Trimmers
Our STIHL HS Care and Clean Kit contains a 50ml can of STIHL Superclean, a dual action spray suitable for lubricating hedge trimmer blades and preventing the build-up of resin. But why is preventing resin build up so important?
Resin from hedge cuttings is a sticky organic substance that can build up on hedge trimmer blades over time, especially in spring when cutting back new growth. When left on the blades, the resin hardens and prevents the blades from passing smoothly over one another. This can cause the blades to shred the material, like a loose pair of scissors; and in extreme cases the extra friction can cause running issues and heat build-up for both cordless and petrol hedge trimmers.
Using STIHL Superclean before and after every use prevents resin build-up, and will keep the blades in excellent condition for years to come. After using the hedge trimmer, make sure the blades are separated before spraying sparingly on both sides. Then just run the hedge trimmer for a few seconds to thoroughly work the solvent between the blades for maximum coverage. It's important that Superclean is used little and often – one spray won't be enough to rectify years of neglect!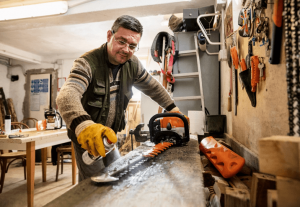 Also included in the HS Care and Clean Kit is a 40g tube of STIHL Multi-lube, our gearbox grease for all STIHL hedge trimmers. The viscosity and heat rating of Multi-lube is specifically designed for the slower RPM of hedge trimmers, and shouldn't be confused with FS Super lube (the tubes look similar), however STIHL FS Super lube operates best at a higher RPM).  All new hedge trimmers will already have grease included, but we recommend adding more grease after 25 hours of use. For guidance on adding grease to your specific hedge trimmer model, always refer to the Instruction manual. You can find instruction manuals for all STIHL tools here.
It isn't easy to track 25 hours of use, especially for tools you might not use very often. STIHL Connected is the perfect solution for keeping on top of machine maintenance, as the STIHL Smart Connector accurately records usage time and syncs this information to your phone via the STIHL Connected App. Not only will you be prompted to complete key maintenance tasks at the optimum time such as greasing the gearbox, you'll also be able to contact your nearest dealer seamlessly through the app to book in a service.
FS Care Kit for STIHL Grass Trimmers
For STIHL cordless or petrol grass trimmers or brushcutters, our FS Care and Clean Kits contain a 50ml can of STIHL Multispray, and a 40g tube of FS Super lube gear lubricant. Multispray is ideal for removing dried grass that can build up at the base of the shaft over time, as well as protecting metal cutting attachments from rust and corrosion. Due to its low viscosity, it also acts as an excellent penetrating oil and can help free rusted parts, and loosen nuts (such as the collar nut used to secure metal cutting attachments). STIHL Multispray has a multitude of uses across plenty of machines, and is a handy and versatile accessory to have around. For hedge trimmer blades however we'd still recommend using Superclean, as although Multispray is a lubricant, it does not have the ability to remove resin.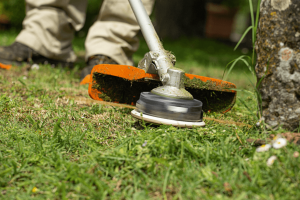 Not all STIHL grass trimmers require gear grease – for example our bent shaft models such as the STIHL FS 38 do not have a gearbox. Other grass trimmer models are maintenance free and require no re-lubrication – if your gearbox has no screw plug, this could be you! If however your gearbox does include a screw plug, check the grease level after every 25 hours of operation. If no grease can be seen on the inside of the screw plug, screw the FS Super lube into the hole and squeeze no more than 5g into the gearbox. As always, check your instruction manual for specific instructions for your model.
Our FS and HS care and clean kits are really handy for making sure that your tools are in great condition at all times. Get yours from your nearest STIHL Approved Dealer now.