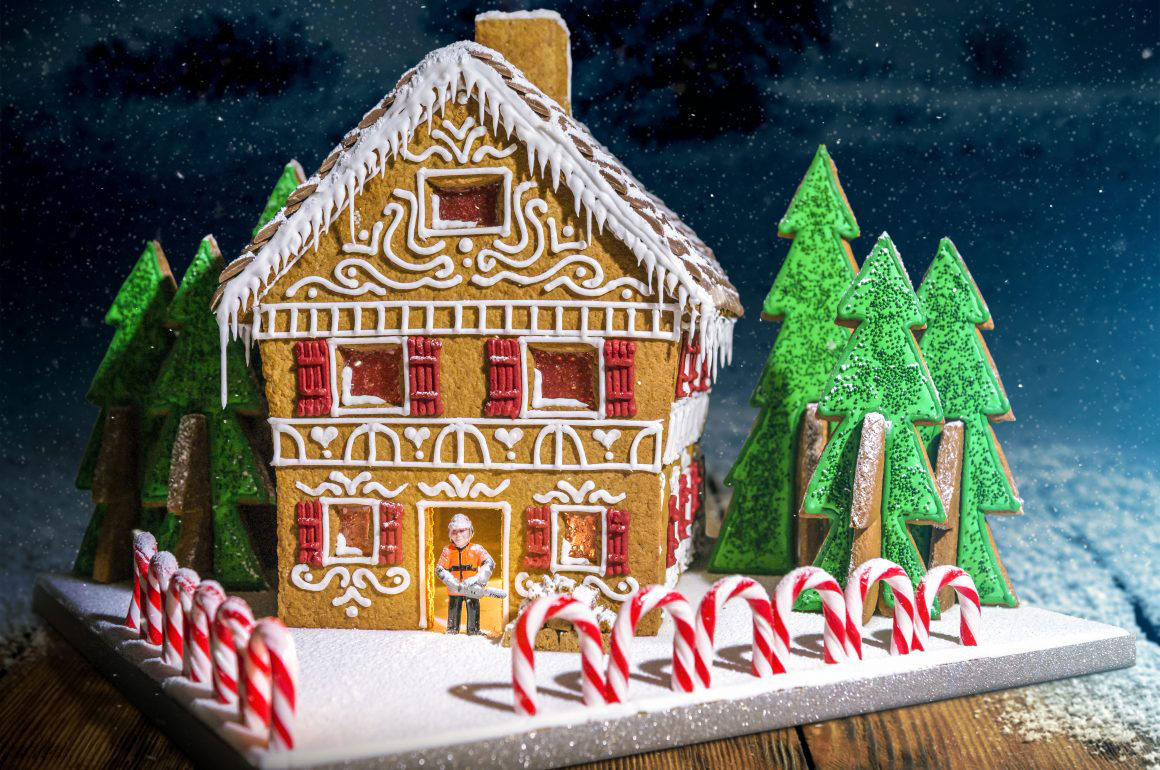 STIHL and Lumber Jack were lucky enough to spend a day in the kitchen with Great British Bake Off star, builder, baker and STIHL Fan, Richard Burr. He's shared with us his delicious gingerbread recipe and instructions on how you can make your very own gingerbread house in the woods!
'As a builder and baker, gingerbread houses are unsurprisingly one of my favourite things to make. I've been making a gingerbread house for Christmas every year since I became a Dad and I used pictures of past houses in my application form to be on the Great British Bake Off. My gingerbread recipe earned me my first 'Star Baker' award when I was on the Bake Off so I'm happy to share it with as many people as possible.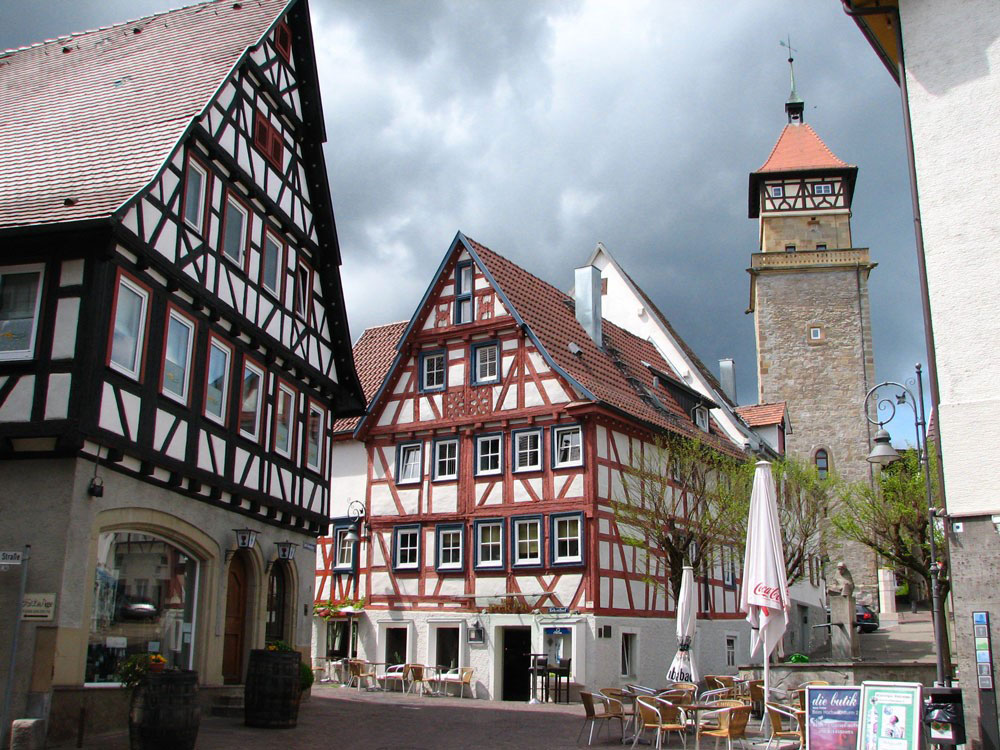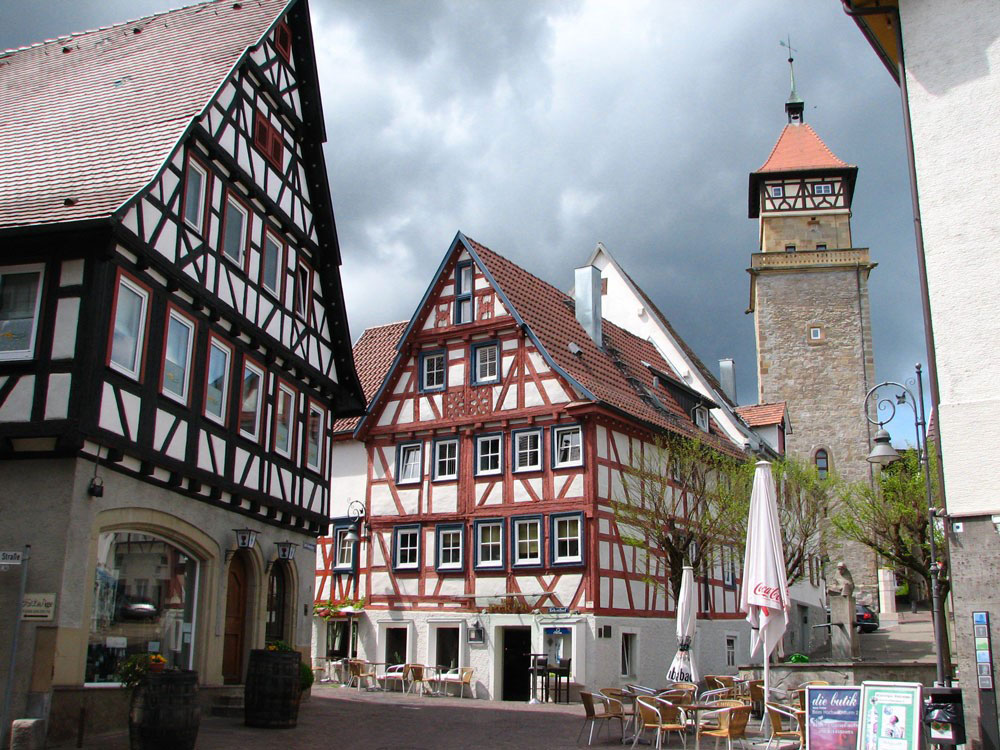 This year I made a house in the woods with Lumber Jack, STIHL's mascot, giving him a well-stocked forest for firewood at Christmas. STIHL, the world's bestselling chainsaw brand, was founded 90 years ago and is based in Waiblingen, near Stuttgart in Germany. I've been a STIHL customer for years and recently made them a chainsaw cake, so it was great to work with them again on something more festive. I took the distinctive architecture of Waiblingen (see above) as the inspiration for this house.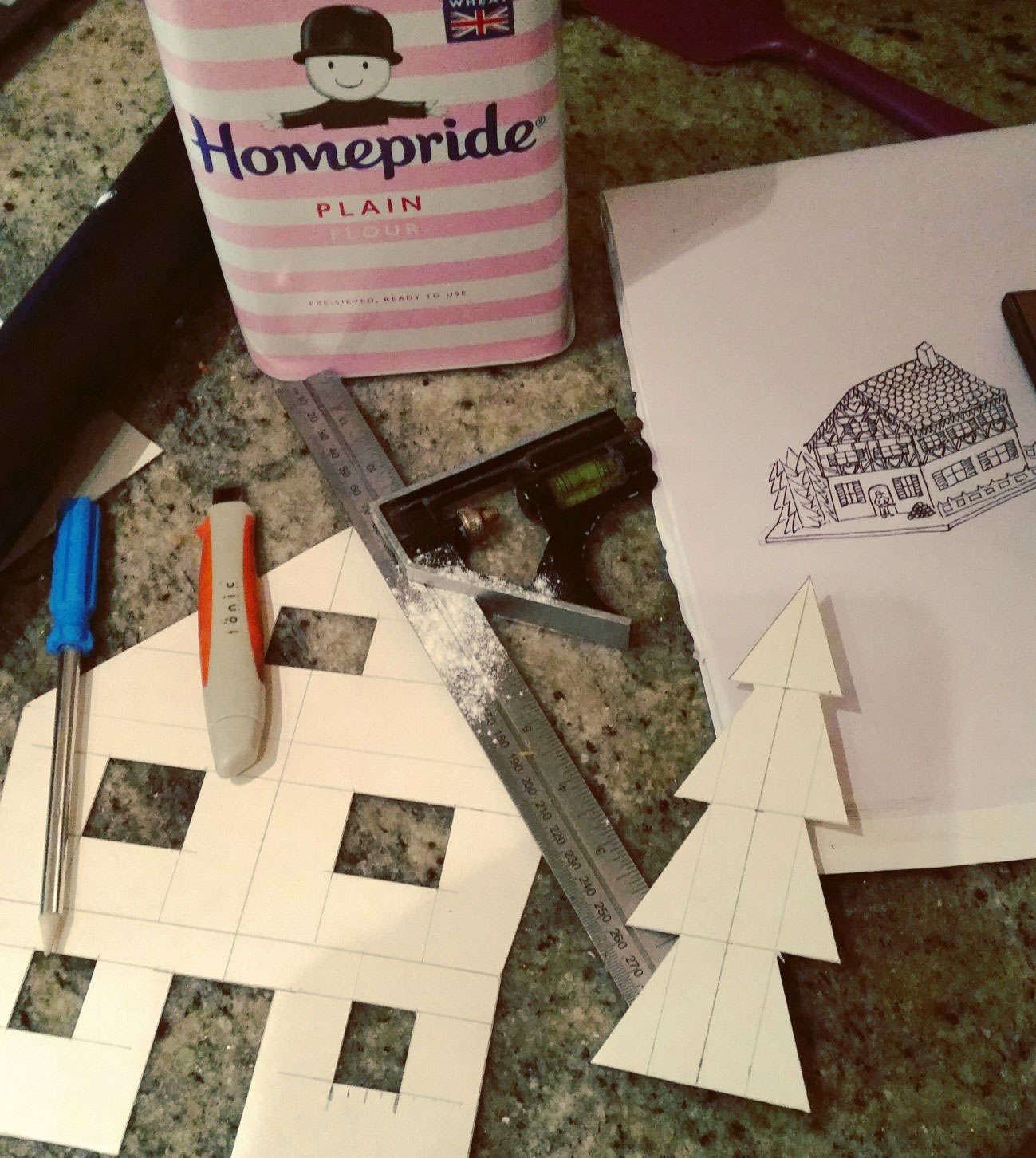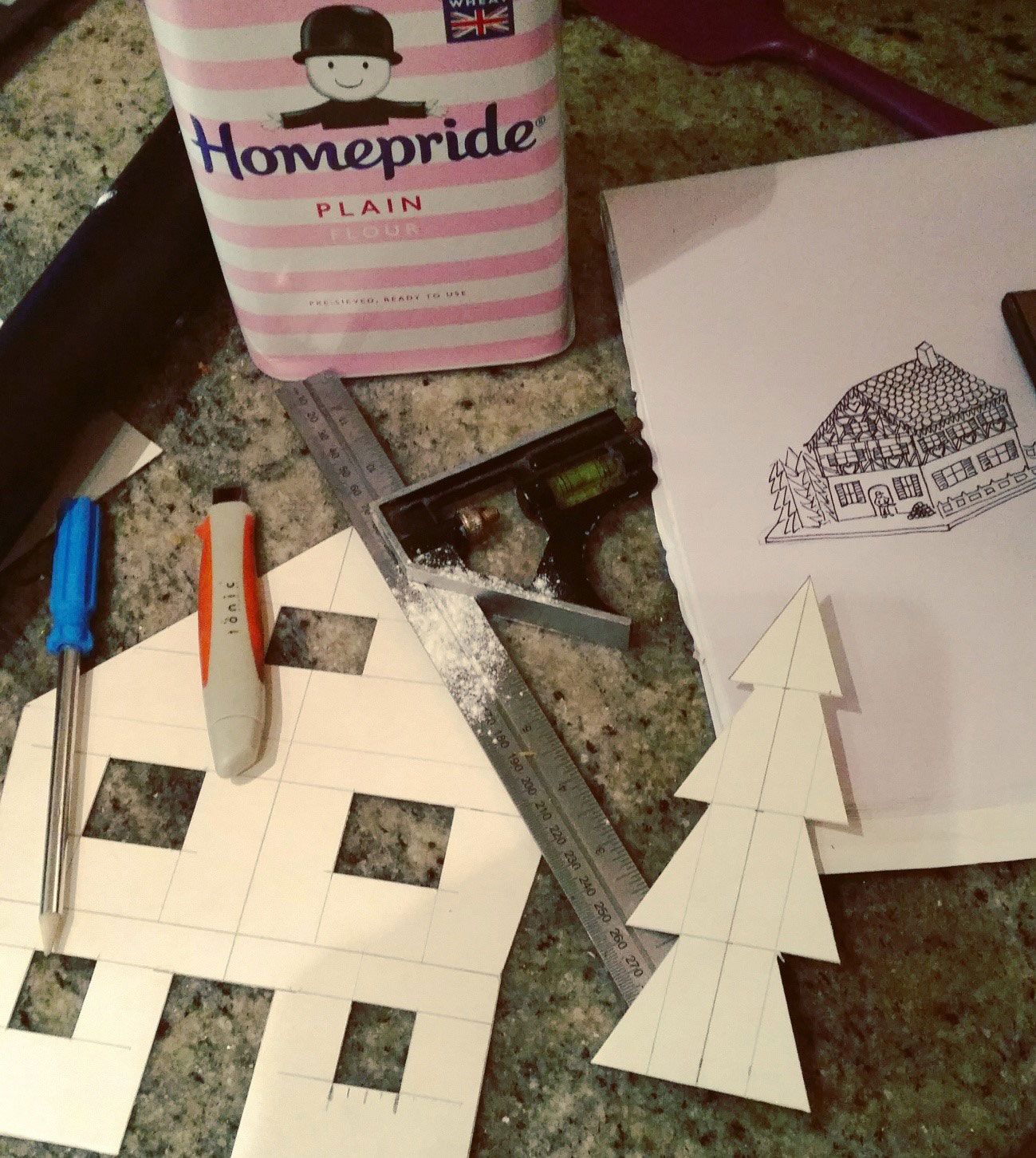 I always draw a quick sketch of what I'm going to make before I start to give me a steer for my templates. I don't stick too rigidly to the plan but I want an overall idea of how big it's going to be so I know how much gingerbread to make up. For this house, I wanted it to be proportional in size to Lumber Jack so I scaled it up from him, making sure he could fit through the doorway. It really is worth taking your time over the templates and "measure twice, cut once" as my Grandad always used to say. I use empty cereal boxes to make them and a craft knife to cut out the windows. The most important thing to get right is the size of the roof. The cooked gingerbread is about 1cm thick, so the roof panels need to be long enough to cover the length of the sides, plus 1cm at each end for where the back and front butt-up to the sides, plus a little extra to overhang the front and back.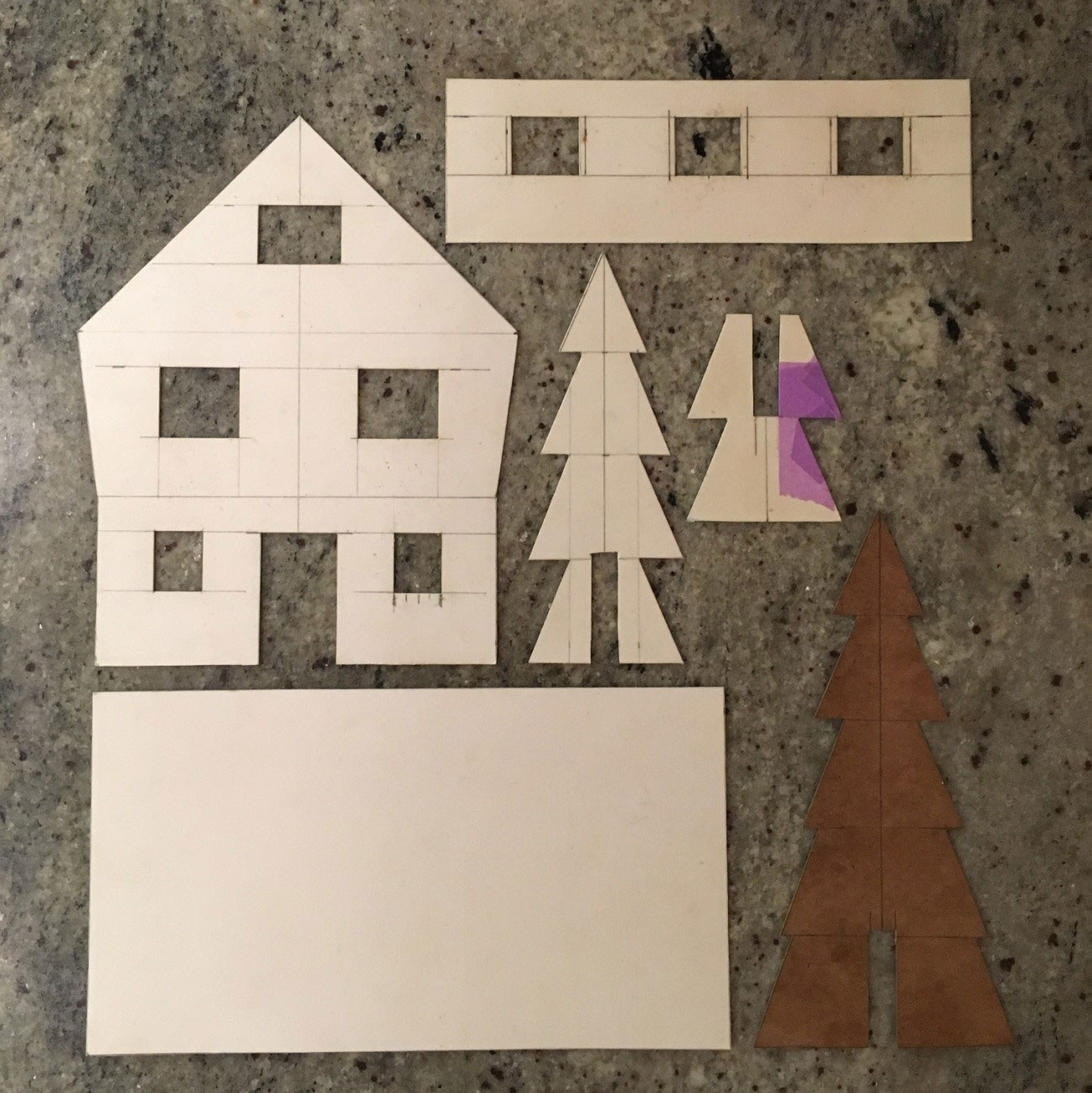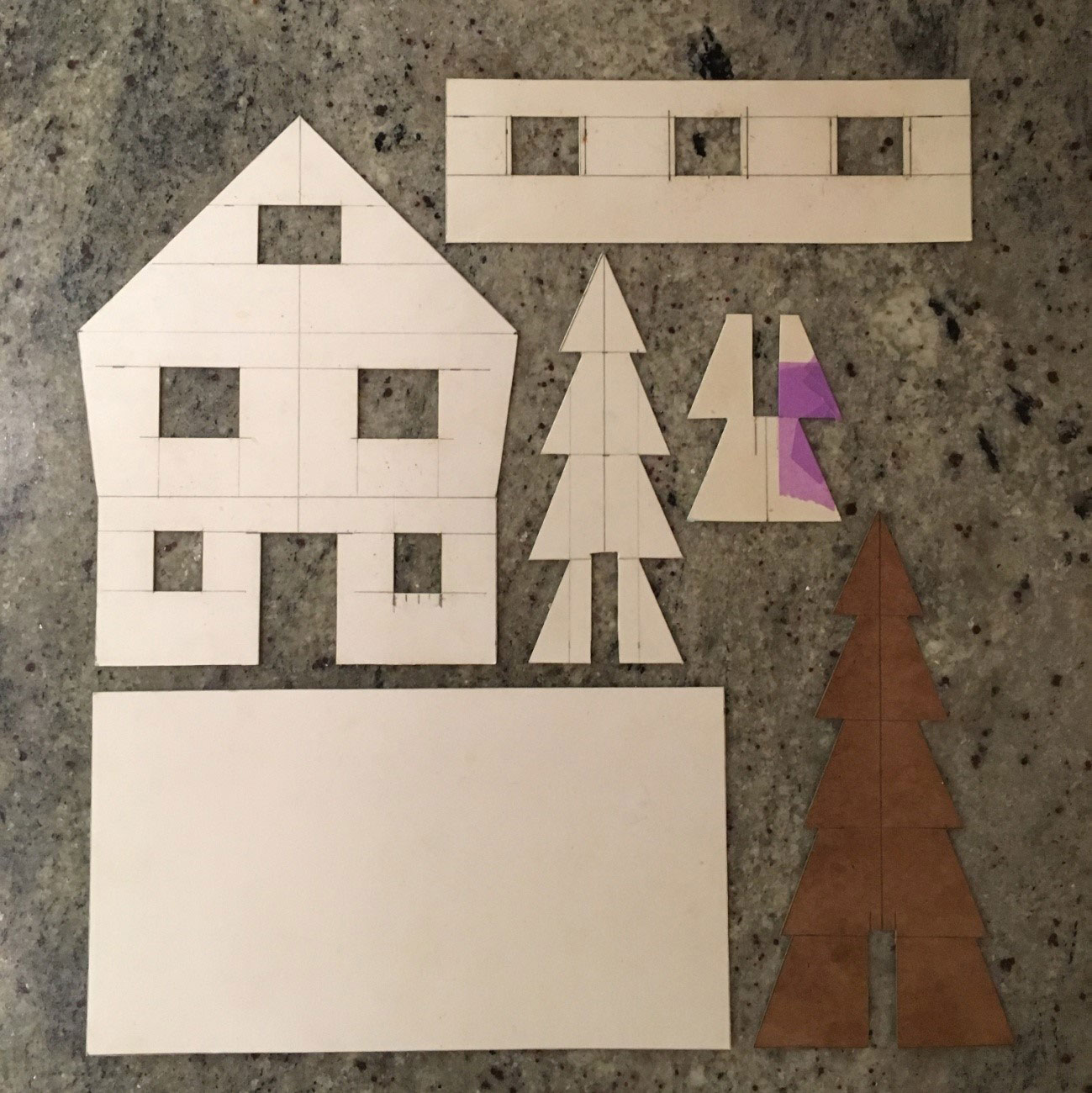 The front and back panel templates for this house were 24cm high, 17cm wide at the base and 19cm wide at the widest point where the roof starts. The sides were made-up of four identical pieces of 23 x 7cm, with three windows in each piece. I made them as four separate pieces rather than two so that the upper pieces could tilt outwards slightly, as per the angle on the front and back templates. The roof was two pieces of 27 x 15cm. I made two different heights of trees – 23cm and 18cm – and used the same sized 9cm high bases for the trees.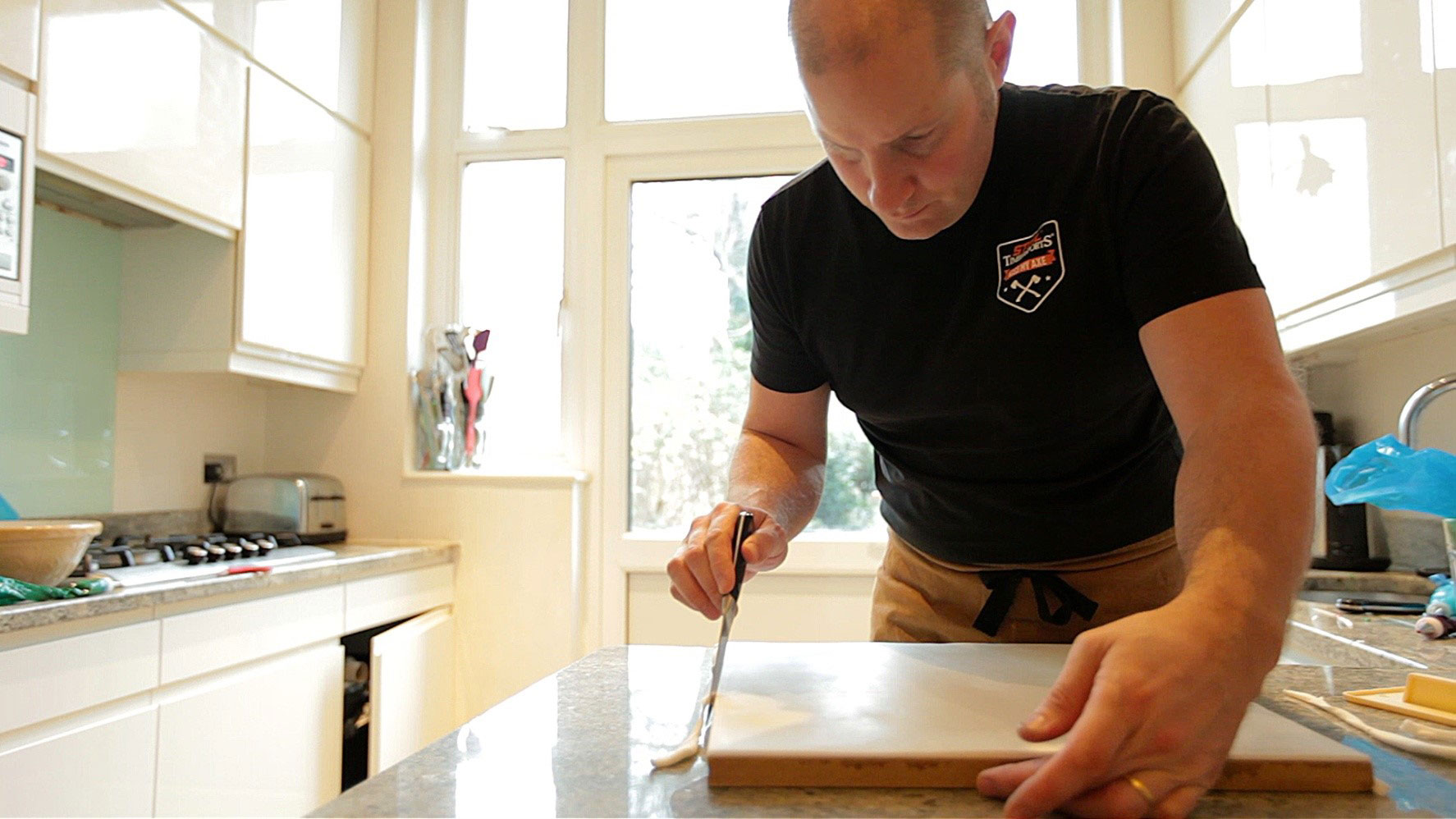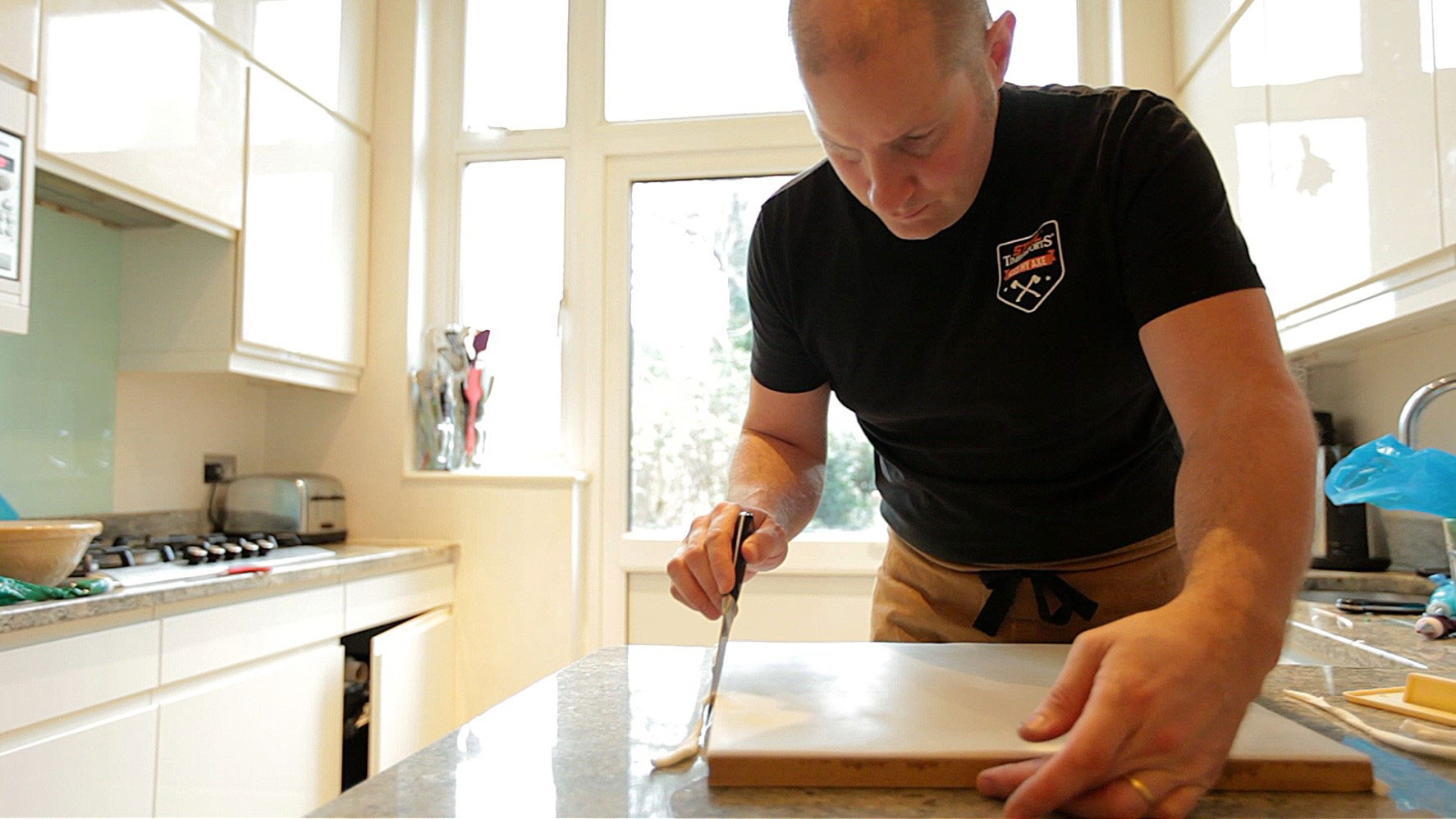 The other thing that's important to think about is a suitable base for your house, as you don't want to go to all this trouble and then have it sitting on an old tea tray covered in tin foil. You can buy large cake boards from baking suppliers or shops like Hobbycraft for just a few quid. But as a builder, I always have a ready supply of MDF in my garage so for this house I cut a 45cm2 piece of wood and varnished it for a clean surface. I then rolled out ready-made white fondant to cover the board with 'snow', trimmed the edges and lined the edge of the board with gold washi tape. I make a lot of cakes and usually cover cake boards with fondant. I then have a stash of different coloured washi tapes for the edges as I find that much easier than using ribbon and double-sided tape and it gives the board a more 'finished' look. I get my washi tape from Poundland, Ikea or Hobbycraft.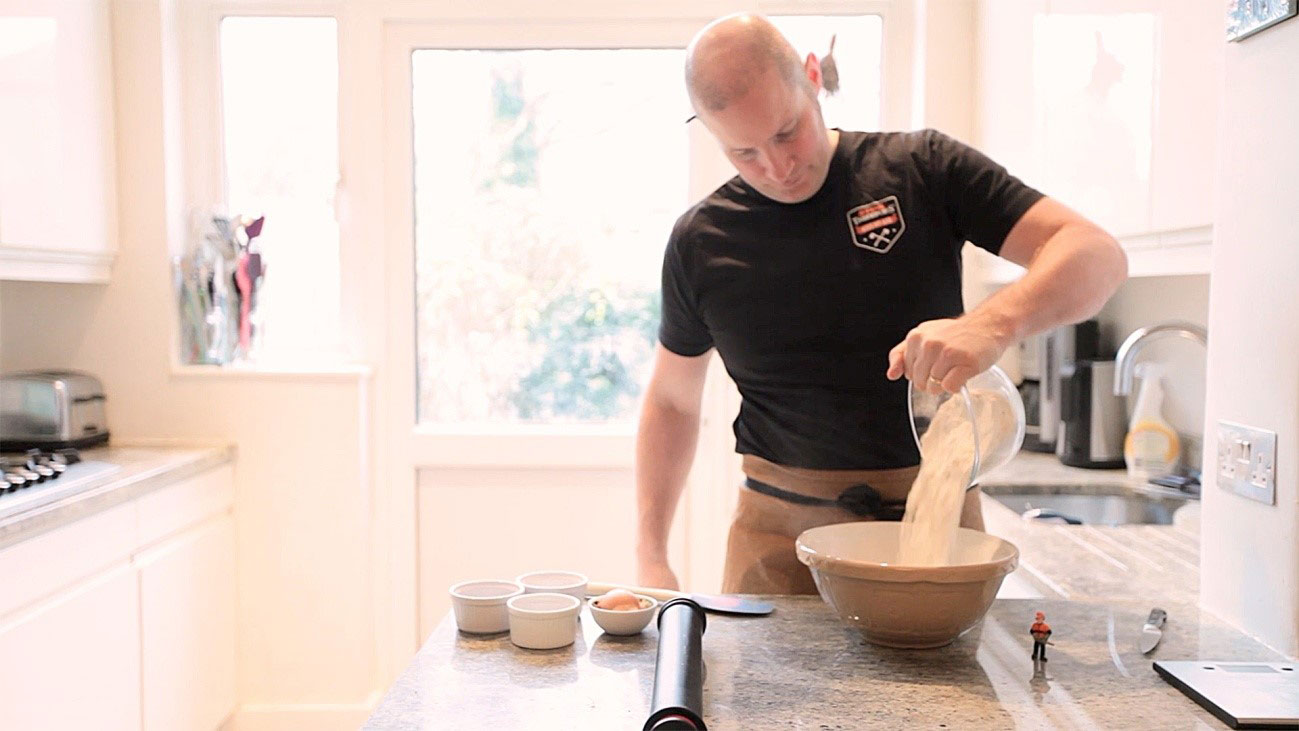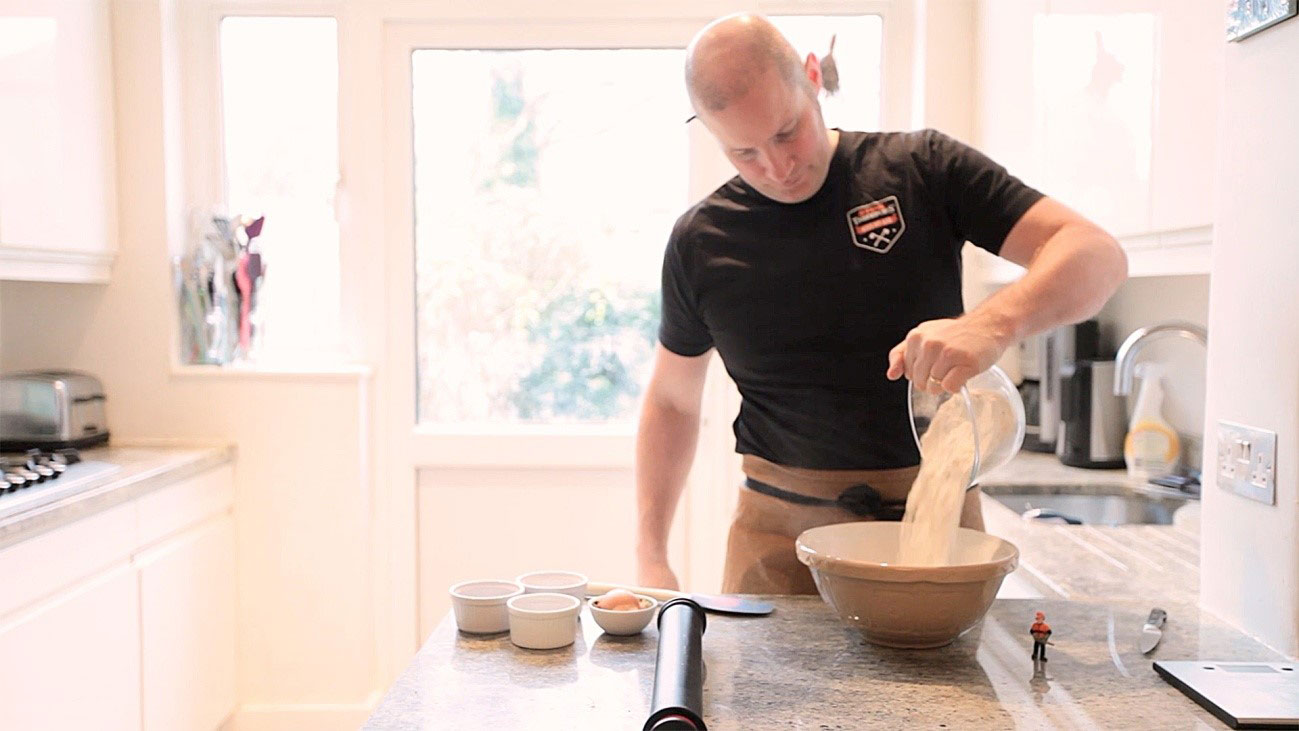 So now that you have your plan, your templates and your base, it's time to make your gingerbread. Before you get started, check out this video of Lumber Jack and me making our house here. For this house, I made four batches of the gingerbread recipe below. It's time consuming to make four batches, but if you don't make each batch fresh, the dough will cool down and become too difficult to work with.
Gingerbread House Ingredients
For the gingerbread (these are the ingredients per batch – four batches are required so multiply these ingredients by four for your total shopping list)
• 450g plain flour, plus more to dust
• 2.5tsp ground ginger
• 1tsp mixed spice
• 2tsp bicarbonate of soda
• 115g unsalted butter
• 100g golden syrup
• 115g light brown muscovado sugar
• 1 large egg
• Boiled sweets (I used Cherry Drops)
For the royal icing and decoration
• 6 large egg whites / 12 tbsp Two Chicks liquid egg white
• 2 tbsp lemon juice
• 1kg icing sugar
• Red gel food colouring
• Green gel food colouring
• Green sprinkles
• Around 300g milk chocolate buttons (but buy plenty as people always pinch them)
• Around 12 candy canes
• 500g white fondant for the base
Method
1. Preheat the oven to 170°C / fan 15o°C / Gas Mark 3½ and line two baking sheets or trays with baking parchment
2. Sift the flour, spices and bicarbonate of soda into a bowl and mix thoroughly with a wooden spoon or silicone spatula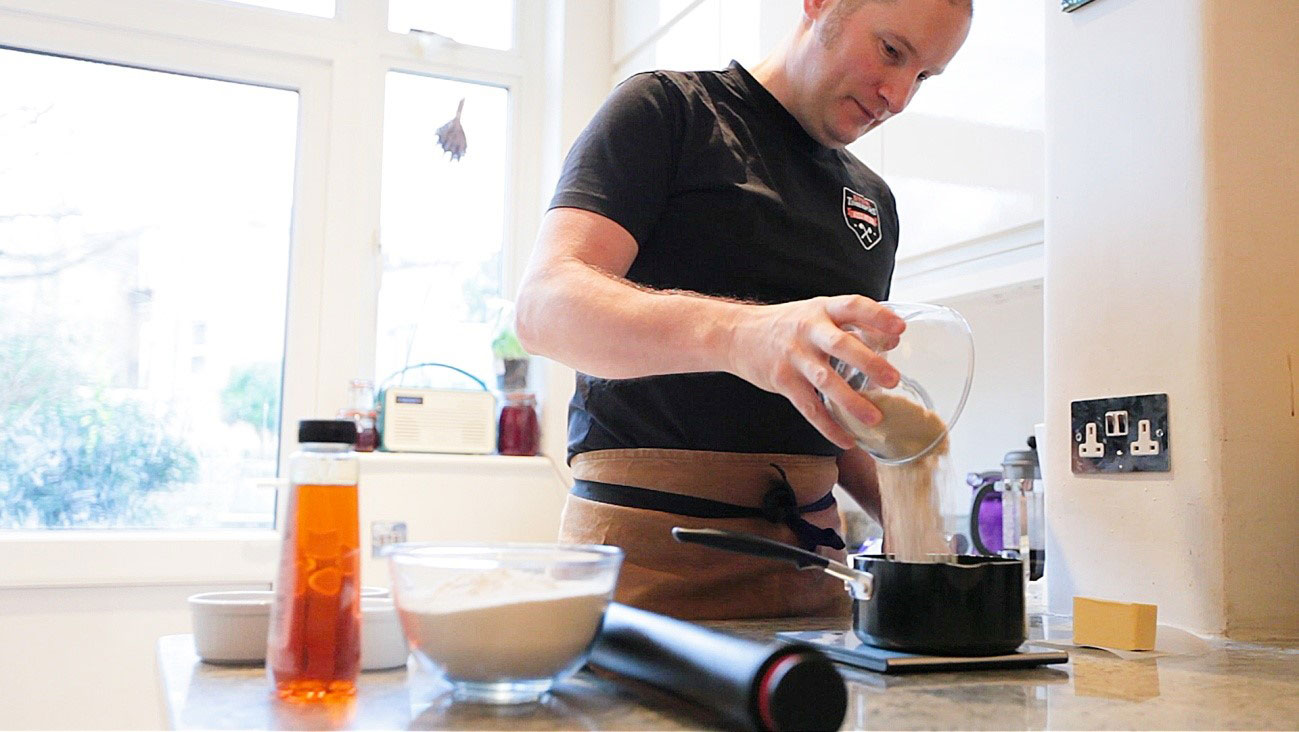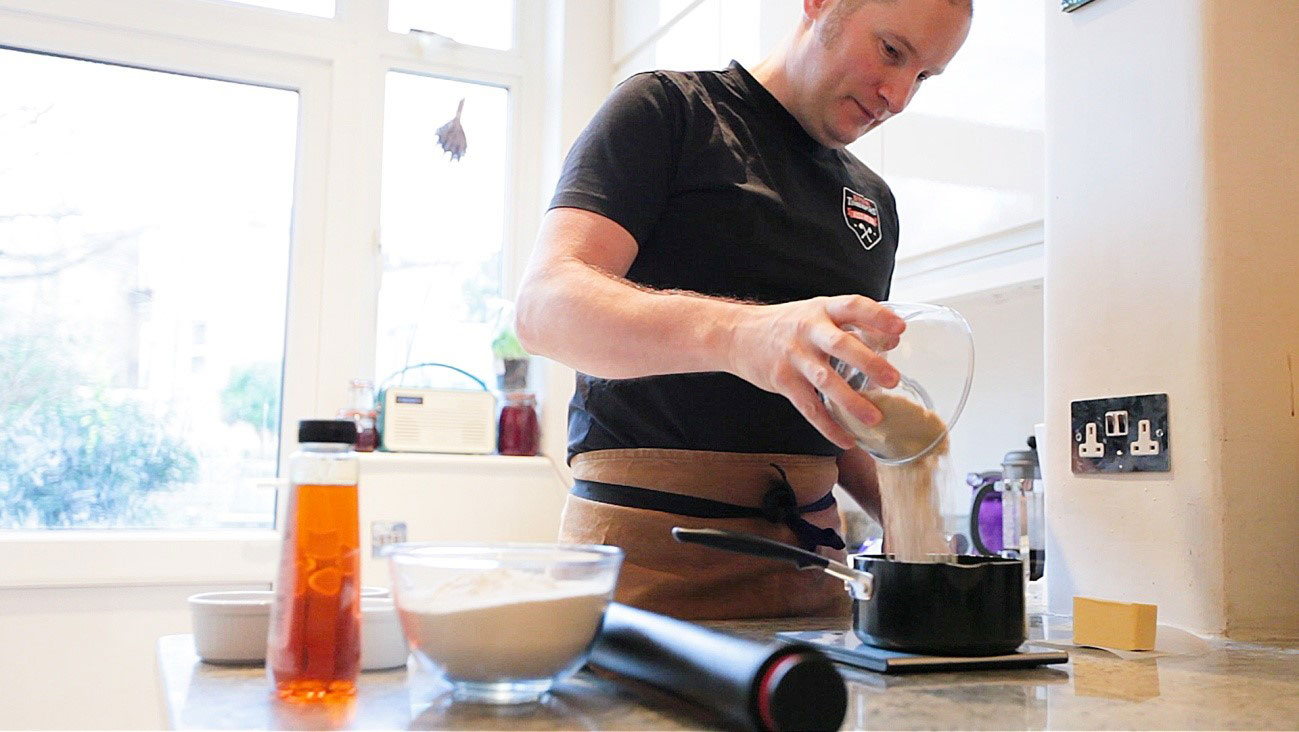 3. Melt the butter, syrup and sugar in a saucepan over a low heat. To get an accurate measure of golden syrup, I place the saucepan onto my scales and measure how much syrup I'm pouring in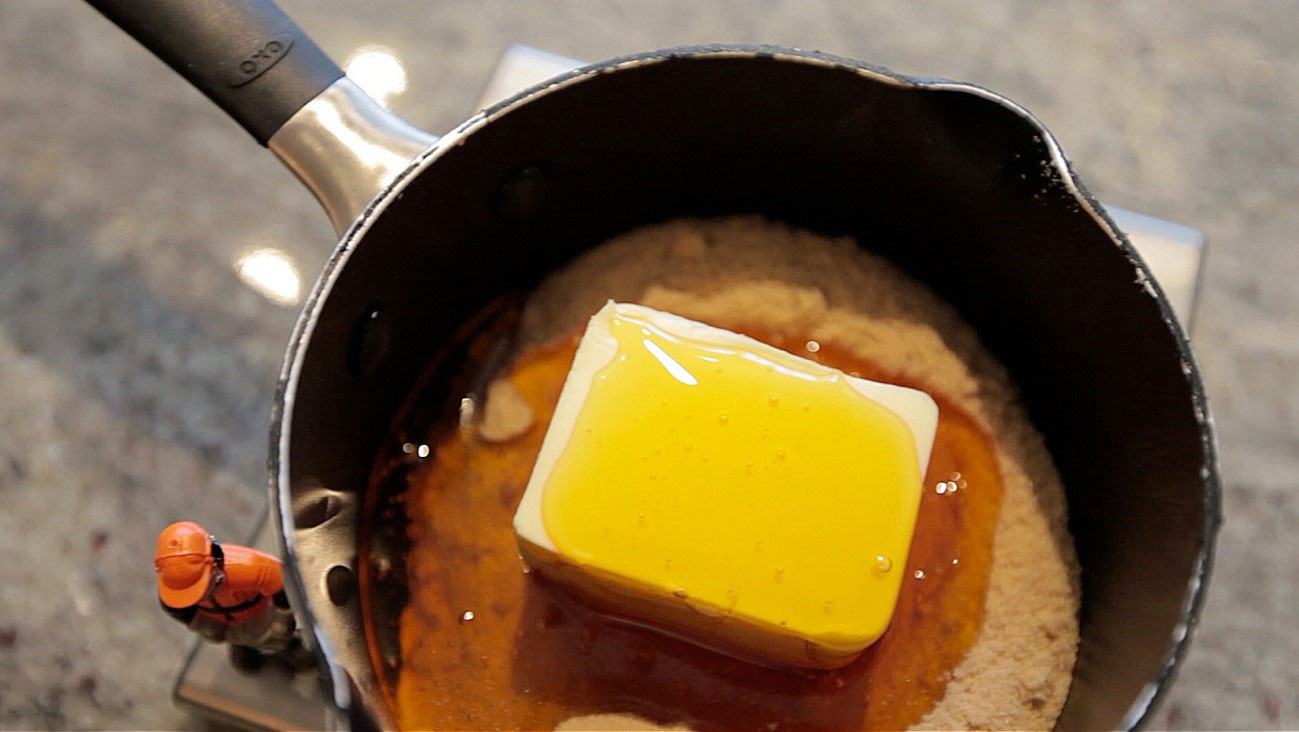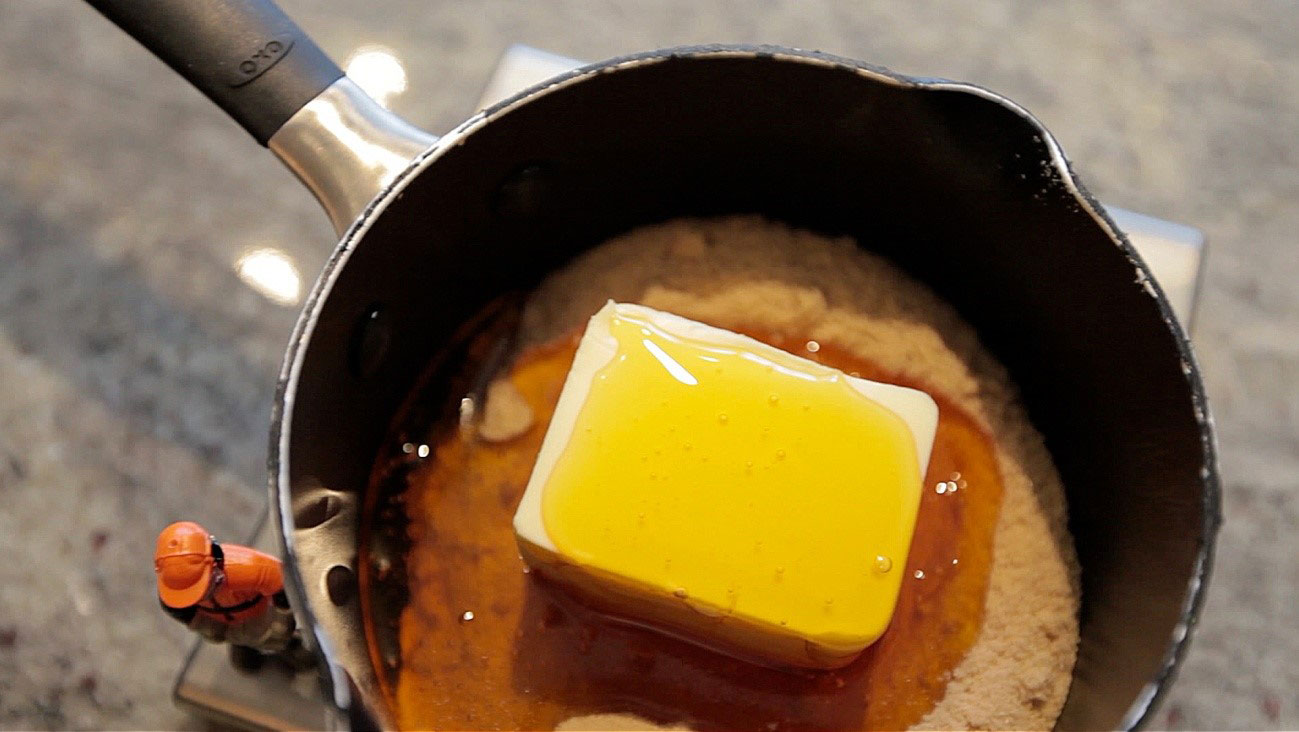 4. Once the wet ingredients have melted together, pour it into the bowl with the flour and mix with a spoon / spatula for about 30 seconds to distribute the heat. This doesn't have to be fully mixed, it's just to make sure the egg doesn't cook in the hot sugar. Break in an egg and continue mixing until fully combined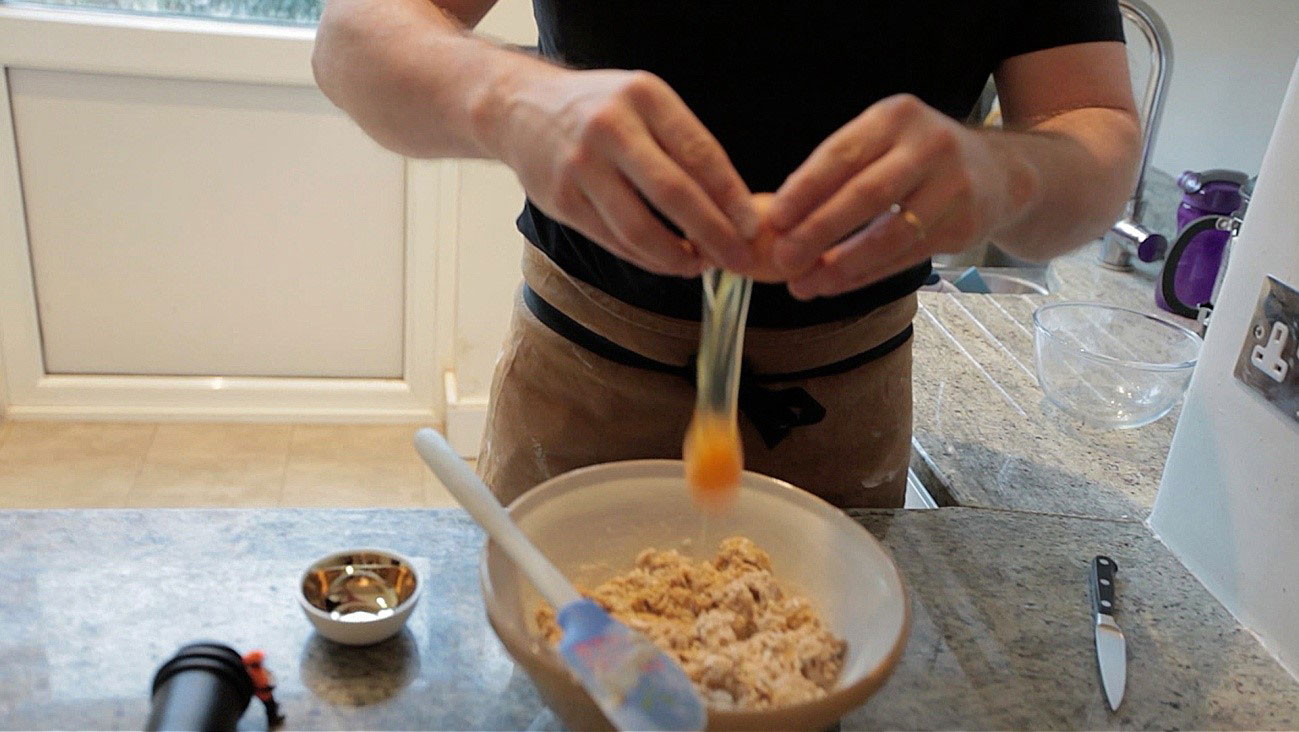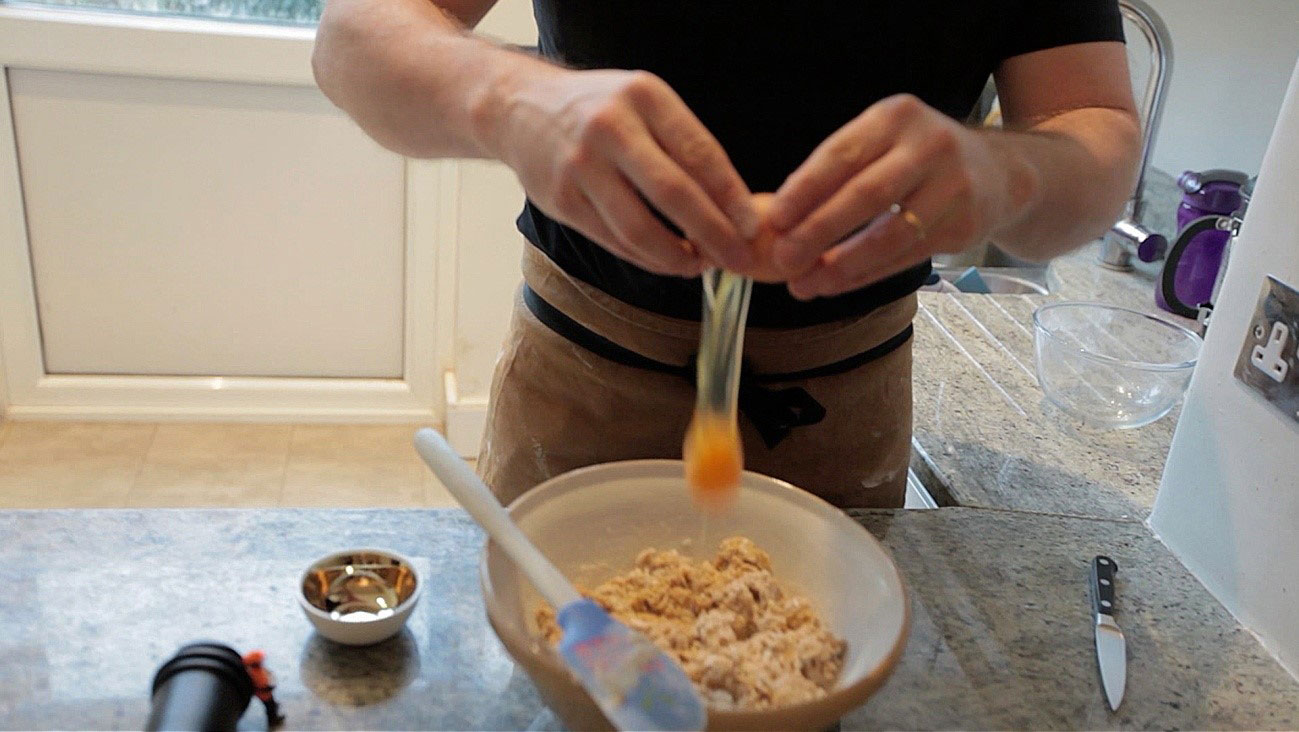 5. Tear off about a third of the dough and roll out onto a floured surface to about 3mm thick – about the thickness of a pound coin. Lay your templates on the dough and use a sharp knife to cut out as many as possible from the dough – rerolling the scraps as necessary. In total, you will need a front, a back, four side pieces, two roof pieces, and as many trees as you like – but make sure you have a base for each of the trees. You won't get all of the pieces from the first batch of dough but that's why you're making four batches in total. I didn't make a template for my chimney as you need to see the angles of your roof before you make this. You'll need four small pieces for the chimney but make this in your final batch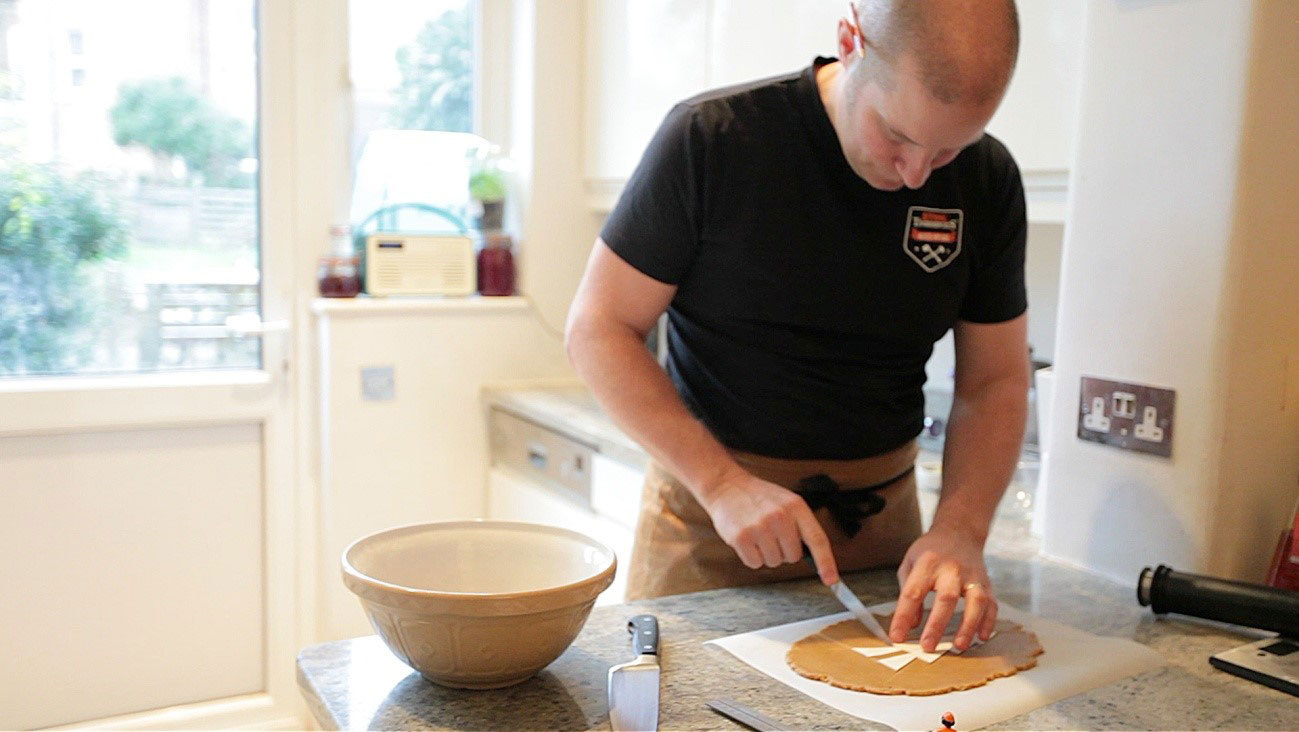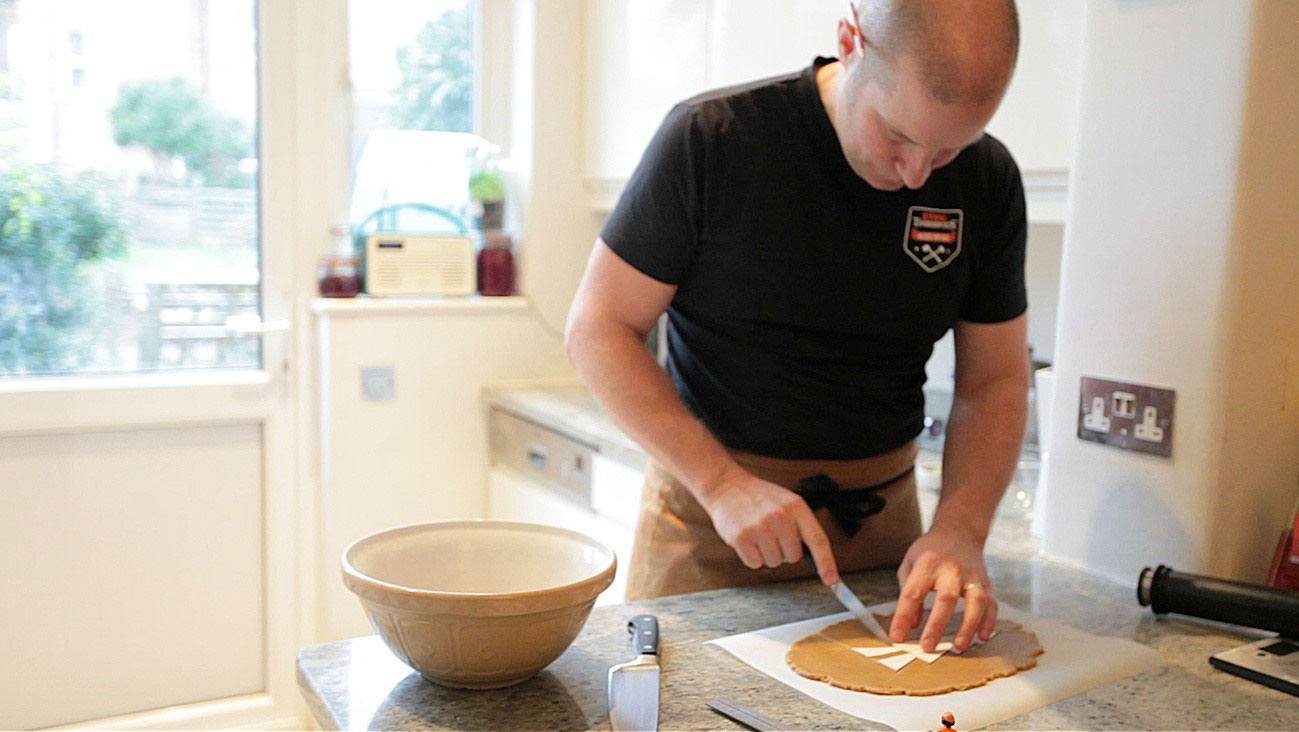 6. For the windows, put a packet of Cherry Drops (or around eight boiled sweets of the same colour) into a food processor and blitz them down to a dust. The food processor must be absolutely dry or you'll end up with a sticky mess. If you don't have a food processor, put the sweets into a freezer bag and bash with a rolling pin.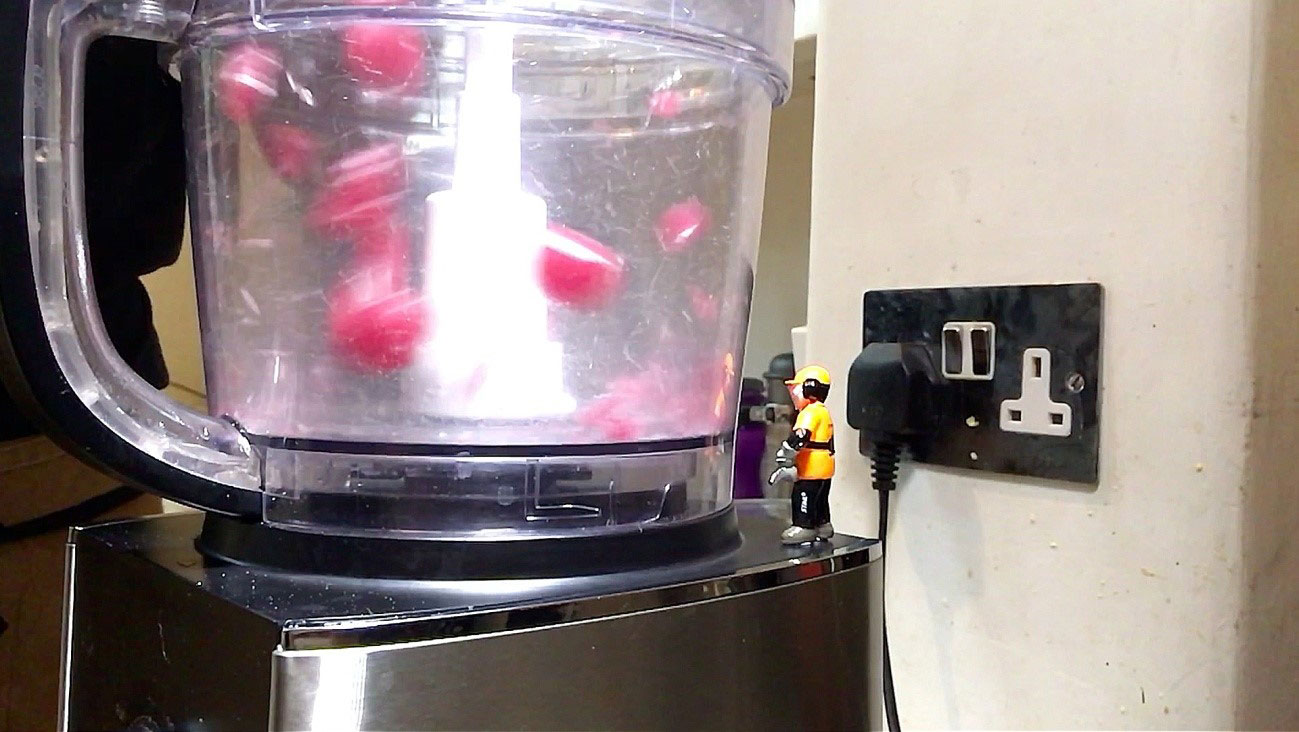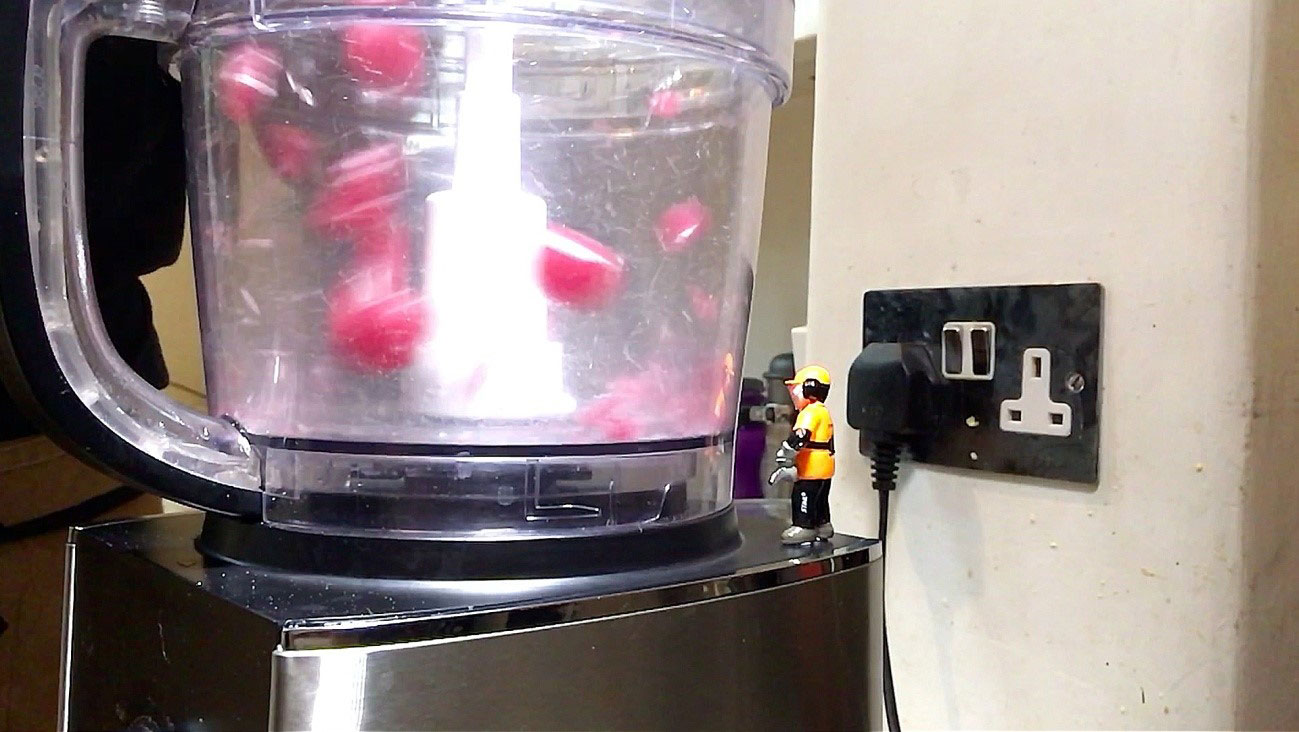 7. Put 1tsp of coloured sugar dust into each window hole – it's easier to do this while the templates are still on top of the gingerbread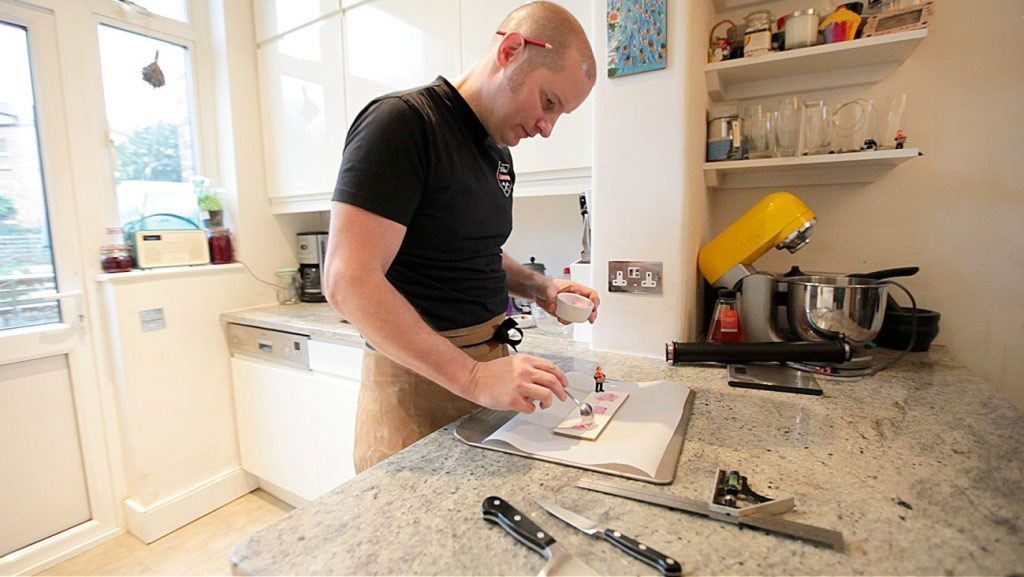 8. Bake your two trays of gingerbread for 10 minutes. Next is the important step that will make your gingerbread look really special! After 10 minutes, take out your gingerbread, lay your templates back onto the gingerbread and cut off any edges that have warped during cooking. This can be quite fiddly for the trees and their stands but you only really need to shape the interlocking parts and can always saw away at them with a serrated knife if you still need to make adjustments when they're done. Return the trays to the oven and bake for another 10 minutes to fully cook, then take them out and leave them to cool for 10 minutes before carefully taking them off their baking sheets / trays. You'll need to gently peel the windows from the baking parchment as it can be quite sticky.
9. Repeat the steps above until you have made all of your gingerbread pieces and left them to cool. You might want to assemble your house before making your final gingerbread batch so that you can measure a chimney to fit.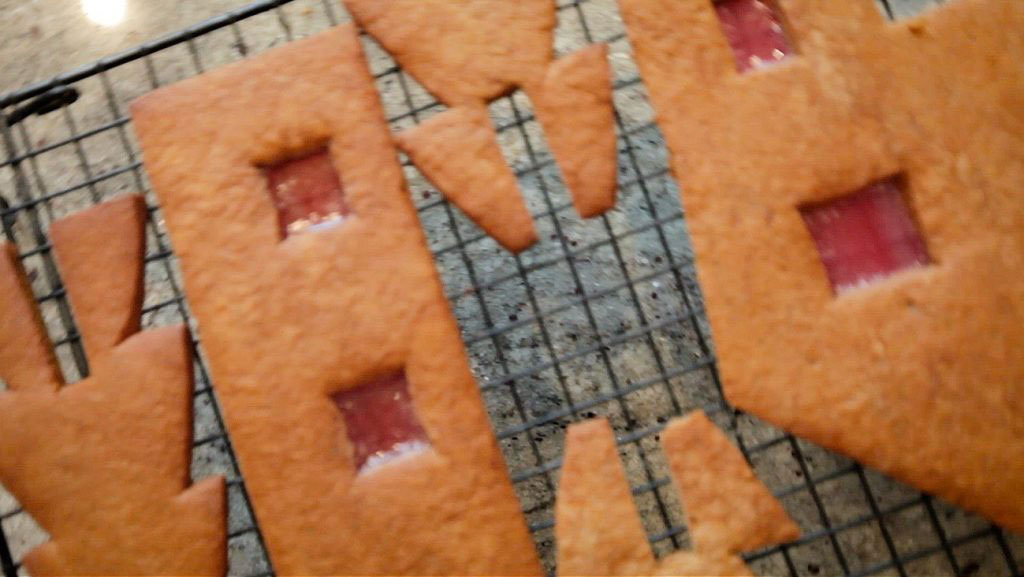 10. Another top tip for making gingerbread – I like to ice and decorate my pieces before assembling the house. Mix up the royal icing in a large bowl (or make two batches if your bowl isn't big enough). Mix the egg whites and lemon juice together then gradually beat-in the icing sugar with an electric whisk on a slow speed. Once the sugar is incorporated, turn your whisk up to full speed and beat until the icing becomes firmer. Transfer around 1/3 of this to a separate bowl and dye green with gel food colouring. Take a smaller amount of the white royal icing out and dye red with gel food colouring in another bowl. Load your white, red and green icings into separate piping bags fitted with 3mm nozzles. If you only have one nozzle this size (most people do!), pipe the colours one at a time.
11. Use the green icing to edge your trees (but not the tree stands – leave these plain).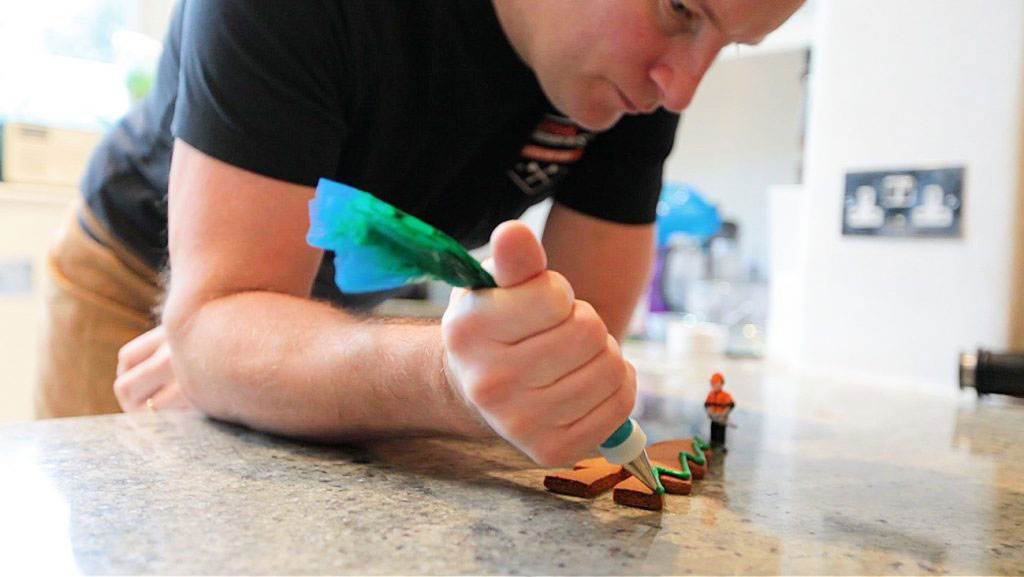 12. Put the remaining green icing back into a bowl and add a tiny bit more lemon juice to loosen the mixture a little. Flood the green outline of your biscuits with green icing, remembering to leave blank the section where the tree stand will slot into, as below. Before the green icing sets, sprinkle with green sprinkles or add other sweets to decorate.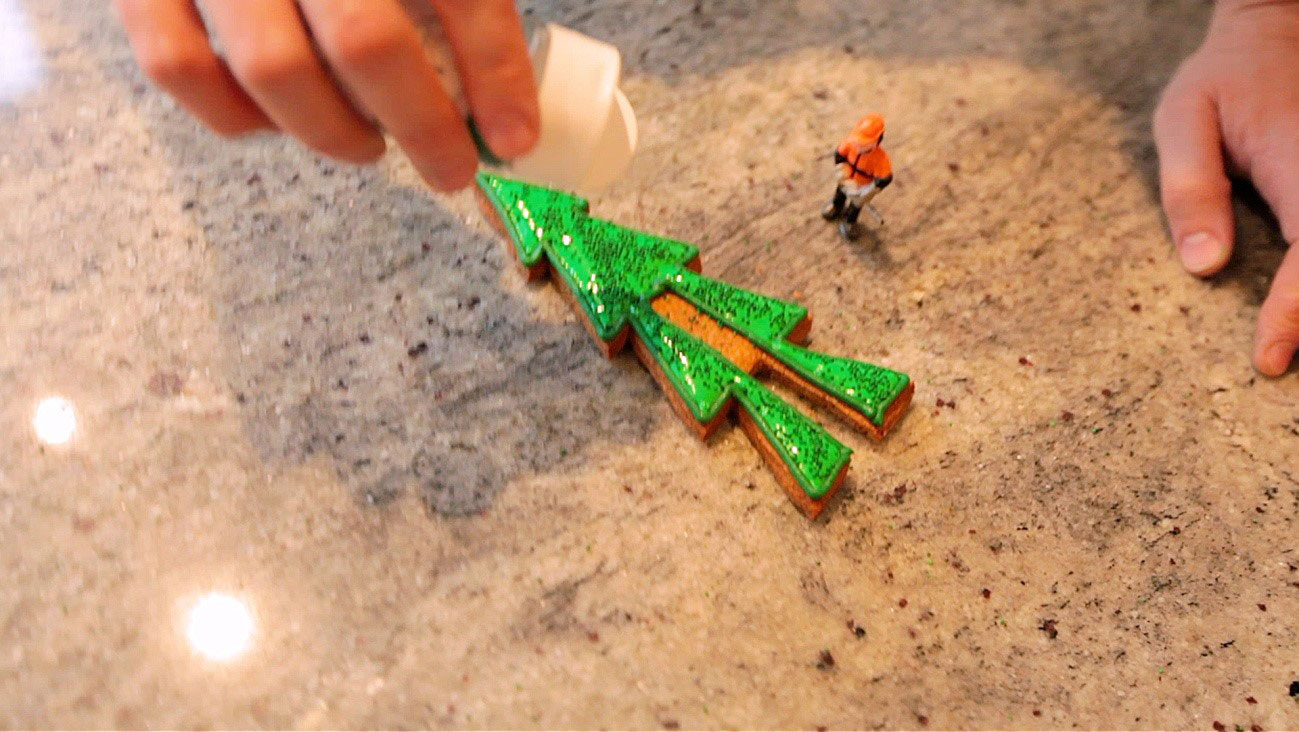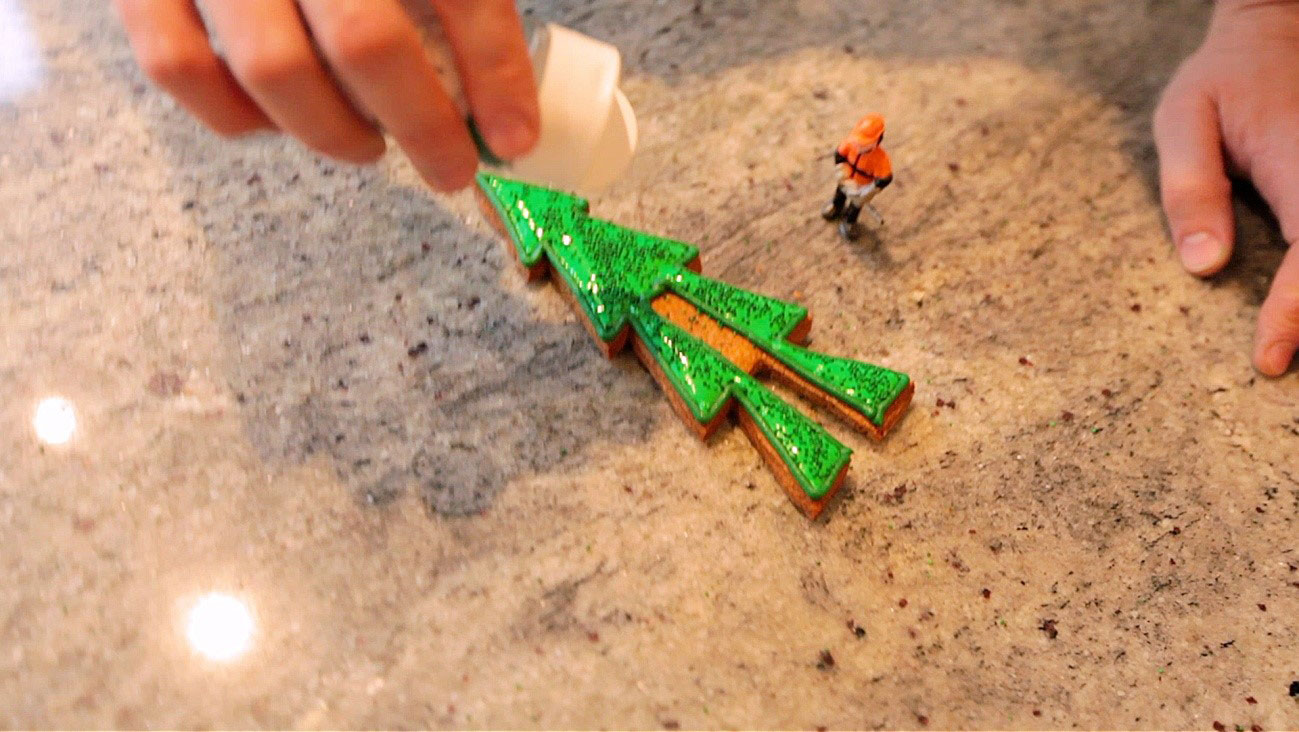 13. Use your white royal icing to decorate each of your panels and then use the red royal icing to pipe the window shutters.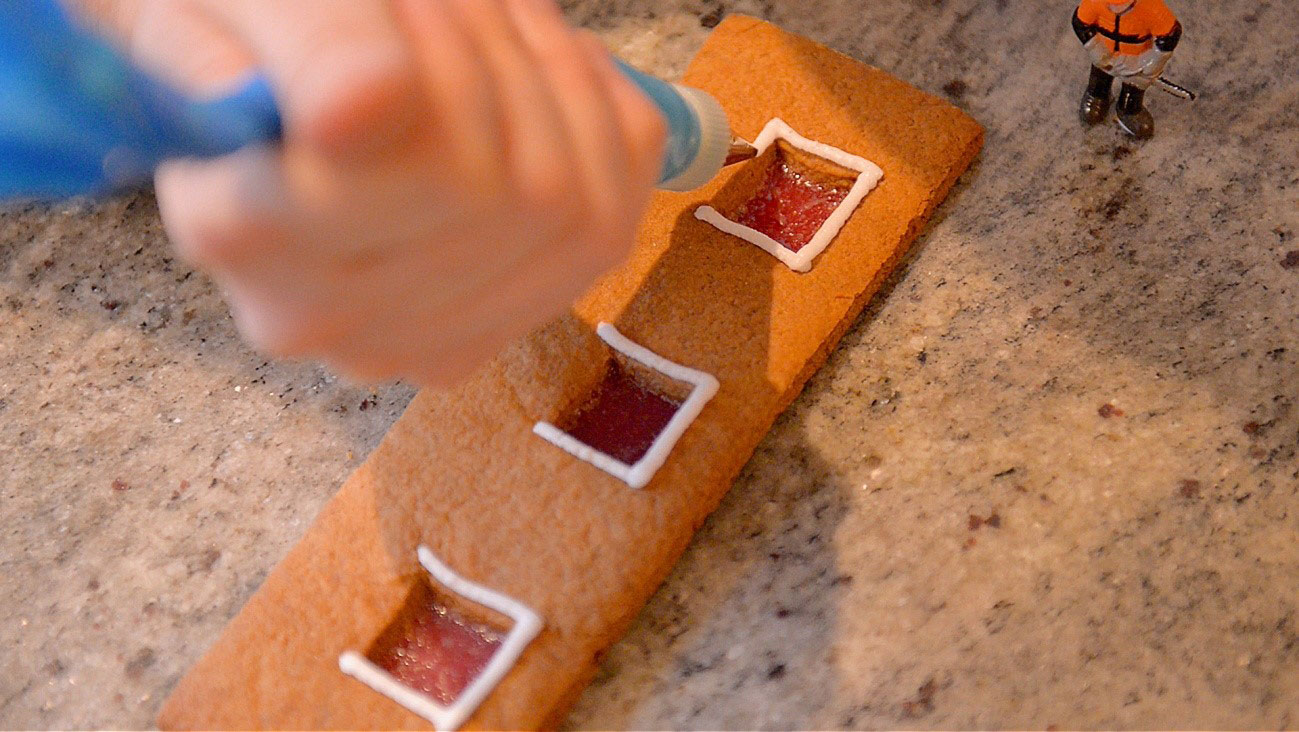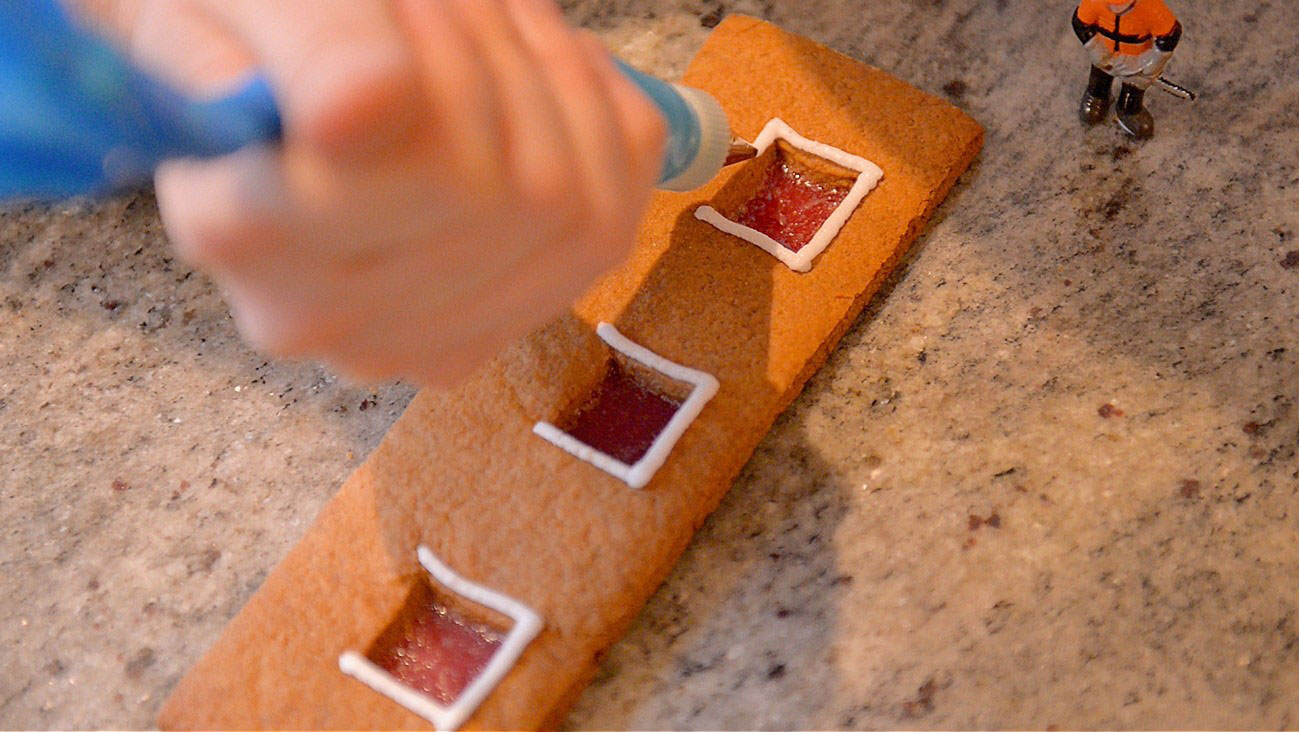 14. Assemble the house using the white royal icing as glue. Attach the bottom sections of the sides to the front of the house. Add the back of the house, then the upper side sections, then the roof. Hold each of the joints in place for about 90 seconds, but keep an eye on this as if your royal icing is quite slack, it may not stick as strongly. Take your time with holding the joints if you need to.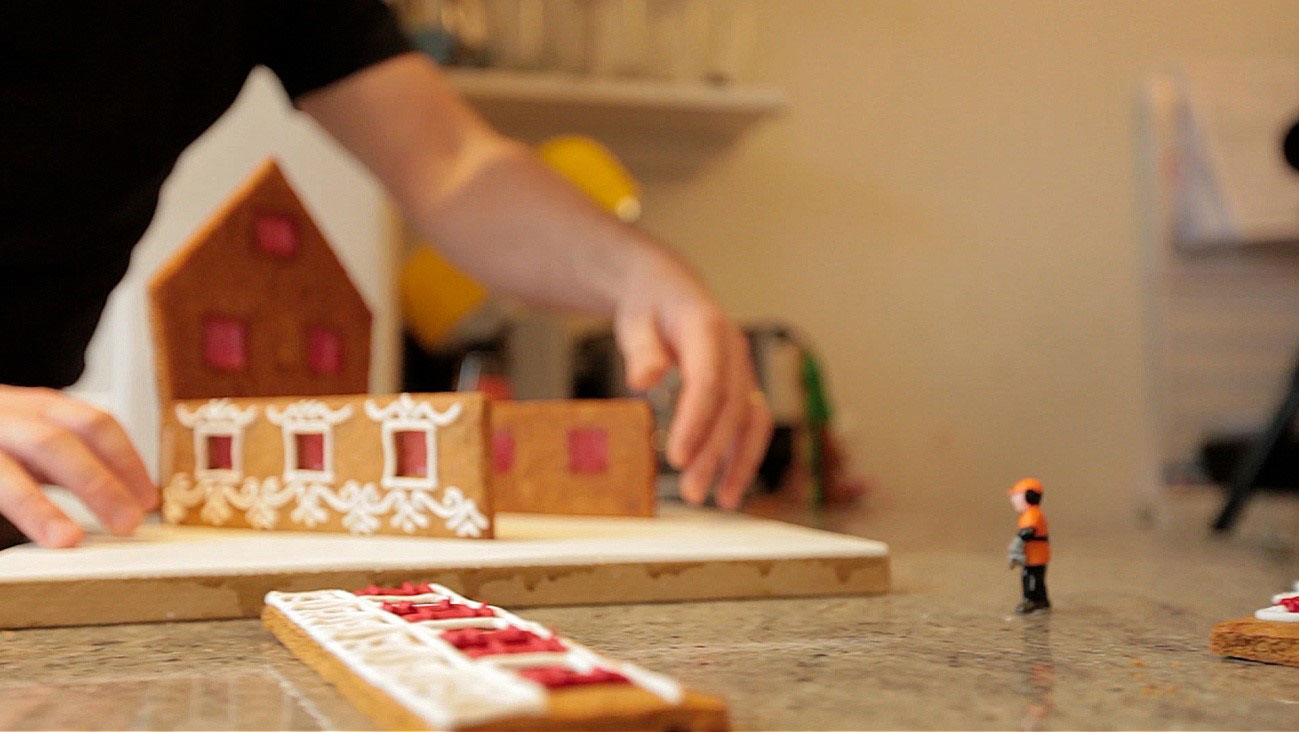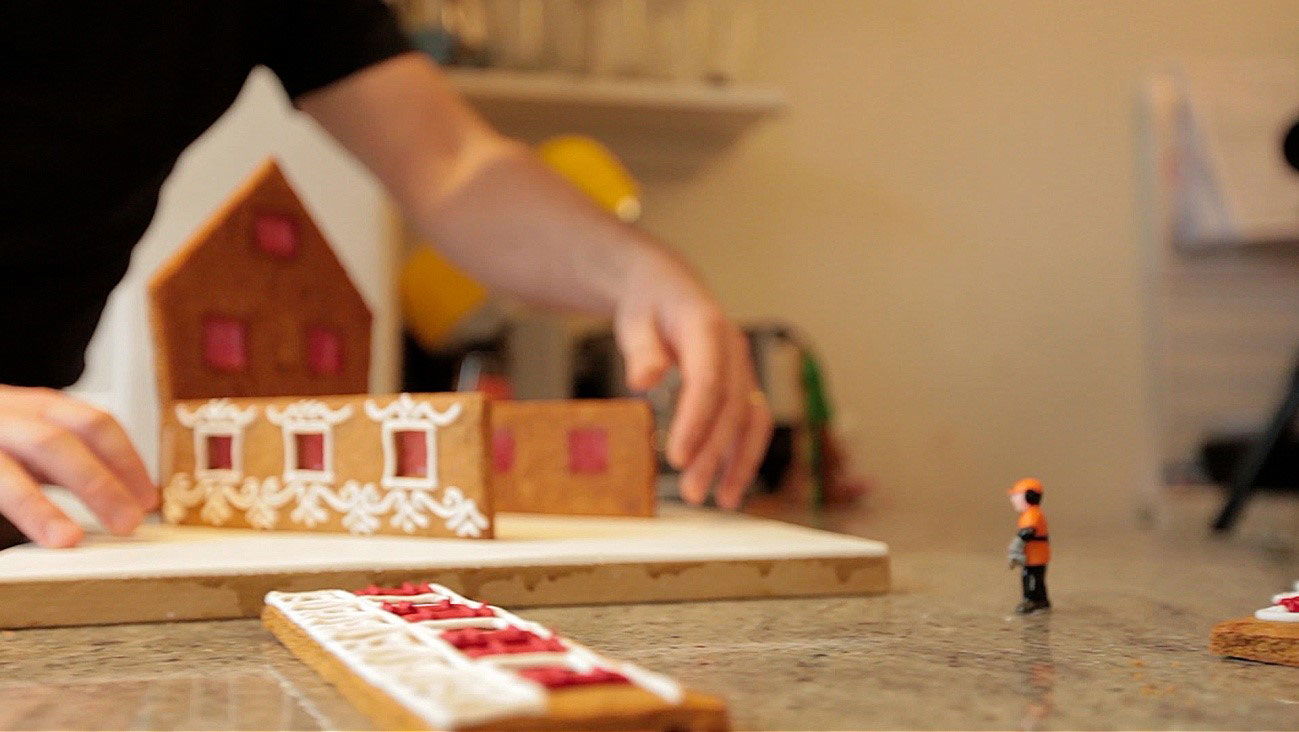 15. Once the roof is in place, use your chocolate buttons as tiles and attach these to the roof with your royal icing. Start with the bottom course of tiles and work your way up, cutting buttons in half to finish the edges where necessary.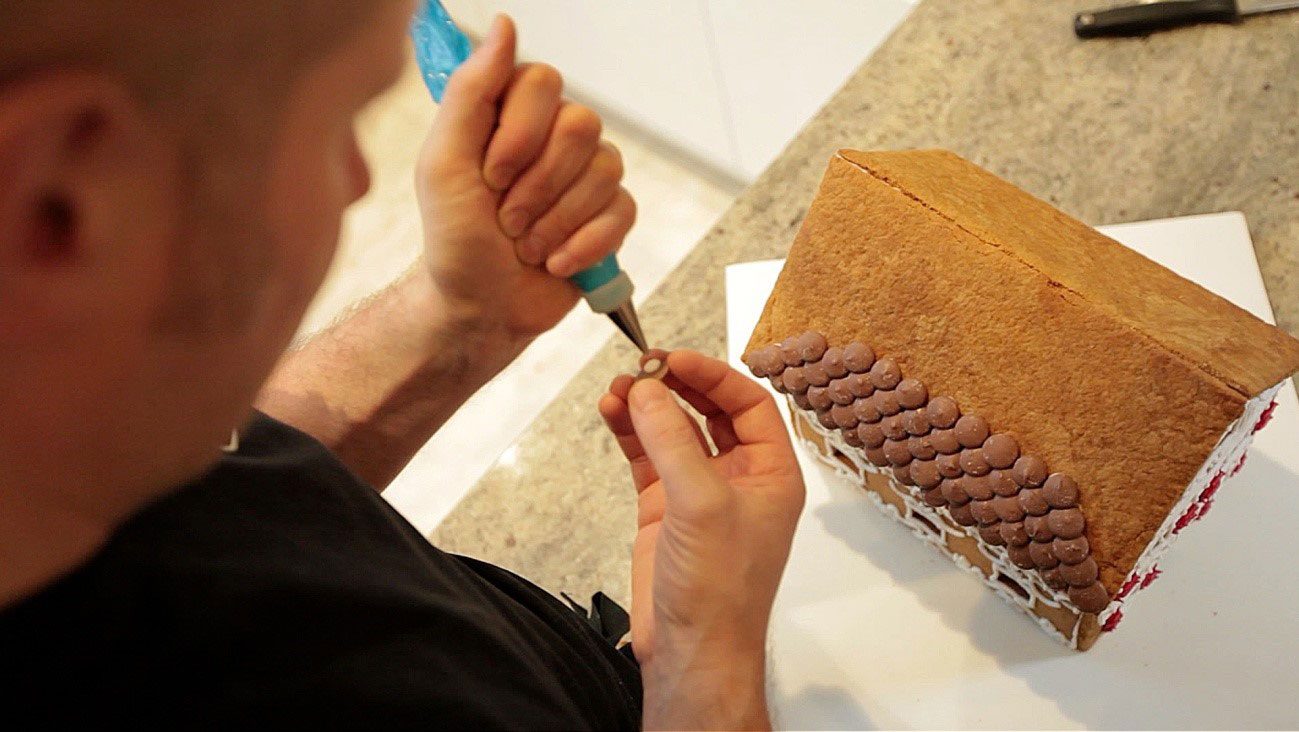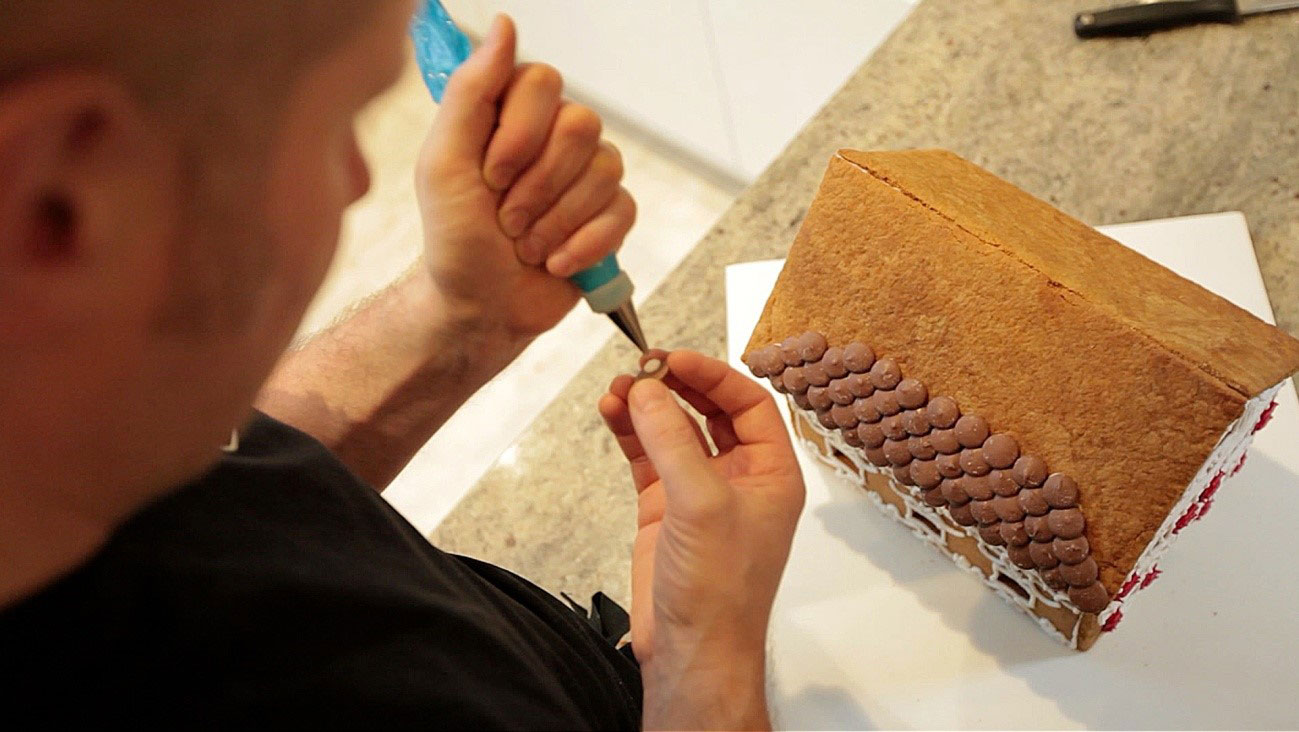 16. When the house is constructed, use your white royal icing again to pipe icicles onto the roof line of the house.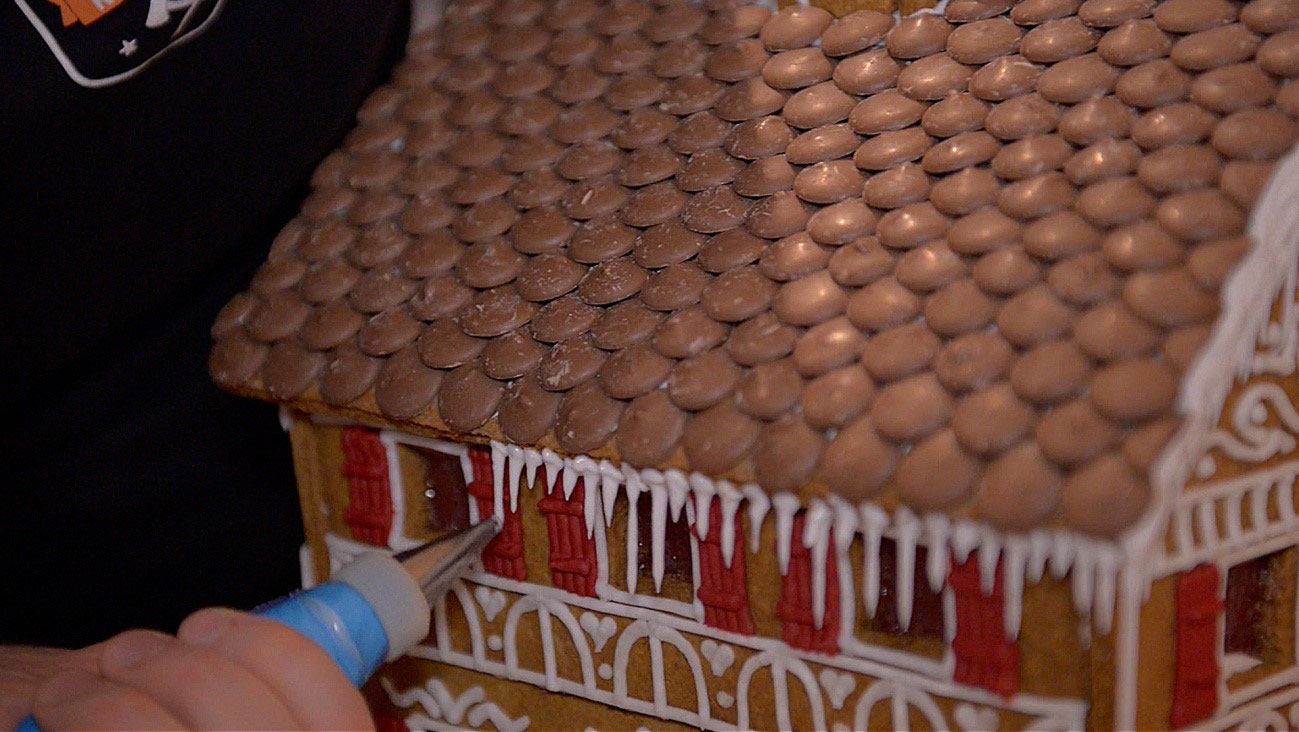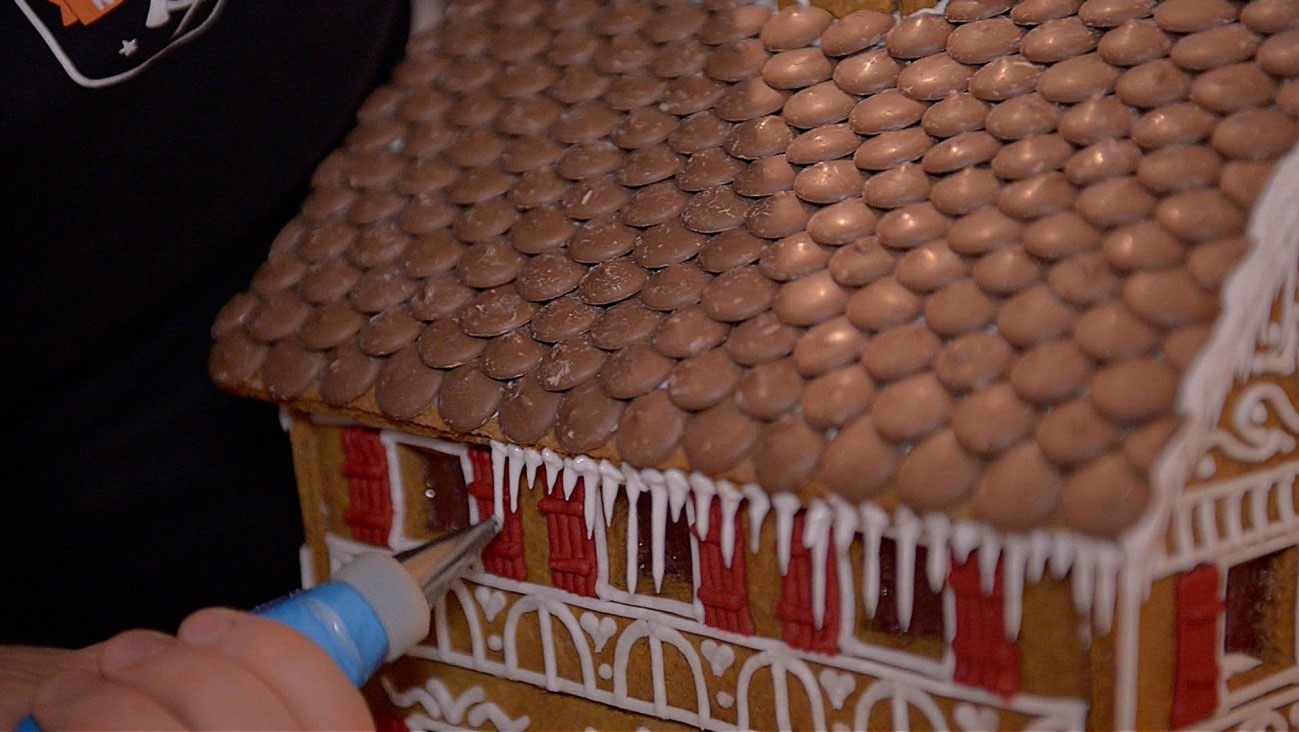 17. With a serrated knife, gently saw the candy canes to make arches and poke these into the fondant around the house to make a fence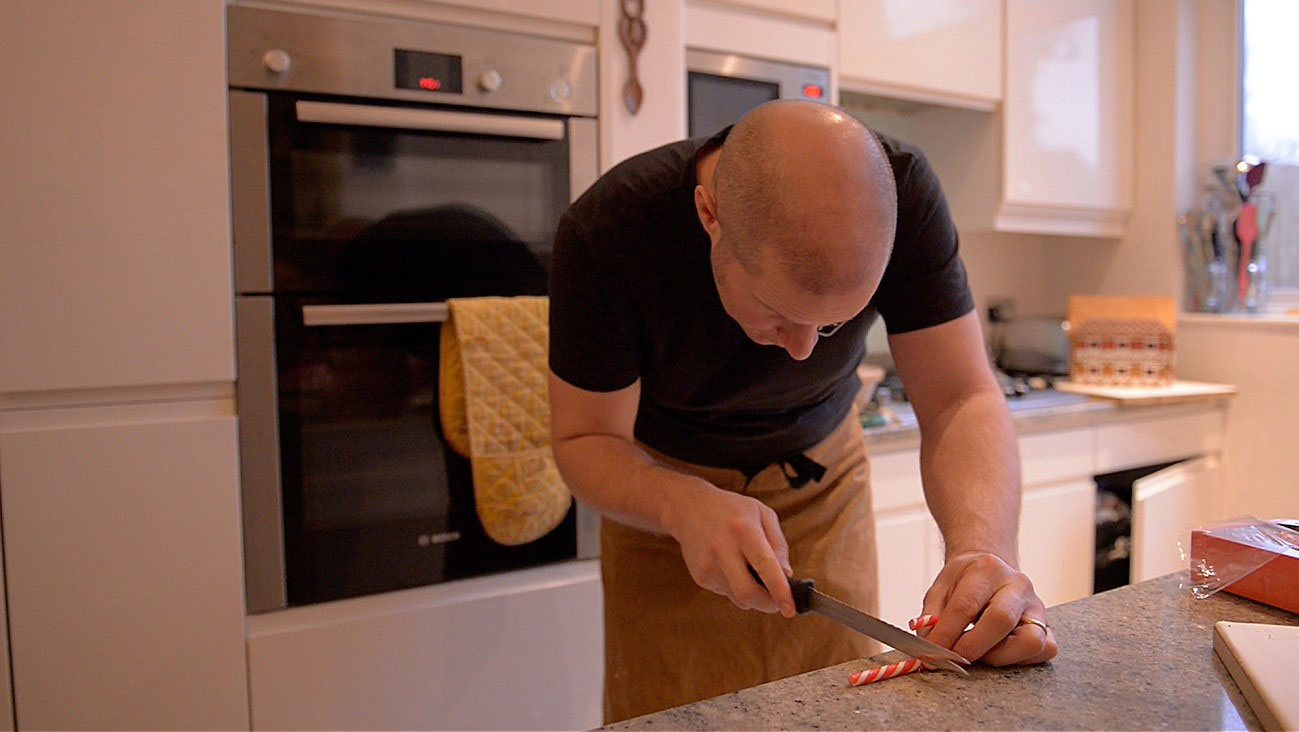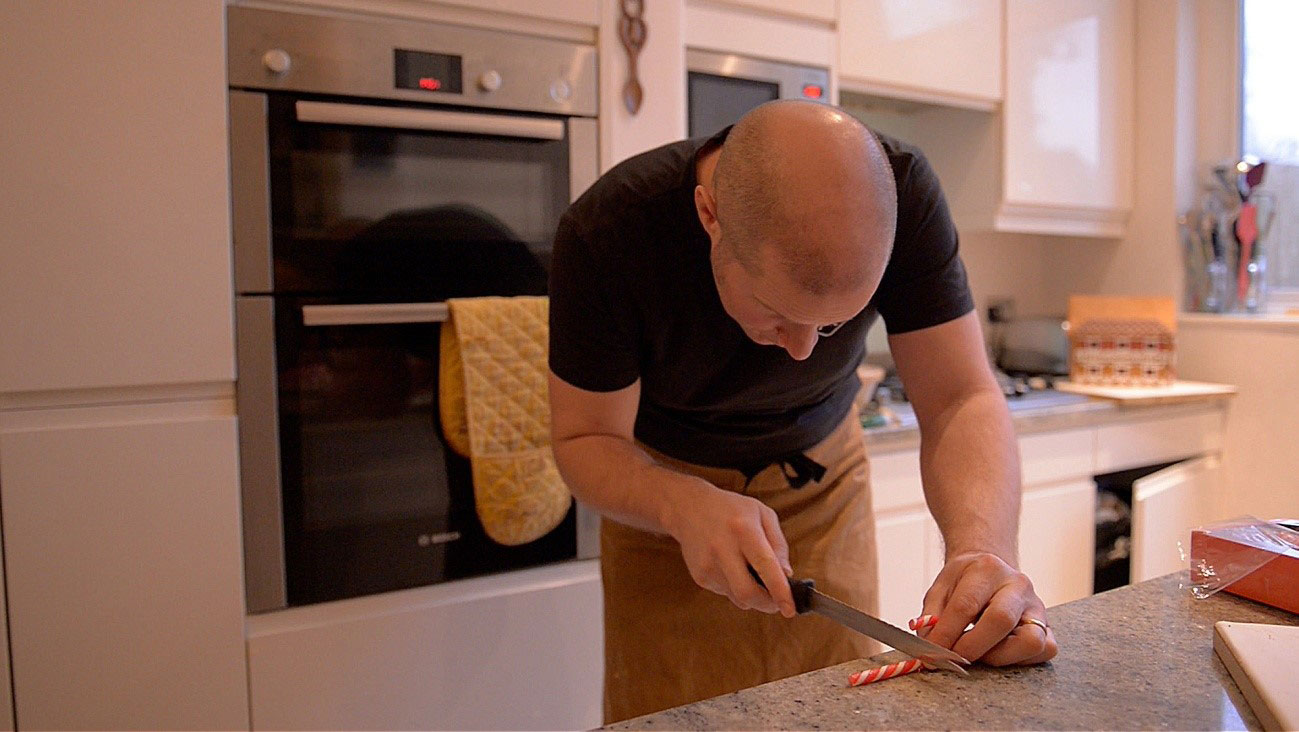 18. Interlock the trees with their bases and place these around the house. They should be secure enough to stand on the fondant but you can always add some royal icing to their bases to secure them further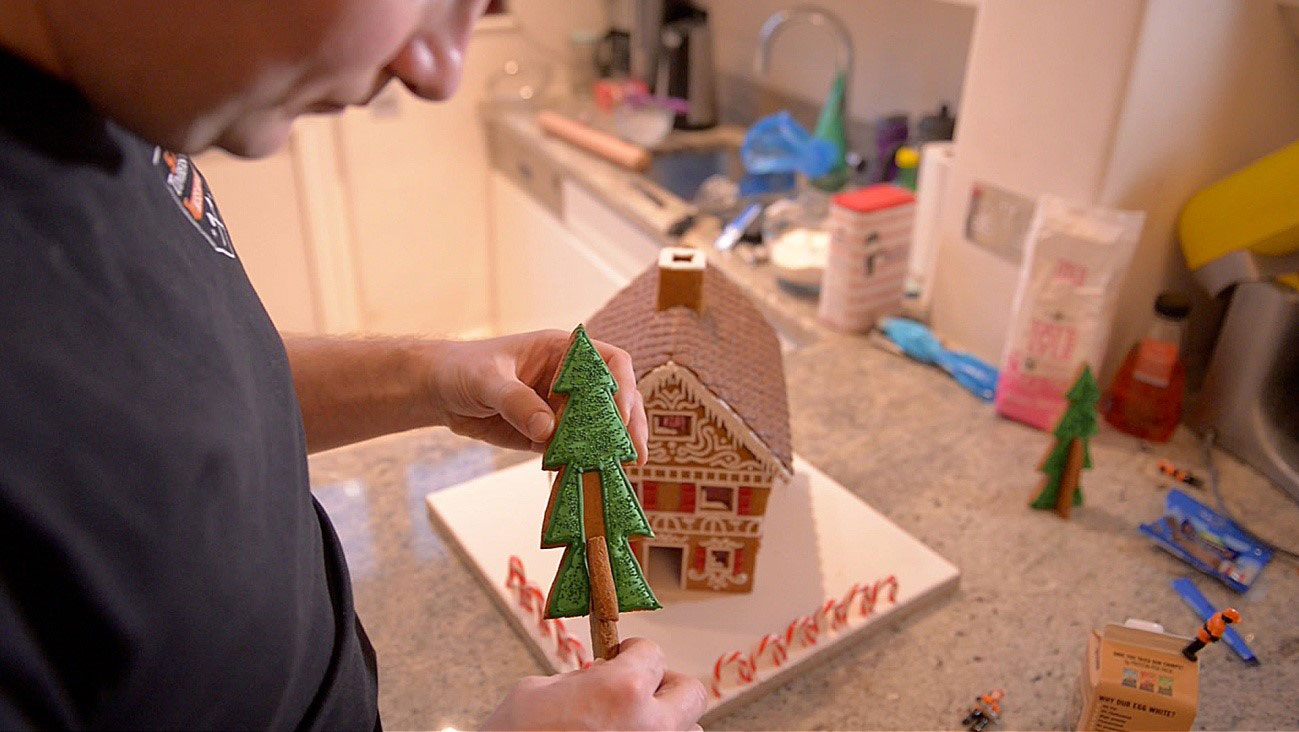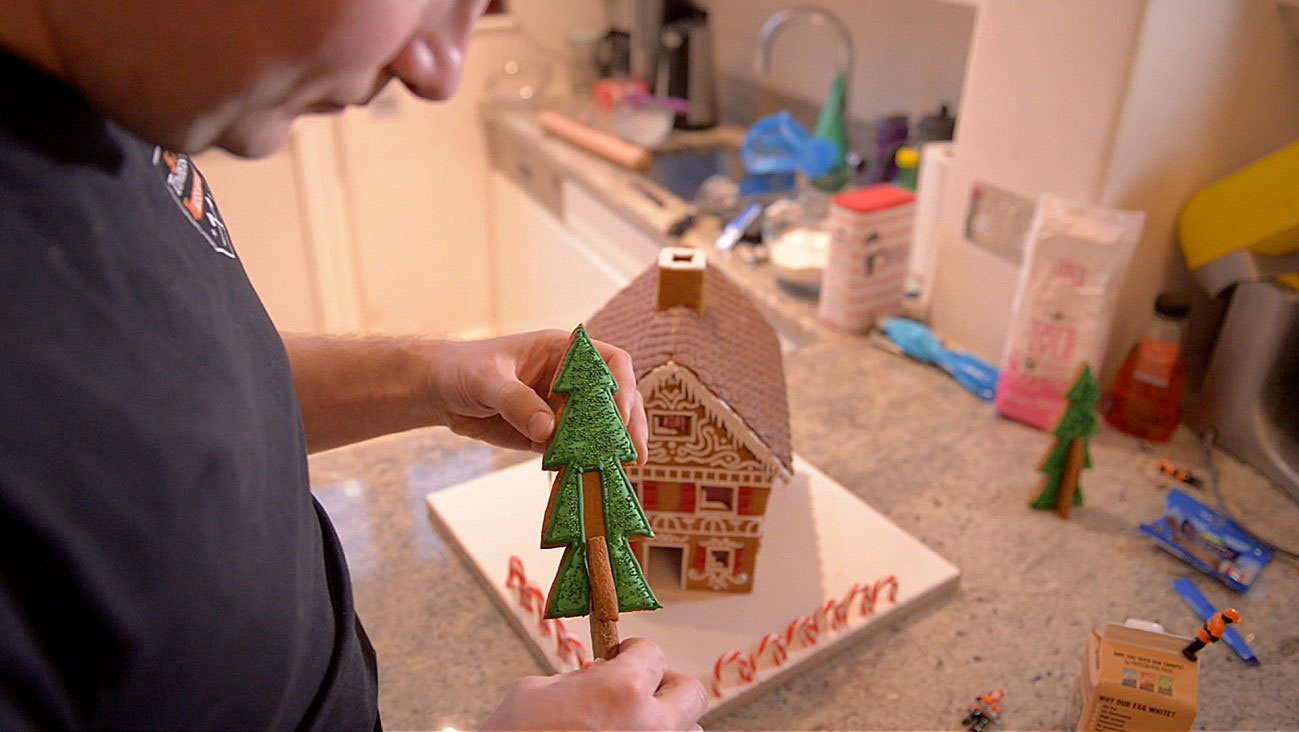 19. Your house in the woods is nearly finished! It just needs a happy little Lumber Jack to live in it, next to a wood pile of gingerbread offcuts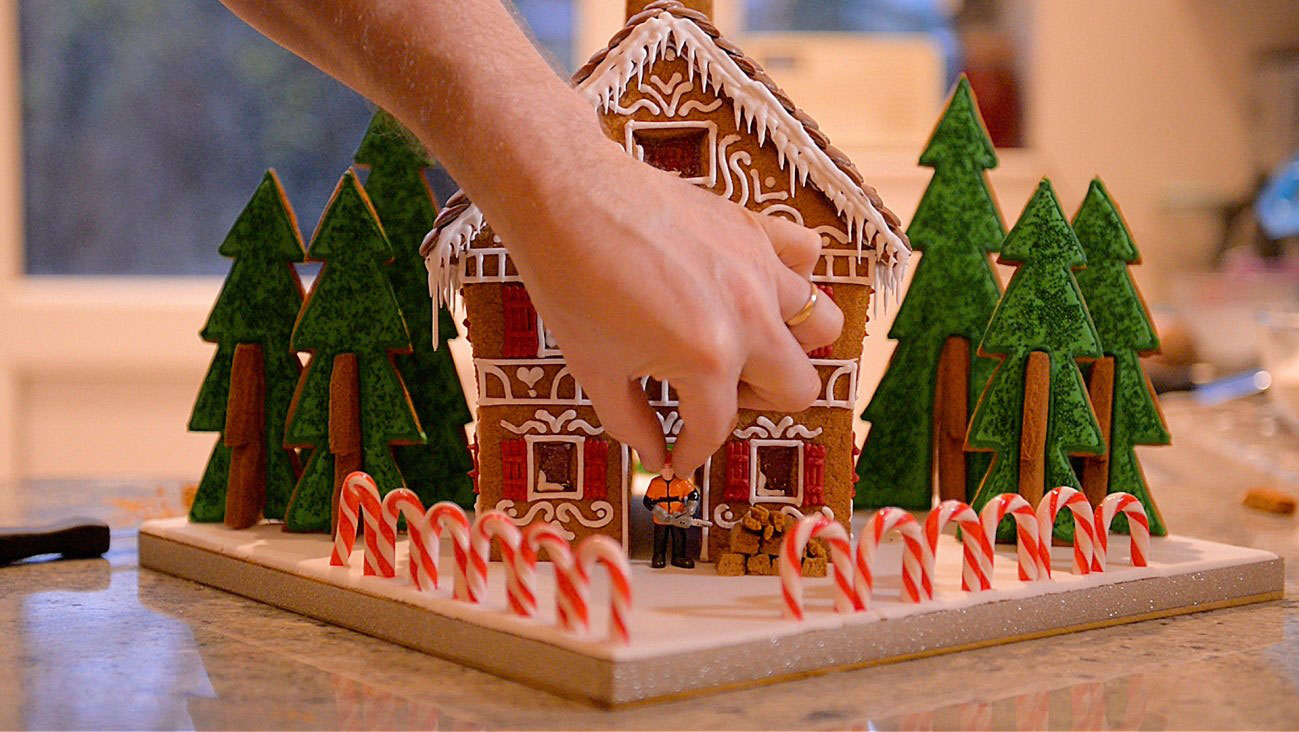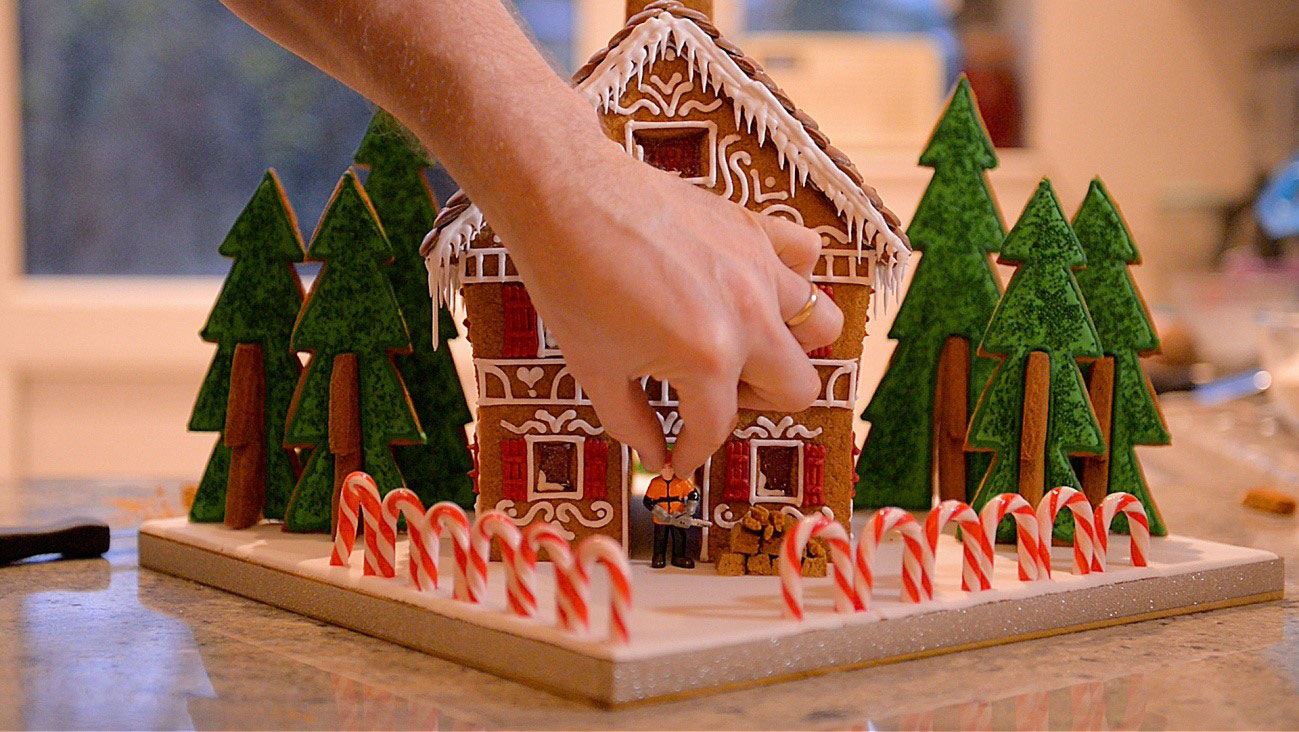 20. Finally, no winter scene is complete without a flutter of snow! Use your sieve and icing sugar to dust your house with snow. Your house is complete!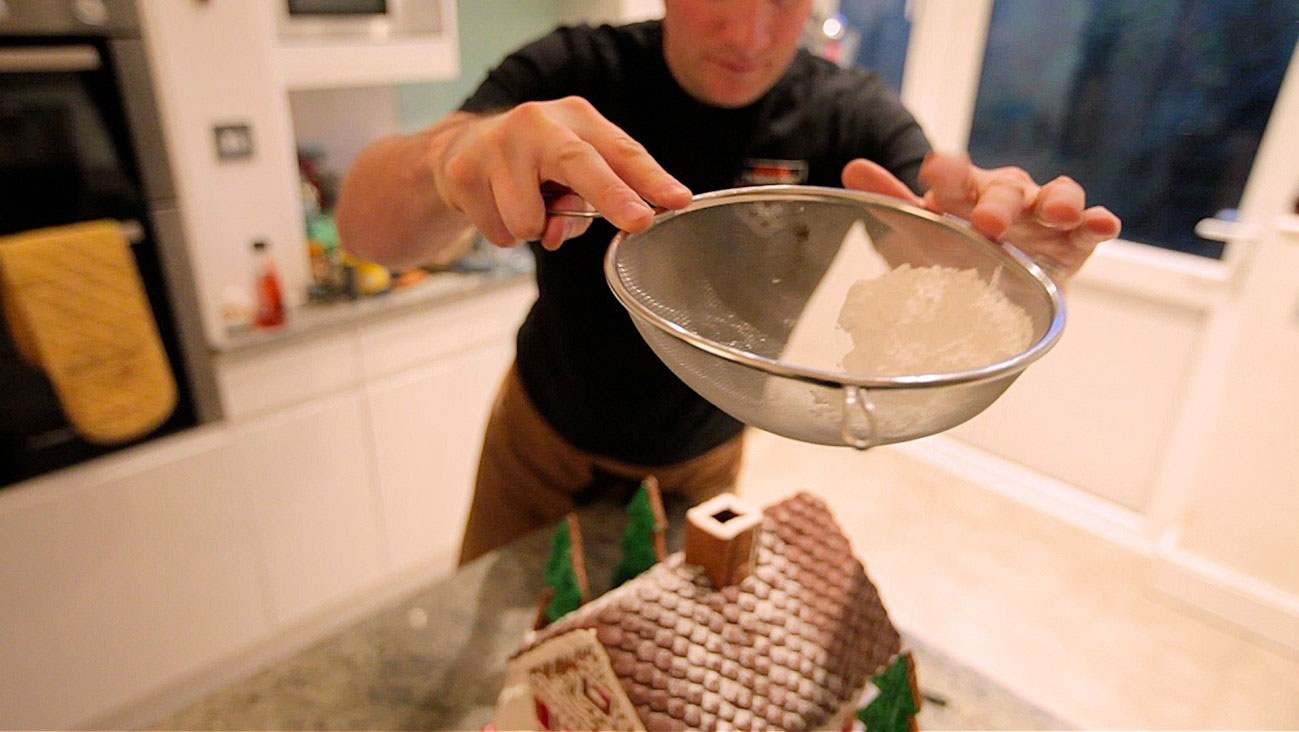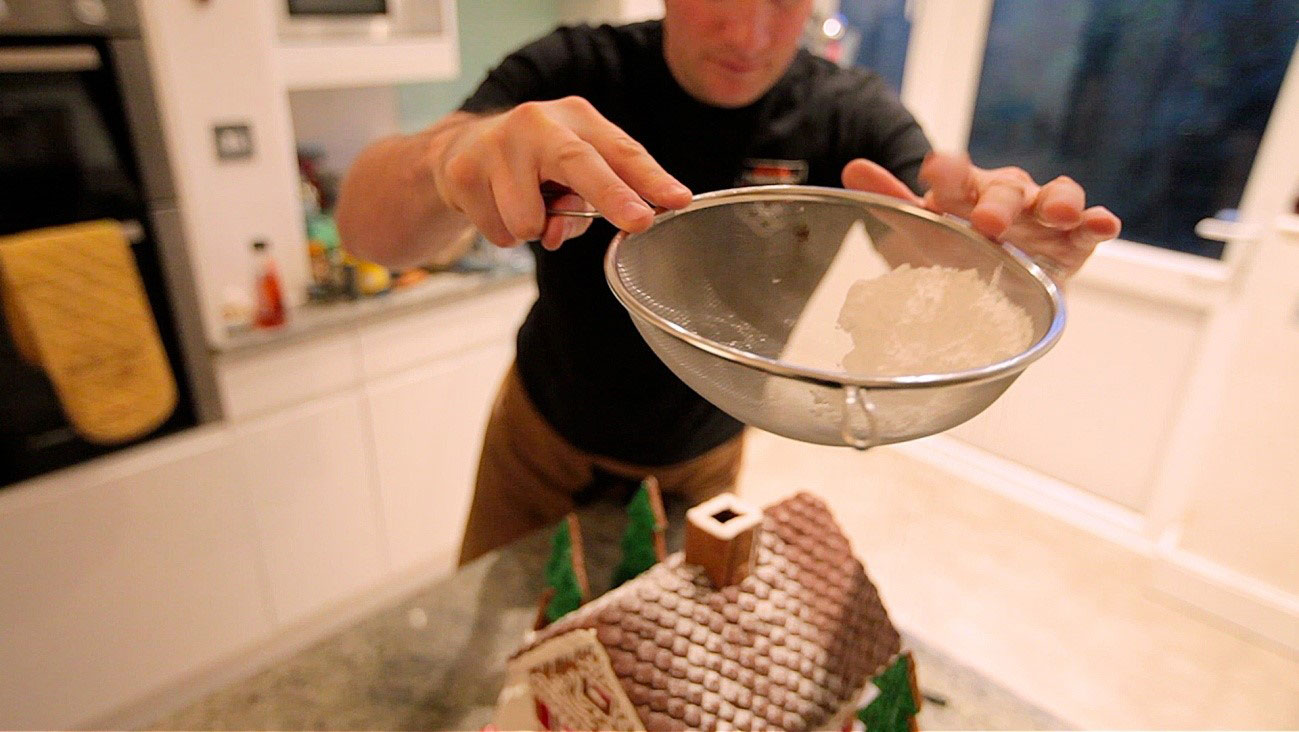 I realise that this is quite a lot of steps and may take a full day or two but making a gingerbread is one of those projects that is as much about the fun you have making it as the fun you all have eating it. Use it as the centrepiece for your Christmas table and on Boxing Day, invite your loved ones round, make a massive pot of tea and get destroying! If you get the gingerbread bug, why not make a few smaller, simpler houses, fill a table with icing and different sweets and throw a gingerbread house decorating party? The templates in my book, B.I.Y. Bake It Yourself, are more basic than this project and very easy to copy. But most importantly of all, have a very Merry Christmas!