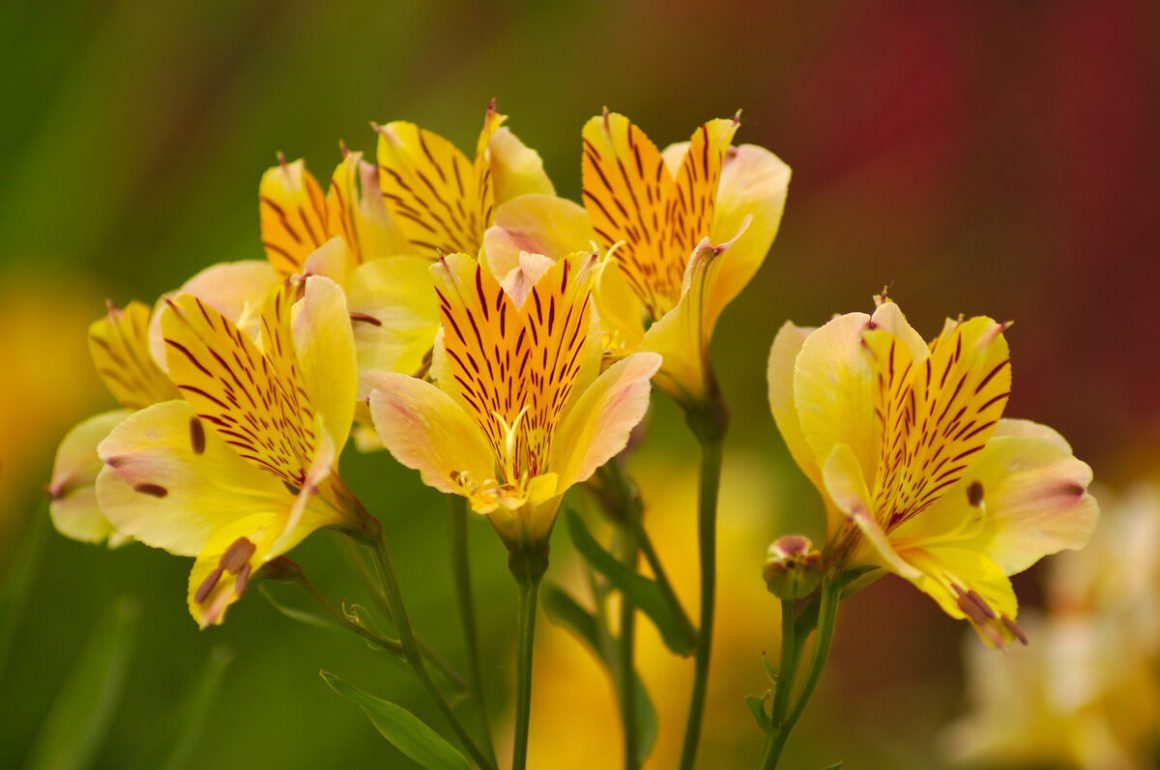 As a new year dawns, gardening writer Marc Rosenberg gazes into his crystal ball to predict the garden trends and fashions that will shape the way we garden in 2022. From the rise of the cut flower garden to planting an oasis of greenery to mark the Queen's Platinum Jubilee, it's shaping up to be a bumper year for gardening. Find out the top garden trends for 2022 here.
1. Get Set For The Year of The Poppy
Fleuroselect, an organisation that trials new plants to highlight top performers, has declared 2022 the Year of the Poppy. Expect to see lots of promotions at garden centres and plenty of poppy varieties to whet your appetite in seed catalogues. Oriental poppies are one of the most popular types, with huge cup-shaped flowers held above hairy stems. They're easy to grow, filling garden borders with blooms in late spring and early summer. On the edibles side, 2022 is the Year of the Basil. No herb planter is complete without this versatile ingredient, which yields a ready supply of aromatic leaves for infusing dishes with a taste of the Mediterranean.
2. Dig In With Peat-free Compost
A government consultation looks set to ban peat in 2024, paving the way for the biggest shake-up in compost for a generation. According to The Wildlife Trusts, UK peatlands cover just three per cent of land area but store 3.2 billion tonnes of carbon. Campaigners say that more than 80% of the UK's peatlands have been damaged. When peat bogs are drained and dug-up, stored carbon is released into the atmosphere as carbon dioxide, contributing to the climate emergency. With a potential ban coming into play, gardeners will be pressed to switch to peat-free compost but prices are likely to rise. Soaring global demand for peat-free ingredients such as wood fibre, along with shortages, are hitting suppliers with rising costs. Check out our handy guide to peat-free compost.
3. Plant a Tree For The Queen
2022 is set to be a royally good year for tree planting, thanks to a nationwide initiative to mark the Queen's Platinum Jubilee. Starting in October and running until March 2023, the 'Queen's Green Canopy' will encourage individuals, schools, communities, groups, counties, cities and businesses to plant trees to mark Her Majesty's 70 years on the throne. Throughout her reign, the Queen has planted more than 1,500 trees all over the world and has spoken of the importance of trees and woodlands in protecting the planet's future. Find out how to get involved by visiting www.queensgreencanopy.org
4. Perennials to Overtake Bedding Plants?
The UK is world famous for its love affair with summer garden bedding – but could that be about to change? For decades, hanging baskets, window boxes and garden planters have been adorned with annual flowers, filling towns and cities with a riot of colour. For 2022, however, the UK's biggest community gardening competition, RHS Britain in Bloom, has signalled a move away from bedding plants. In a bid to be more sustainable and reduce pressure on mains water supplies, organisers are urging gardeners to prioritise perennials and pollinator-friendly plants, where appropriate, over short-lived bedding plants. Will this move see petunias, busy Lizzies and geraniums make way for perennials such as agapanthus, iris and crocosmia?
5. Waging War on Single-use Plastics
Whether you control plant pests organically or use chemicals, change is coming. Ever since Ground Force and TV makeovers ushered in the era of instant gardening, ready-to-use pesticides have been the first port of call for convenience. With the spotlight now focused on cutting our reliance on single-use plastics, some manufacturers are returning to traditional concentrated insecticides. With concentrates, where the insecticide must be diluted with water before use, it's vital to follow the instructions. Adding extra drops for good measure is likely to do more harm than good.
6. Grow Your Own Cut Flowers
While rising food prices are set to encourage more gardeners to cultivate fruit and vegetables at home, growing cut flowers could be the next big trend. The Royal Horticultural Society believes that concern over the carbon footprint of shop-bought cut flowers will encourage more gardeners to grow blooms for cutting. Repeat-flowering plants such as alstromeria, zinnia, cosmos and dahlias will be in demand for cut flowers as they're easy to grow and bloom profusely during the summer months. RHS trend forecasters also predict that gardeners will grow more red-fleshed apples, as well as dabbling in exotic fruits such as pomegranate, chokeberries and serviceberries.
7. Seed Sales to Soar?
With growers' glasshouse heating bills going through the roof and plant imports subject to enhanced biosecurity checks, the price of plants could head skywards. So, it's reassuring to know that dozens of plants can be raised from a packet of seed that costs a few quid or less, but what's set to trend in 2022? Sanvitalia procumbens 'Yellow with Black Eye' is a brilliant new mini sunflower from seed supplier Thompson & Morgan. It's ideal for hanging baskets, window boxes and plant pots – a far cry from traditional tall sunflowers. New runner bean 'Black Knight', claimed to be the only commercially available black-podded runner bean according to supplier Suttons, is also set to be popular. It's proof that edibles can look as ornamental as flowers in the garden.
8. The Rise of High Street Horticulture
Could 2022 see horticulture help to revitalise the UK's pandemic-ravaged High Streets? Garden centre chain Dobbies pioneered the roll-out of 'Little Dobbies' urban garden centres, while independent boutique garden centres are also springing-up in empty retail outlets that once housed bustling restaurants and clothing stores. Urban horticulture is being driven by double-digit growth in sales of houseplants, fuelled by the trend for sharing images of indoor jungles on social media (there are more than eight million posts under #houseplants on Instagram!)
9. A Hat-trick For Staycations?
According to a poll published by Mail Online in December, 56% of Brits have given up on the prospect of a foreign holiday in 2022, after the Omicron Covid variant scuppered the recovery in global travel. For the third year running, gardens are set to take centre stage for holidaying at home – and a year-round outdoor living trend is emerging. Even in chilly November, sales of garden furniture and barbecues were up by 59% (source: Garden Centre Association), as abandoned travel plans saw families spend more of their free time outdoors. Retailers are now gearing up to cater for the third staycation summer, as gardens continue their vital role for alfresco dining and relaxation during the pandemic.
What trends will you follow in your garden in 2022? Do you follow gardening trends or sow your own path? Let us know in the comments.