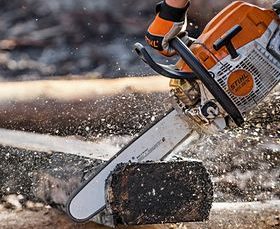 The STIHL MS 261 C-M chainsaw has been a firm favourite in the forestry industry for some time, and now you can get an even more impressive cutting performance. With the MS 261 C-M tuning kit, this new bar and chain combo gives up to 20% more cutting power.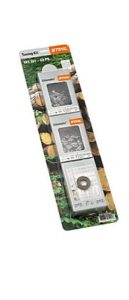 The kit includes a 16" rollomatic guide bar, 3 x 3/8" picco super chains and a picco rim sprocket. The extra cutting performance comes from fitting the 3/8" picco super chain, which has a narrower pitch than the standard 0.325" RS chain. This means that the 3/8" picco super chain cuts more efficiently through softwood, speeding up operations in the forest to get the job done quicker and more efficiently.
The 3/8" picco super chain in the tuning kit is also the only picco full chisel chain on the market – and it's ideal for professional forestry. It has excellent biting characteristics with low vibration, alongside high piercing and cutting performance. What's more, the kit also fits the MS 241 C-M.
You can view the MS 241 C-M, the MS 261 C-M, the tuning kit, plus all of our other professional petrol chainsaws for forestry work here.
Talk to your local STIHL dealer today about the chainsaw tuning kit and let us know what you think of the extra performance!