STIHL TIMBERSPORTS® is the original extreme sport and the adrenaline-fuelled action might just be the most exciting sport you've never heard of!
STIHL TIMBERSPORTS® launched in 1985 in the USA but it has its origins in 19th century Australia, when lumberjacks would compete against each other and the clock outside of work to be the fastest man with an axe or saw.
These days, it has developed into a global competition series where the best competitors use axes and saws to smash their way through wooden blocks in seconds! The standing block chop involves using an axe to cut through a 30cm diameter block and the world record for this is just 11.03 seconds!!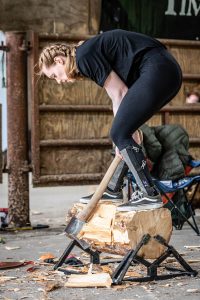 There are six events (or disciplines) in STIHL TIMBERSPORTS®: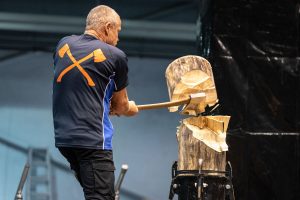 It goes without saying that strength is important for this sport, but speed, technique and accuracy are vital too.
You can find out all of the results from previous STIHL TIMBERSPORTS competitions, as well as the schedule for upcoming events in the TIMBERSPORTS database. But this year, in Great Britain we are excited to be back with a bang, when we hold our first ever women's TIMBERSPORTS® championship!
The Royal Three Counties Show in Malvern is the host for our first live competitions since 2019, and tickets are still available for the show. But you will also be able to watch all three events live on the STIHL GB Facebook page on the following dates:
Friday 17 June at 1pm – The first ever British Women's Championship
Saturday 18 June at 12pm – The British Pro TIMBERSPORTS® Championship
Sunday 19 June at 1pm – The British Rookie Championship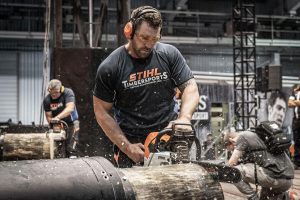 The women will compete in three TIMBERSPORTS® disciplines, the stock saw, the underhand chop and the single buck, whilst the rookies compete in four; the stock saw, underhand chop, single buck and the standing block chop. The pro athletes will compete in all six disciplines.
In all the TIMBERSPORTS® disciplines, athletes earn points based on their times, with the fastest time achieving the maximum number of points. The overall champion is the one who has accumulated the most points at the end. The fastest athletes also have a chance to compete in international competitions on a global stage too.
If all of this has inspired you to get involved in STIHL TIMBERSPORTS® yourself, we also run a training programme in Great Britain for those people with the most potential. We also hold newcomer's training days each year in the spring. If you want to find out more or register your interest for future newcomer's events, please email timbersports@stihl.co.uk.