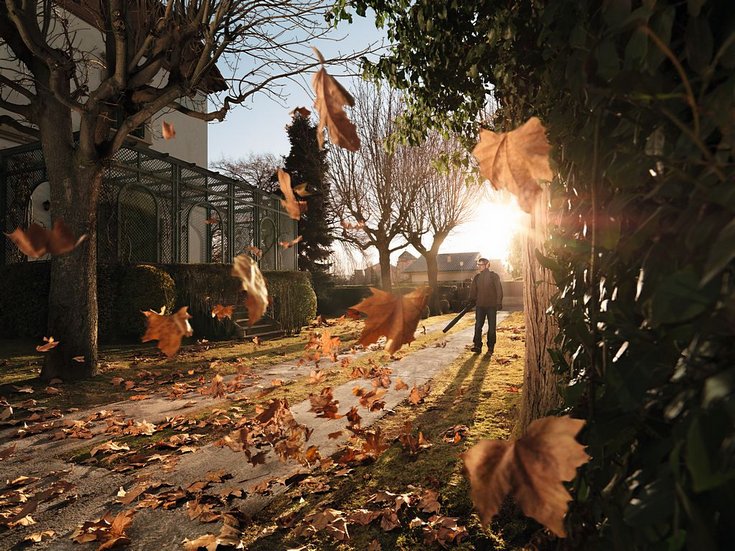 Whether you're a landscaper gardener, groundsman or a private user, STIHL leaf blowers are an extremely useful part of any garden machinery arsenal, especially at this time of year. STIHL has an extensive range of handheld leaf blowers and backpack blowers for clearing leaves, debris and grass, but did you know that we sell a range of additional nozzles for our leaf blowers which help improve their performance on different types of surfaces and materials? Read on to find out which leaf blower nozzle you can use to make your life easier.
Flat Leaf Blower Nozzles
If you find yourself regularly needing to clear wet, heavy materials – such as piles of wet leaves – then a flat nozzle will soon become your best friend. Flat nozzles have been designed to increase the air speed of the leaf blower, meaning wet material that has become stuck to the ground becomes easier to remove. There are two different types of flat nozzles available at STIHL. The straight flat leaf blower nozzle and the curved flat nozzle. The straight flat nozzle has a narrow profile which provides your leaf blower with high air speed, as previously mentioned. Curved flat nozzles on the other hand have the higher air speed as well as being able to accurately target dirt and debris on the ground. This is thanks to the curved shape of the nozzle which allows for the air stream to be spread parallel to the ground.
Round Leaf Blower Nozzles
Most STIHL backpack blowers come as standard with curved round nozzles, but some users prefer straight round nozzles. Round nozzles provide an even spread of air across the surfaces you are trying to clear. They have also been designed to reduce the gyroscopic forces on the user. This means that you will be able to maintain a steadier direction of blowing during use which allows for operation of the leaf blower to become effortless!
One thing to note is that the STIHL BR 800 C-E backpack blower comes as standard with a straight round nozzle – the reason for this is down to the blowing force of the BR 800 C-E petrol backpack blower being so high. The straight round nozzle makes use of this particular blower more comfortable. However, some users prefer to have a curved round nozzle on their backpack leaf blower, so we do offer a curved round nozzle which has been designed specifically for the STIHL BR 800 C-E. Use of this nozzle should only be used with the bike handle attachment due to the high power output and blowing force of the BR 800 C-E.
For more information on our extensive range of STIHL leaf blowers and accessories, pop in to your nearest STIHL Approved Dealer for expert advice.