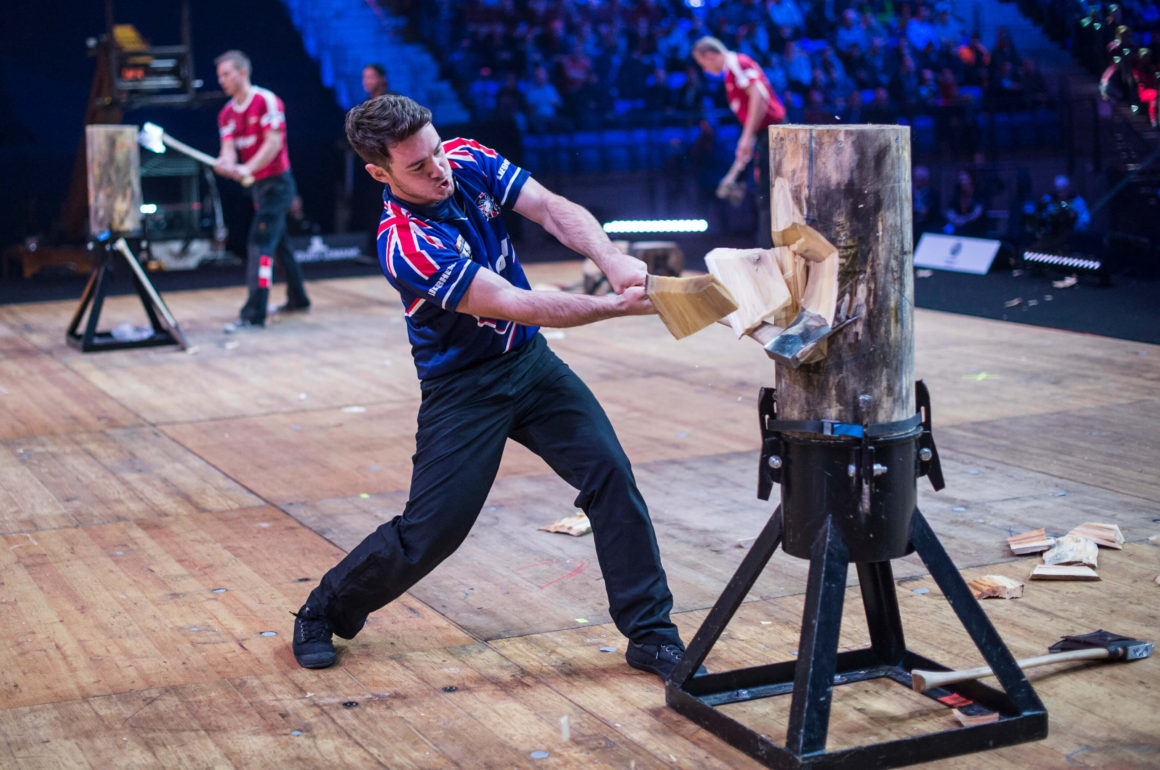 Not many people get to represent their country in the sport that they love, but five lucky TIMBERSPORTS® athletes will be doing just that as part of Team GB at the 2018 TIMBERSPORTS® World Championship in October.
Selection is based on the athletes' current form, and the 2018 British TIMBERSPORTS®Championship was the perfect opportunity for the selection committee to see who was up to the challenge of joining Team GB.
The competitors all put in passionate performances this year; the competition for Team GB places is fierce. But this year, with the World Championship taking place in Liverpool at the Echo Arena for the first time, it was more than just pride at stake. The athletes who qualified for the British Team will be taking on the rest of the world in front of a home crowd, with the support of friends and family motivating them more than ever.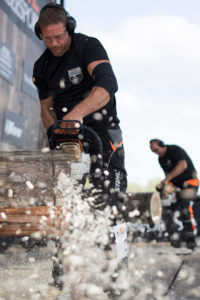 Elgan Pugh, who won this year's British Championship automatically qualifies for the Individual World Championship on Saturday 20 October, but the selection committee, including Spike Milton, TIMBERSPORTS® Global Sporting Director and Head British trainer, had their work cut out for them. "Two members of last year's British Team did not compete in the British Championship this year, and couldn't be included for selection, so we really weren't sure who would be selected. But I am delighted to say that we have a new team, which is full of promise," said Spike.
As a four-time British Champion, Elgan Pugh will also feature as part of the team, with 2017 team member, Glen Penlington joining him. Andrew Evans, who came third overall in the British Championship and has years of TIMBERSPORTS® experience both as a competitor and trainer, takes the third space in the team.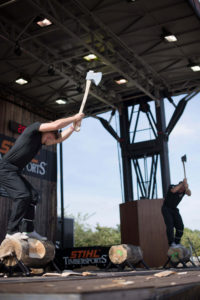 Team GB newcomer, Dave Thomas, finished eighth in the 2017 British Championship. But he had clearly been taking his training extremely seriously this year and came second overall in 2018, smashing personal bests in five out of the six TIMBERSPORTS® disciplines. The selection committee decided that this impressive performance deserved a place on the four-man team. The teams are also allowed to take a reserve, in case of any injuries, and Craig Golder was selected to fill this role. Craig came seventh in this year's British Championship, which includes all six of the TIMBERSPORTS® events. However, he scored the fifth highest number of points for the four disciplines that are part of the Team World Championship so he was an obvious choice.
The team will now be taking part in training both together and individually. We caught up with them to find out what being part of Team GB means to them.
Did you have qualifying for the British Team and the World Championship on your mind before the British Championship? Did you do anything different to prepare for the British Championship?
Dave: I was hoping to make the team this year but anything can happen in TIMBERSPORTS® so I was over the moon when I got the call.
Andrew: Yes, definitely! I have been in the team since 2007 and captain for the last 3 years so to make the team on home turf was a must!
Craig: I've been trying to qualify for Team GB for the last two years but haven't quite made the grade. So I took on some extra training earlier this year which has made all the difference.
Elgan: I always do lots of extra training before big competitions.
Glen: I trained a bit harder this year to try and retain my place in the British team, especially as it's on home soil this year.
How do you feel about being selected for the team?
Andrew: I'm proud to be representing my country as always.
Craig: I agree – it's a huge honour to be representing your country in a World Championship event!
Your family must be looking forward to watching you in Liverpool; how have they reacted?
Glen: My family and friends are all really pleased I was selected for the British team again this year.
Andrew: They are loving it! Most have been following the World Championships for the last few years and travelling overseas so it's a bonus for them that it's only in Liverpool this year! They booked tickets as soon as they went on sale!
Elgan: Oh no, not all this time away training again!
Craig: My family are extremely proud. Even my fiancé doesn't mind me being away at training weekends as she knows how much it means to me.
Where do you think Team GB will finish this year?
Elgan: I think we should be aiming for a top five finish, but it will be tough!
Dave: With the mighty home crowd behind us who knows where we will come!
Andrew: It's a young dynamic team (apart from me!) so hopefully top six.
Glen: I think we could achieve a top 8 finish this year – we want to be the top European team.
Craig: I know that we will be giving it our all to try and place Team GB as high as possible.
If you want to be part of the crowd supporting Team GB in October, get your tickets for the TIMBERSPORTS® World Championship from the Echo Arena Liverpool and watch the original extreme sport in action! Adult tickets start from just £22.25 for one night, or £38.50 for both Friday and Saturday night.