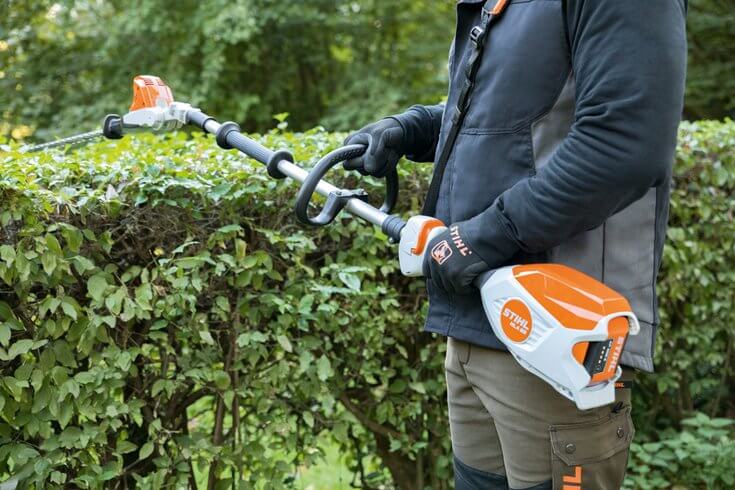 Taming your hedges is easily achieved thanks to STIHL's great selection of hedge trimmers. But what about those hard to reach tall hedges that sit at the bottom of your garden?
Here at STIHL, we have a great range of petrol, cordless and electric long-reach hedge trimmers – designed for taking wide, high or long hedges down to size. Made with the quality you've come to expect from STIHL, they make a fantastic choice for home gardeners and landscape professionals. Read on to find out more about the best option for you.
Long-Reach Petrol Hedge Trimmers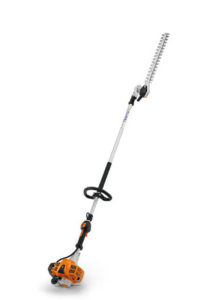 If you're a traditionalist and prefer the power of petrol, look no further than our petrol long-reach hedge trimmers. There are two different models to choose from in our line-up:
The HL 92 C-E is ideal for property maintenance and landscaping, whereas the HL 94 C-E is a more powerful, high-performance model designed for professional gardeners and contractors.
These hedge trimmers have been fitted with efficient STHL 2-MIX engines for improved power output and reduced fuel consumption. They also feature ECOSPEED load control. With this function, you can use these tools more economically at the twist of a dial, which reduces the maximum engine speed. It's easy to switch back to full capacity at any time by pressing the throttle lever. STIHL ErgoStart technology is also fitted to the machines, making them easy to start in any working condition.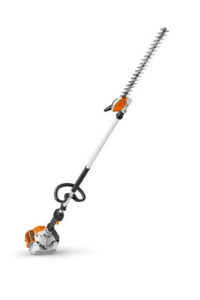 One of the most important features of a hedge trimmer is in the blade system. It has to be robust, sturdy and up-to-task. The HL 92 C-E and HL 94 C-E have double-sided cutting blades fitted to their cutter bars, which ensure a precise and powerful cut, even when tackling thicker hedges. The HL 92 C-E has a 50 cm / 20" cutter bar and the HL 94 C-E has a 60 cm / 24" cutter bar.
Both cutter bars are adjustable at 145°, meaning you can flexibly work at a number of different angles. The cutter bar can also be folded down parallel to the shaft making the hedge trimmer safe to transport and easier to store away. Both of the petrol long-reach hedge trimmers have a magnesium gear box as well, meaning they are lightweight to use. They have a similar stroke rate too, with the HL 92 C-E operating at an rpm of 3600 and the HL 94 C-E operating at an rpm of 3615.
Cordless Long-Reach Hedge Trimmers
Perhaps you have already invested in STIHL's AK System or AP System battery ranges? If so, we now offer 4 different cordless long-reach hedge trimmer options alongside our petrol versions: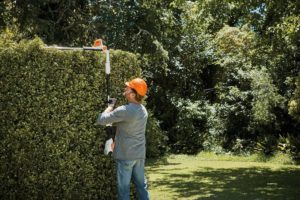 The STIHL HLA 56 is our AK System long-reach hedge trimmer. It's powered by an AK 20 lithium-ion battery which offers 100 minutes of working time, and it has a 45 cm / 18" double-sided cutting blade which is adjustable from -45° to +90°, making it perfect for cutting tall hedges and shrubs in your garden. With a respectable stroke rate of 2800 rpm and thanks to cordless technology, it's quiet, lightweight and well-balanced, which makes it perfect for homeowners looking to cut back their hedges. For more information on the HLA 56, take a look at our blog post dedicated to this machine.
The HLA 66, HLA 86 and HLA 135 long-reach hedge trimmers are all part of our AP System of battery-powered tools. These machines are fitted with a STIHL EC brushless electric motor, which are energy efficient and practically maintenance free. The motor electronically monitors the load and adjusts the engine accordingly during use. This is what allows the AP System long-reach hedge trimmers to have a much more powerful performance when compared to the AK System, which is crucial for professional users using a cordless long-reach hedge trimmer. Plus, all of the AP System long-reach hedge trimmers can be used in the rain for greater versatility.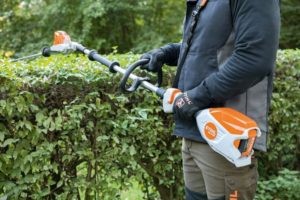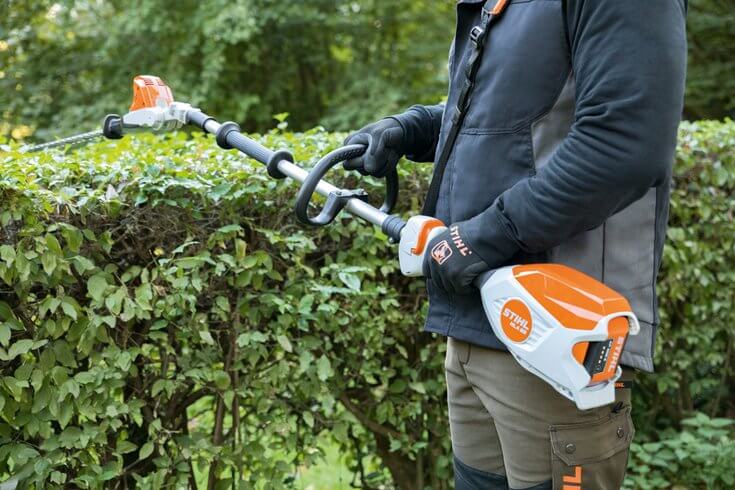 The STIHL HLA 66 is the first of three long-reach hedge trimmers in the AP System. This cordless hedge trimmer is ideal for pruning hedges and shrubs, as well as plants close to the ground. It offers a more powerful cut when compared to the HLA 56 whilst still retaining the same lightweight, well-balanced properties.
The STIHL HLA 86 is the second long-reach hedge trimmer in the AP System. What makes this machine even more useful is the fact that it has a telescopic shaft, adjustable from 260 to 330 cm. This range is what makes the telescopic hedge trimmer the optimum choice for professionals needing to prune extremely tall hedges. The length of the shaft can be easily adjusted without the need for tools.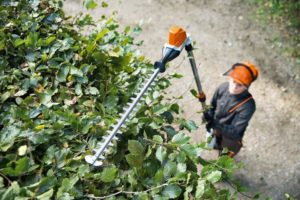 Both the HLA 66 and HLA 86 have a 50 cm / 20" double-sided cutting blade, which is adjustable by 115°, and a high stroke rate of 3000 rpm. You can also achieve 144 minutes of working time with both of these long-reach hedge trimmers by using an AP 200 lithium-ion battery, which means you can work for long periods without needing to recharge the battery.
The STIHL HLA 135 is our latest long-reach hedge trimmer in the AP System. Available from spring 2021 and designed with professional users in mind, this machine is STIHL's most powerful cordless long-reach hedge trimmer to date. It offers the most powerful cut amongst cordless hedge trimmers, making it perfect for cutting shrubs, bushes and plants, as well as trimming and pruning thick hedges at all angles. This is thanks to a 60 cm / 24", 145° adjustable double-sided cutting blade, which can also be folded down parallel to the shaft for storage and transport. It's been fitted with a magnesium gearbox, which helps the machine maintain a light weight too. Plus, this machine has a stroke rate of 4000 rpm, which is the highest of all of STIHL's long-reach hedge trimmers.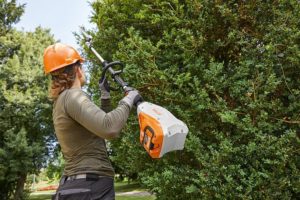 The HLA 135 has been built with an ergonomic control handle to allow for the speed of the cutting blade to be adjusted in three stages so you can adapt it depending on what you are cutting. The speed control has a built-in LED display to show you which level you are on as well. Another feature of the HLA 135 is the metal mesh air filter underneath the battery slot, which helps to give it a long service life and allows the engine to cool when not in use. We recommend using the AP 200 with the HLA 135, which provides 64 minutes of working time and the best balance during use.
Electric Long-Reach Hedge Trimmer
Did you know that STIHL also manufactures corded electric tools? One of the benefits of an electric tool is that it provides an uninterrupted supply of power for constant work. All you need is access to a power supply and you can begin trimming your hedges in your garden. The HLE 71 has a 50 cm / 20" double-sided cutting blade which is adjustable by 125° so you can cut at multiple angles. This electric long-reach hedge trimmer is fitted with a 10 m cable meaning you can work at a distance from your power supply. The HLE 71 has an extremely high stroke rate as well – its 4000 rpm, which rivals that of the HLA 135!
STIHL RTS Harness
For prolonged use of STIHL's long-reach hedge trimmers, you may want to consider the RTS harness. This accessory has been designed to spread the weight of the machine across your shoulders and hips to effectively make it weightless in your arms. This way, you can focus on the movement of the hedge trimmer whilst trimming to get a better cut and work effortlessly. The STIHL RTS harness can be used with the HL 92 C-E, HL 94 C-E, HLA 66, HLA 86, HLA 135 and HLE 71. It cannot be used with the HL 94 KC-E or the HLA 56.
Tackle Those Tall Hedges!
So now that you have a better idea of the long-reach hedge trimmers available at STIHL, what are you waiting for? Time to tackle those tall hedges with petrol, cordless or electric power! Remember, if you have any questions about long-reach hedge trimmers you can leave a comment below or speak with your local STIHL approved dealer.