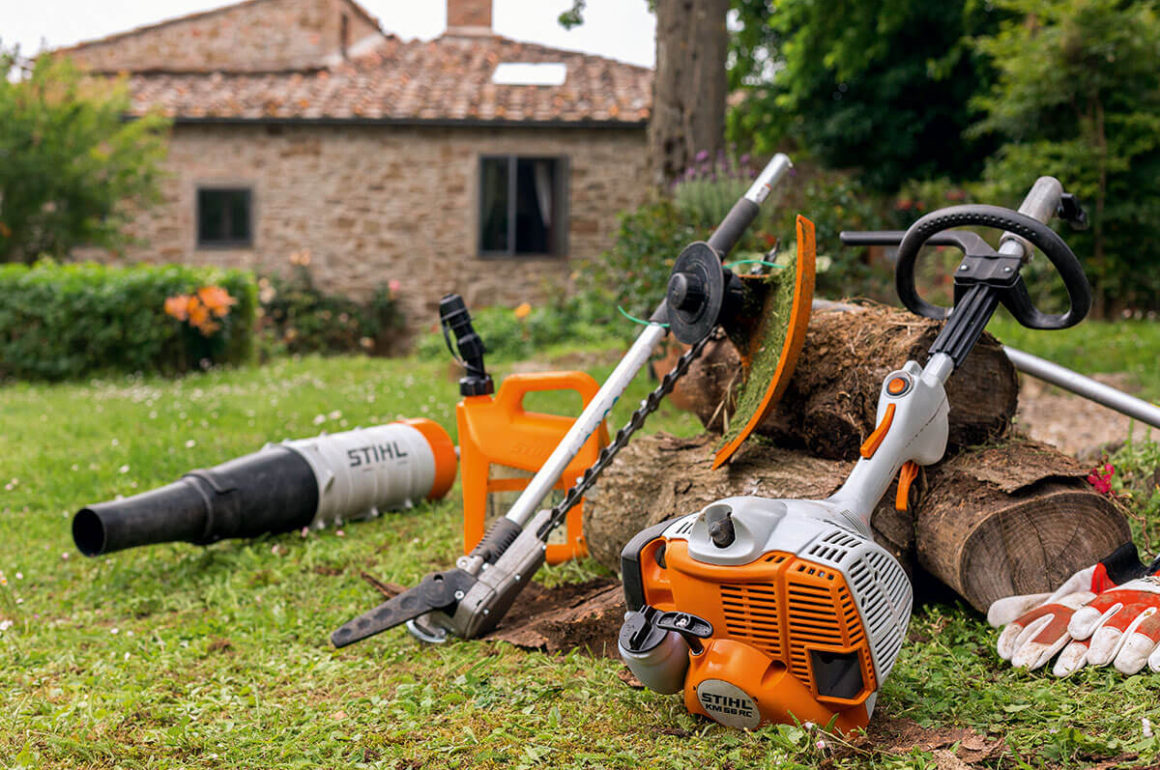 Whether you need to do some hedge trimming, grass trimming or clearing up, the STIHL KombiSystem is a great option for your garden or allotment. It's designed so that you can pick and mix between six different engines and 13 different kombi tool attachments to get the combination that works perfectly for you.
But where should you start? Firstly, you need to pick the right engine unit, and you'll need to consider how often you are going to be using it and what sort of area you need to cover. There are two options that are ideal for use in your own garden.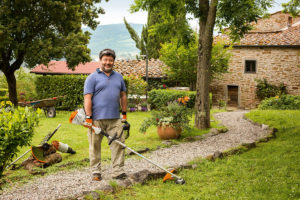 The entry-level option is the KM 56 RC-E – this is a great choice if you have a medium-sized garden. It's lightweight and easy to start as it features STIHL ErgoStart technology which reduces the effort needed to start the tool by half. It also has a STIHL 2-MIX engine, which is efficient and gives off less harmful emissions compared to a standard 2-stroke petrol engine. 
For larger gardens, the KM 94 RC-E is the best choice. This engine also features ErgoStart and our 2-MIX technology, plus it has an ECOSPEED power control too so you can easily control the speed of the engine from the button on the handle.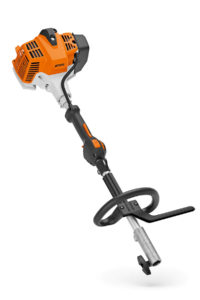 Both of these engines also come with a basic harness included as standard to help support the machine when carrying out some of the trickier tasks, such as trimming tall hedges.
The other KombiEngines in the range (the KM 111 R, the KM 131, the KM 131 R and the KMA 130 R) are all designed for professional use, by landscapers and users who are using tools throughout the day.
STIHL KombiSystem attachments
The attachments can be fitted to most of the engines in the range though. So, if you are using these in your garden, you can be certain they will be up to the task, and you'll get the benefits of our premium, professional-standard tools for a perfect finish.
But what attachments should you choose? Well, this is the best part – you can choose exactly what you need depending on what jobs you need to do in your garden.
Trimming grass and weeds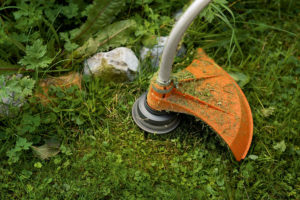 If you need to trim grass, weeds or scrub, then you'll need to consider one of the brushcutter attachments.
We've listed these below for an at-a-glance guide to these tools.
| | |
| --- | --- |
| FSB-KM brushcutter | This brushcutter attachment uses an AutoCut C 6-2 mowing head with nylon line, and has a curved shaft. The curved shaft gives you more control for precise trimming along lawn edges or trimming in restricted spaces. |
| FS-KM brushcutter | This tool uses an AutoCut C 26-2 mowing head with nylon line, and should be used for clearing grass or weeds along walls or fences, under hedges or along paths. |
| MB-KM brushcutter | This attachment features a grass-cutting blade, which is made of steel and is for mowing tough, dry grass or reeds. |
Cleaning up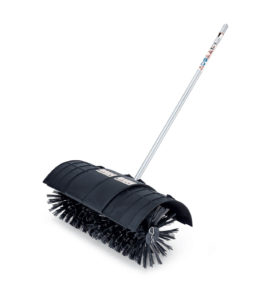 If you plan to use your KombiSystem for cleaning up in the garden or allotment, then there are two options for you. The KB-KM bristle brush makes cleaning dirt from paved areas, such as paths or driveways an absolute breeze. It has stiff bristles, and a backwards rotating brush with a guard to stop dirt and debris flicking all over you as you work.
For those of you where clearing leaves is the priority, the BG-KM blower attachment should be top of your list. This turns your KombiEngine into a blower that easily clears leaves and grass clippings. You can also get a curved flat nozzle accessory to fix to this attachment, which makes it much easier to clear wet, compacted leaves.
Hedge trimming and pruning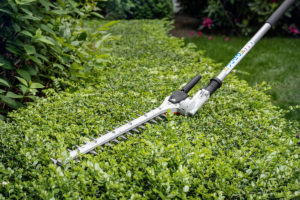 If you have hedges, tall shrubs or trees in your garden, then you have plenty of options to choose from here too.
| | |
| --- | --- |
| HL-KM 0º hedge trimmer | This long-reach hedge trimmer attachment has a fixed angle head that makes it ideal for regular maintenance of tall or wide hedges. |
| HL-KM 145º hedge trimmer | For a more flexible (literally!) option, this hedge trimmer attachment can be adjusted in increments up to 145º without using tools. This makes it easy to trim across the top of tall hedges, or even close to the ground. |
| HT-KM pole pruner | For pruning thicker branches, this long-reach pole pruner can cut through high branches in seconds. It has a 30cm guide bar with a ¼"P Picco Micro 3 saw chain for precise cutting. |
What else can you do with a KombiSystem?
These aren't the only jobs you can do with your KombiEngine though. There are two other attachments that could prove useful, particularly if you have an allotment to maintain.
The BF-KM pick tine is designed for cultivating and aerating soil, so it's great for digging over vegetable beds. In fact, STIHL guest bloggers the Two Thirsty Gardeners, use it to make light work of preparing their allotment for winter.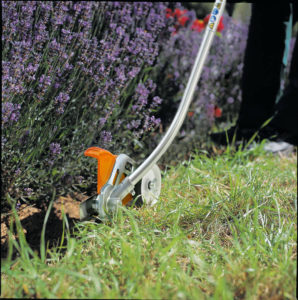 The other Kombi tool which can help you get gardening jobs done quickly is the FCB-KM edge trimmer, a curved shaft edging tool that makes it simple to edge along paths, driveways or flower beds. It has an adjustable depth control wheel and a built-in blade which gives you a handy sight line to make it easy to get the neatest edges in no time!
Whatever jobs you need to get done in your garden or allotment, the STIHL KombiSystem has you covered.
What jobs do you think the KombiSystem could help you with? Let us know in the comments!