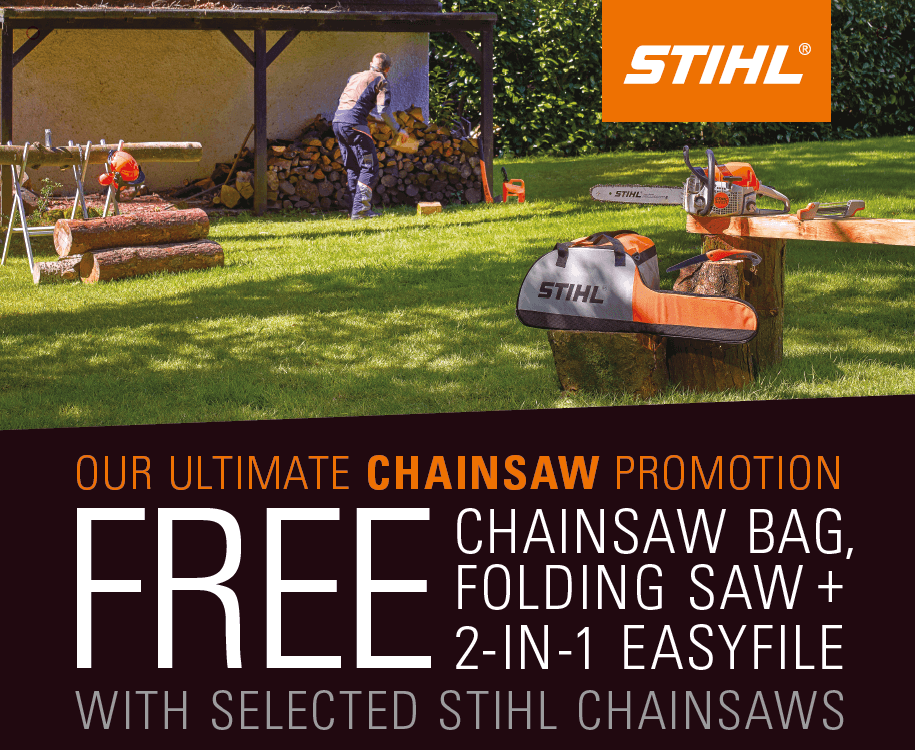 Our Ultimate Chainsaw Promotion is now live instore at STIHL Approved Dealers and gives you over £95 worth of free accessories with the purchase of selected STIHL chainsaws.
The models included in the promotion are perfect for cutting firewood and maintaining gardens and grounds, and you can choose from 2 offers depending on which chainsaw you are looking for. The offer includes both petrol and battery-powered chainsaws, so there is something for everyone and the lowest priced saw in the promotion is available for only £185 RRP.
Buy an MS 170, an MS 171, an MS 180, an MS 181, an MS 181 C-BE, an MSA 160 C-BQ or an MSA 200 and get a free chainsaw bag to keep your saw clean and protect it from dust and dirt during storage.
If you are looking for something a bit more powerful, buy an MS211, an MS 211 C-BE, an MS 231, an MS 231 C-BE, an MS 251 or an MS 251 C-BE and get the free bag, plus a PR 16 Handycut folding sawand a 2in1 EasyFile.
The PR 16 Handycut saw, worth £23.50 RRP, has a folding 16cm Japanese saw blade made of chrome plated steel and is ideal for pruning small branches around the garden.
The 2in1 EasyFile is a great accessory for any chainsaw owner, which works by sharpening both the cutting tooth and the depth gauge in a single action, significantly reducing chain maintenance time and giving highly accurate results.
Interested in our Ultimate Chainsaw Promotion? Visit your nearest dealer this autumn for expert advice and to take advantage of the offer.