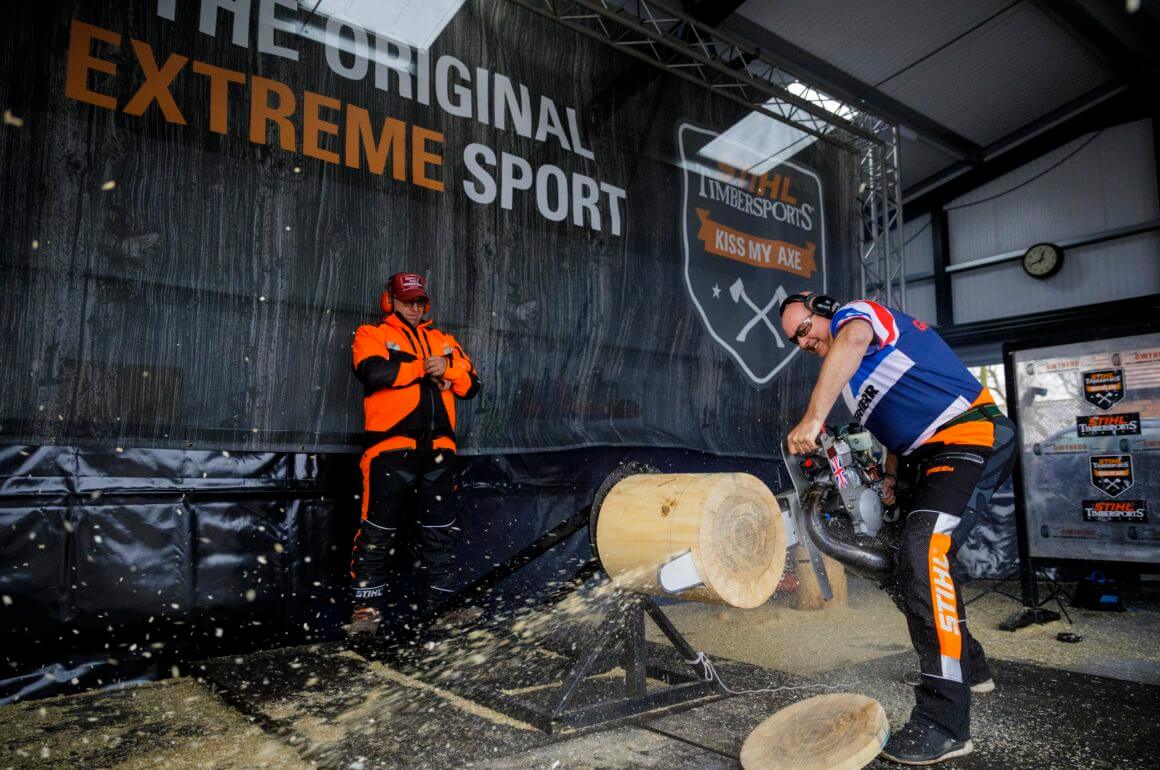 In case you haven't heard (where have you been?!!), the TIMBERSPORTS® World Championship is coming to Great Britain for the first time in October 2018 and you can win your way there with our great competition! This rapidly-growing sport is based on a series of disciplines using axes and saws where the aim of the game is to chop and saw through huge logs in the quickest times.
Perhaps the most impressive event of the Series is the Hot Saw, where competitors wield a highly-tuned chainsaw, with a chain speed of 240 km/h, to saw three discs or 'cookies' from a 46cm poplar log. The World Record time for the Hot Saw is an eye-watering 5.20 seconds – no wonder TIMBERSPORTS®is called the original extreme sport!!
What happens at a TIMBERSPORTS® World Championship?
And you can see this event on British shores this year when the TIMBERSPORTS® World Championship comes to the Echo Arena Liverpool in October. The Team World Championship takes place on Friday 19 October, where the Chopperoos from Australia will be keen to regain the World Championship this year, after they lost out to Poland in a tense semi-final last year. Australia had won the previous three World Championships in a row so losing their crown to eventual winners, New Zealand, in 2017 was a bitter blow.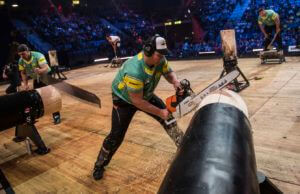 The Team Championship is a real test of timing – teams consist of four athletes who complete one discipline each in a relay. The Australians only lost out on a place in the 2017 final after one of their team started his discipline before the last blow of the axe in the previous discipline. This resulted in a 15-second time penalty for the Australians, allowing their Polish opponents to snatch victory from the jaws of defeat.
The British Team for the World Championship will be selected depending on their performances at the 2018 British Championship, which will take place on Saturday 4 August at BBC Countryfile Live at Blenheim Palace, Oxfordshire, so the competitors will be going all out for the chance to be selected to represent their country in Liverpool.
Also up for grabs, depending on their performance in August, will be the opportunity to be selected as the British representative in the Individual World Championship, which will take place on Saturday 20 October. The Individual Championship lets the competitors show off their strength, when they take on all six TIMBERSPORTS® disciplinesin separate rounds. Athletes earn points depending on their time in each discipline and the overall winner is the athlete with the most points after all six events, similar to the cumulative points tally used in a heptathlon or decathlon.
How can you show your support?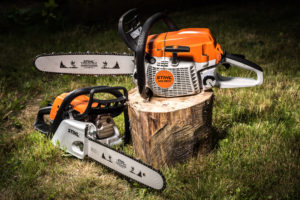 To celebrate the best of the best TIMBERSPORTS® athletes coming to town, we have some great limited edition merchandise available to buy from your local STIHL dealer, including a T-shirt, hoodie and cap. And for those who want to add to your tool collection, we will also have an exclusive souvenir Liverpool guide bar available as standard with selected STIHL chainsaws from July 2018, whilst stocks last.
A 14 inch limited edition guide bar will be available with the purchase of any MS 180, MS 181, MS 181 C-BE, MS 211, MS 211 C-BE, MS 231 or MS 231 C-BE. A 16 inch limited edition guide bar will be sold with the MS 261 C-M.
Once you are kitted up, why not join us at the World Championship to cheer on Team GB? Adult tickets start from just £22.25 for one night, or £38.50 for both nights. Find out more and get your tickets here.
And in the meantime, if you want to check out more of the original extreme sport, you can see the highlights from the 2018 British TIMBERSPORTS® Championship here.