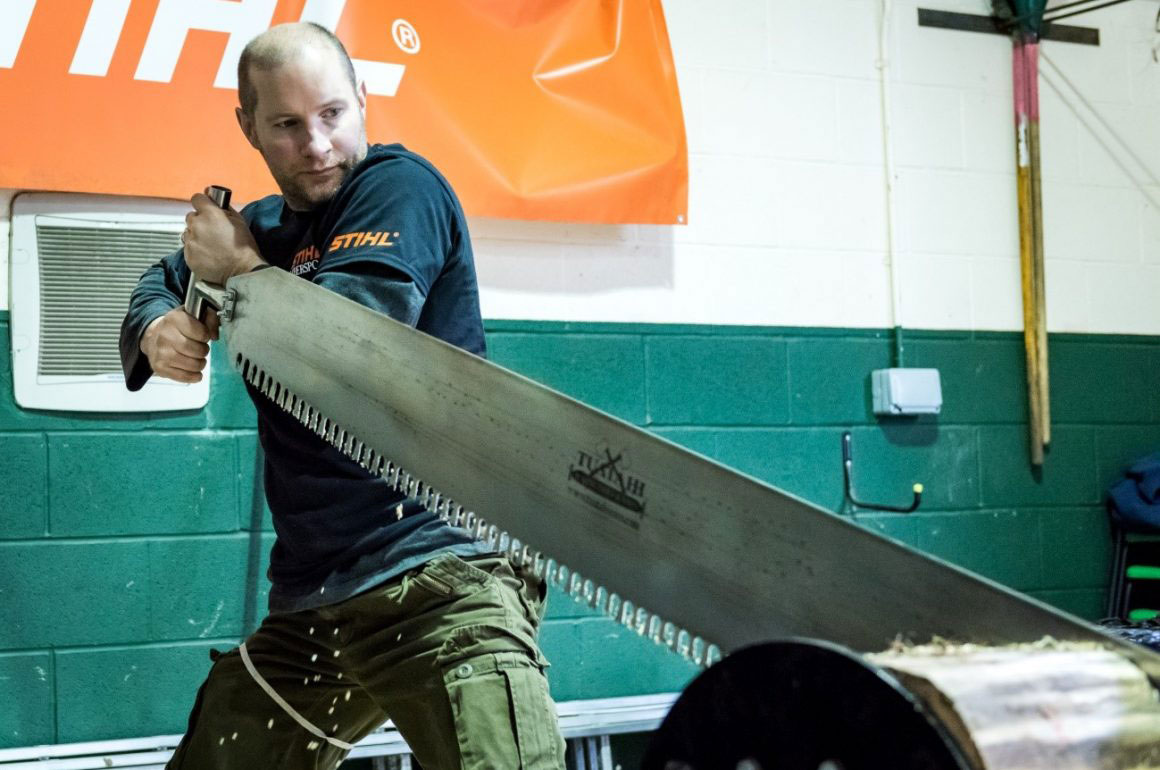 Until a few years ago I'd n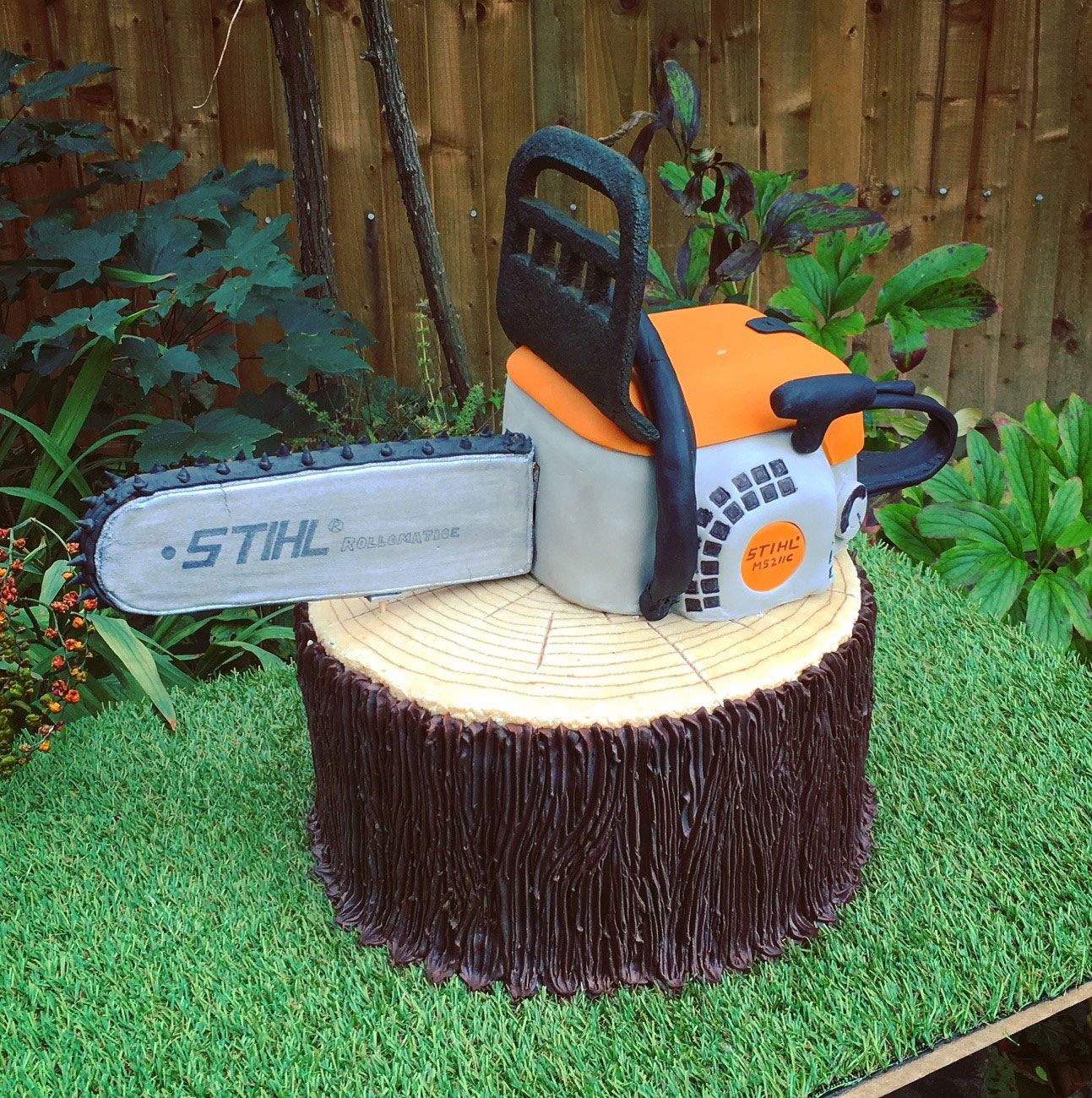 ever heard the term "TIMBERSPORTS®". I had a vague notion of beards and sawdust, and maybe chainsaw carving?! That changed when we saw an exhibition of Timbersport-ery at the Countryfile Live show last year. As a builder, I am familiar with chainsaws and axes and I'm a loyal STIHL customer to boot. Since being on the Great British Bake Off I've been lucky enough to work with STIHL on some promotional bakes and videos. When they invited me to come along to one of their TIMBERSPORTS® Taster Weekends I jumped at the chance. After a little bit of YouTube-ing research, I began to get an idea of what I was in for. Although TIMBERSPORTS® is relatively new in Britain, it is MASSIVE across the rest of the world, with huge televised competitions, big prizes and its own raft of highly skilled professional athletes. And I was going to try to be one!
The day started with a certain amount of trepidation. I'd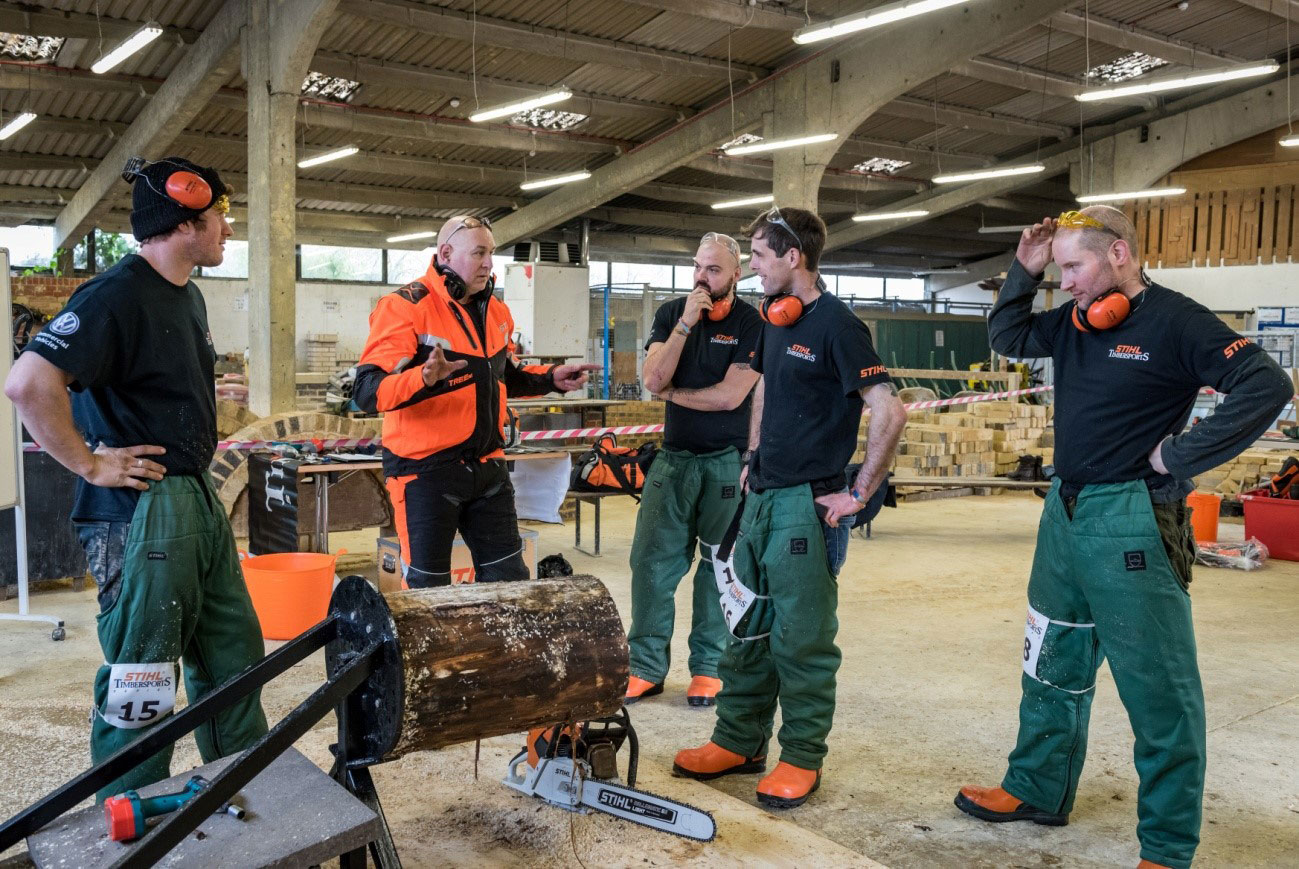 grown what seemed an appropriate length of stubble, had a hearty breakfast and driven out to an agricultural college in Surrey. Of the other lucky hopefuls wandering in, some looked nervous and excited, some cool and confident. Some younger folk looked ready to chop. We filled-in our forms, which ominously referred to us as 'athletes', and started sizing each other up. The first few fellas I met were a Physics Teacher, a Rugby Analyst and a Personal Trainer. Not one had so much as picked up a chainsaw before (although one had a magnificent beard). I was feeling pretty confident until we all looked across the room to… the Tree Surgeons! They were easy to spot; proper high vis trousers held up with well-used braces. They were obviously going to be good.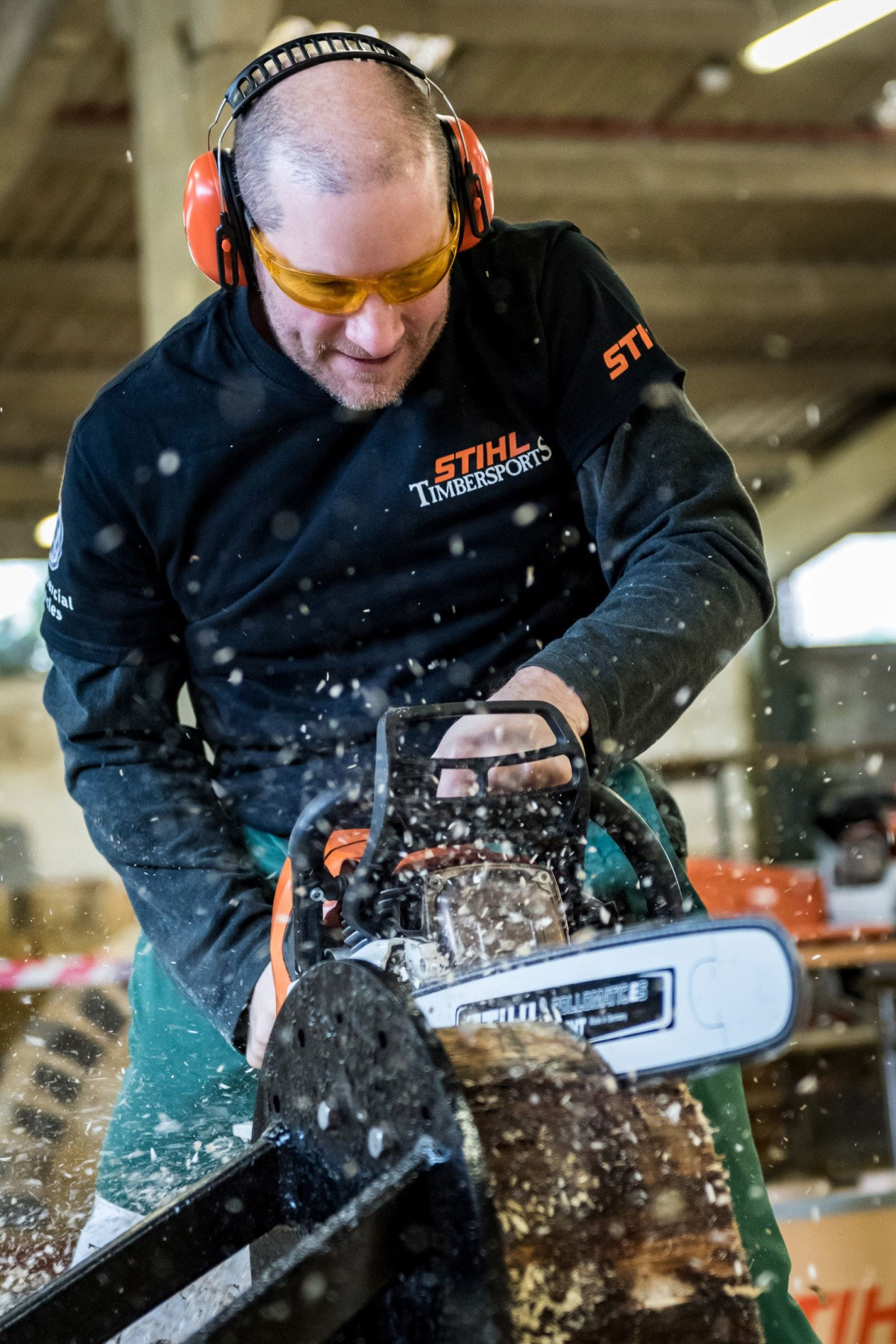 We were divided into groups and I was placed with three other guys: the Personal Trainer I'd met earlier, an enormous Fireman and a wirey Farmer. Quite a good squad I reckon. We filed-out to our first discipline, the 'Stock Saw'. A massive log (about 40cm wide) was bolted to a frame with a chainsaw lying in front of it. The idea was to cut two "cookies" of wood off the log – the first by cutting downwards with the chainsaw and the other by cutting upwards as quickly as possible, and not cutting more than 10cm of the log off in total. Our instructor was Andrew "Taff" Evans; a big former Royal Marine Commando, ex-rugby player turned TIMBERSPORTS® Pro. He drilled us in the intricacies of using the chainsaw, foot placement, hand placement, posture, listening to the sound of the engine, and quite a few more. We visualised our cuts and practiced dropping down onto our chainsaws, picking them up, dropping onto them again.
When we were allowed to have a go it was just brilliant! The saws cut surprisingly fast for what seemed like such a huge piece of wood. Most of our cuts were straight enough to count as competition standard and we even got a couple of respectable times under our belts. Given the baking-heavy demographics of most of my social media followers, when I posted a video online all the comments were about how the wooden blocks would make excellent cake boards, and so I did pinch nine of them for this purpose to bring home at the end of the day!
Two slugs of coffee and a bacon sarnie later and we were summoned by the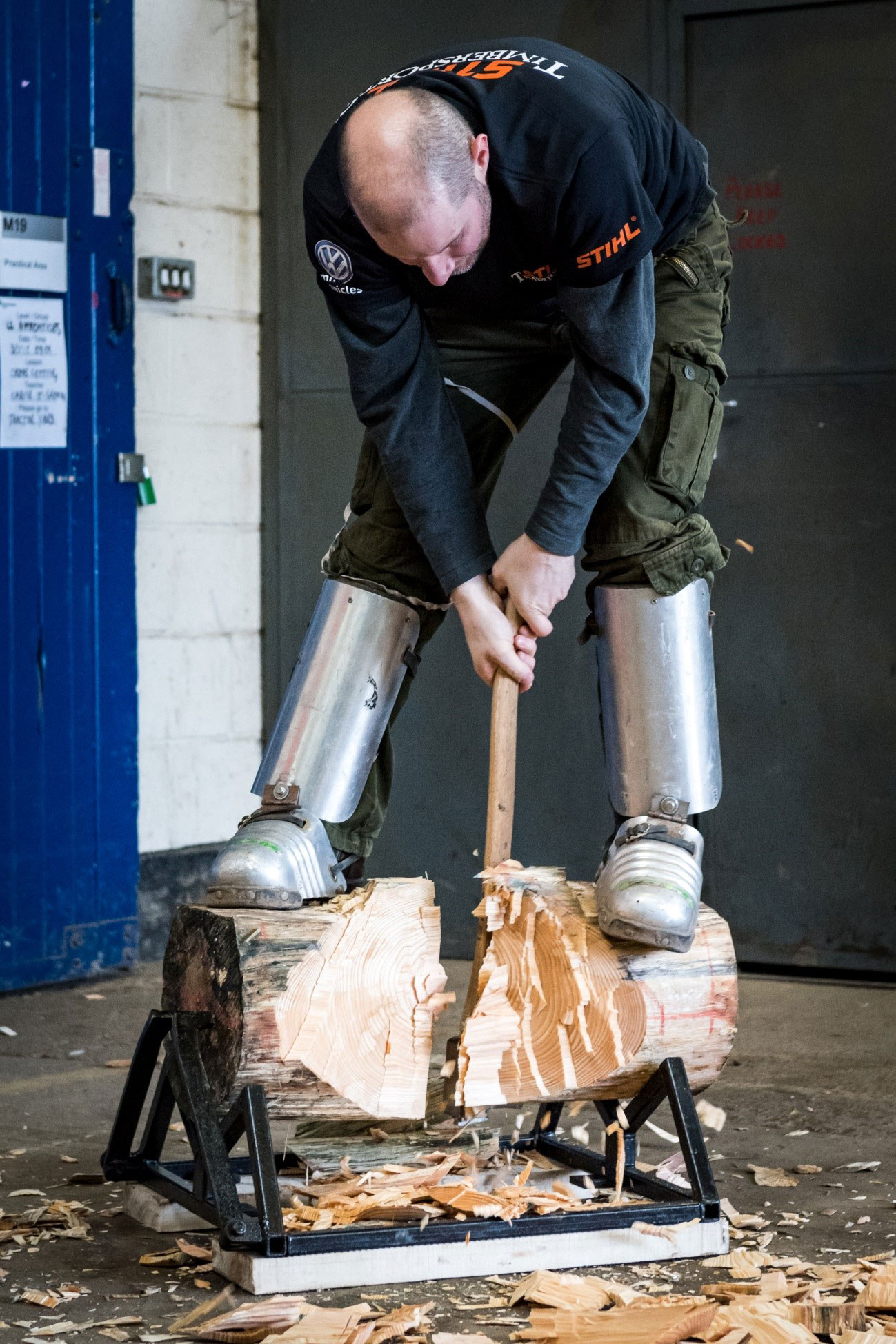 mighty Spike for the 'Underhand Chop'. Spike was a formidable character; stern, skilful and with a massive box full of axes. Our challenge here was to chop through a 32cm wide log with a racing axe, while we were standing on it. If there was ever a sport that tested the full gamut of a person's skills this was the one. We were kitted out with metal shoes and shin guards (that looked suspiciously similar to Cyberman armour from Doctor Who), a tape measure and a blue crayon. It turns out that you can be a left or right handed axeman, and this will affect the angle of chop you make in your wood, while you're standing on it of course! We used this information to draw a fairly accurate target on our logs to cut into. Once again we were taught the intricacies of the discipline – how to hold the axe, where to swing from, what order the cuts had to be to get the best results, and most importantly where to put our feet. Swinging a massive axe as hard as you can a hairsbreadth away from your toes can certainly hone your focus, and in this case that was just as well. We began to chop. It was difficult, and tiring, but very rewarding. This challenge required concentration, accuracy and strength. We chopped through our logs, high fives were performed, we strode off feeling manly.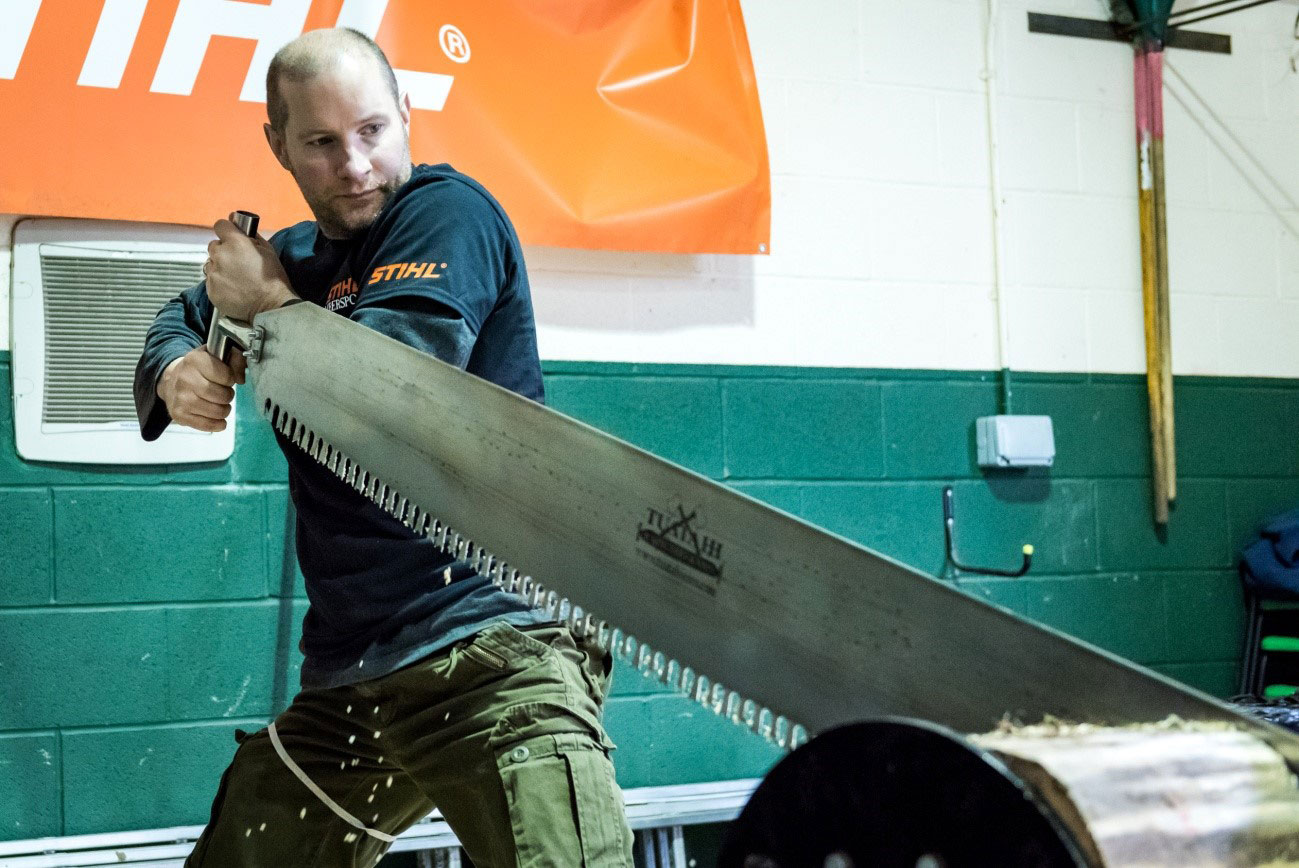 After a titanic lunch we returned to the college for the final discipline of the day – the 'Single Buck' with Rob. Rob was a big, lean, Welsh builder with a passion for very long saws. The Single Buck is a simple task – all you have to do is cut a 'cookie' off a 48cm log with a single man cross cut saw that's over 2 metres long – easy! Once again, there were many details to get right before we started sawing, not least the angle of the saw as you were ripping it backwards and forwards across the wood. This was the most knackering of the three disciplines we attempted on the day, and certainly a good indicator as to why STIHL felt the need to invent chainsaws in the first place. Sawing away at full pelt, while trying to stay technically accurate (while trying not to have a heart attack) was brilliant fun and certainly the most rewarding of the three on the day.
While I reckon the TIMBERSPORTS® team may manage to survive without me, I can say that it was an absolute blast! And I can always daydream about getting that call: "Rich, we're a man down, we need you to come back for one last chop!" I definitely think it gave the STIHL team the chance to identify some real TIMBERSPORTS® future stars and as you can see in the picture above, it wasn't all fellas either. To find out more about this awesome sport, there's more information on the STIHL website here. From the moment we started to the final, warm goodbyes, I had the best day with my grubby and sawdust-covered gang. At times like this where so many of us get fit by plodding away in identikit gyms, plugged into our phones and ignoring the outside world, I spent a day playing with chainsaws, cross-cut saws and racing axes and if I ever get the chance to go again I'm gonna be front and centre, maybe with a longer beard this time though…