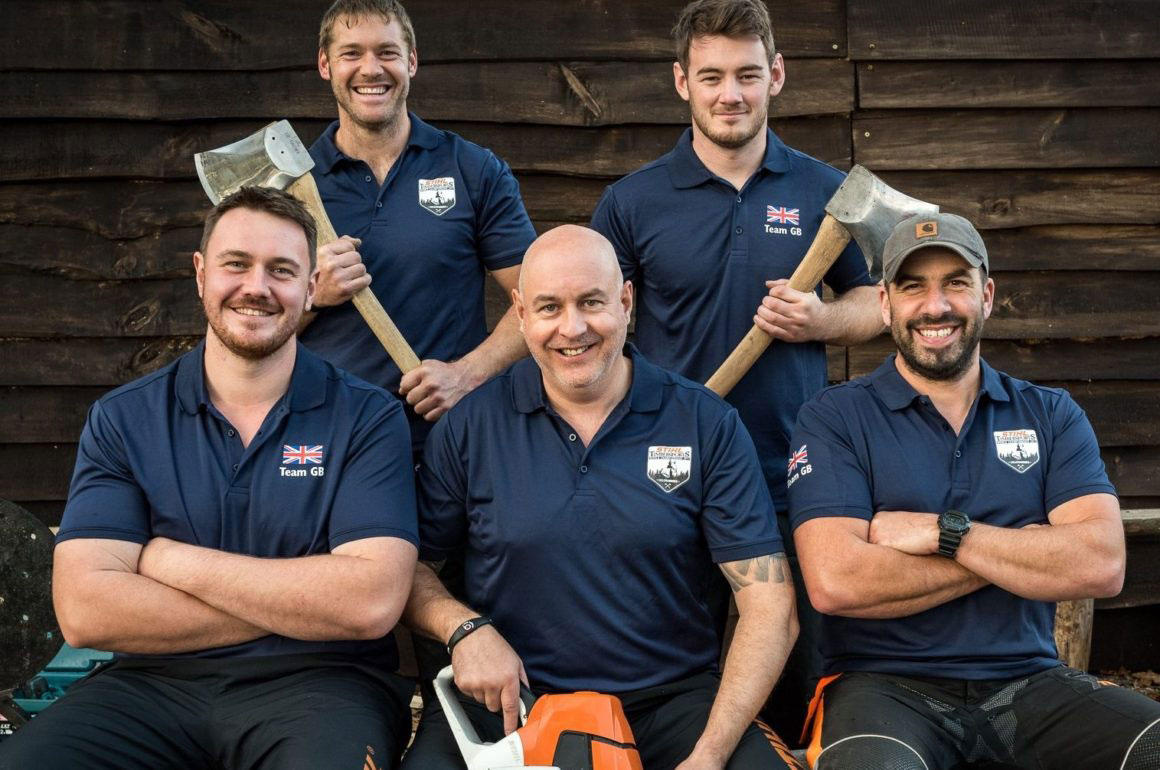 Team GB are ready to do it their way in Norway this weekend when they take on 22 other international logger sports teams at the STIHL TIMBERSPORTS® World Championship in Lillehammer, Norway.
With an average age of 36, the team is made up of Andrew Evans, Chris Pratt, Glen Penlington, Simon Bond and the current British champion Elgan Pugh. Elgan secured his third British title in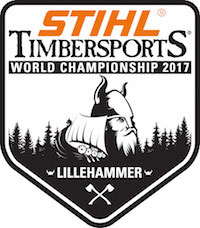 August at BBC Countryfile Live. Elgan will also take part in the qualifying round of the Individual World Championship. He will be aiming to secure enough points to represent Great Britain in the final on 4 November.
For the team event on 3 November, four members of the team will each complete one of four disciplines in a relay. Speed is of the essence here, as the team will be competing against another international team at the same time – the fastest team progresses through to the next round, whilst the losers are knocked out of the competition all together.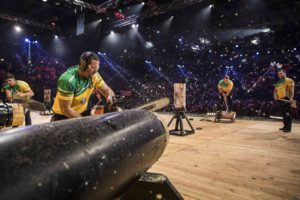 The Australian team (who are also known as the Chopperoos!) have won the team event for three years in a row. Logger sports have their origins in 19th century Australia, when lumberjacks would compete outside of work in events that mirrored the techniques they used to fell and chop up trees so you could say it's in their blood! They even set a new world record last year completing all four disciplines in just 46.45 seconds.
Whilst the British team know they have their work cut out competing with Australia, they would love to keep improving on their own performance. In 2016, they set a new national record and came seventh overall – not bad for a country that only had their first official national championship five years ago!
In Great Britain, there is a growing TIMBERSPORTS® following, particularly in Wales. Four of the five-man team hail from Wales where there are also a number of axe clubs. Elgan, Glen, Andrew and Simon are all members of an axe club, where like-minded people train together and share equipment. Newcomers interested in taking part in the sport should look for axe clubs in their area to gain valuable experience and advice.
Team captain Andrew Evans will be sharing his own advice with the British Team whilst they are in Norway. Andrew is a TIMBERSPORTS® veteran and trainer so will be a great support to the team. With all-round experience, he will also act as a reserve during the team competition in case anyone is injured.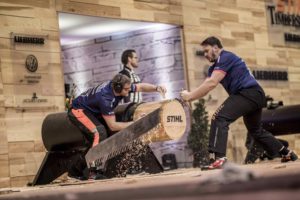 The other members of the team will compete in their strongest discipline as part of the event. Chris is a master of the Stock Saw, being an arborist by trade, so he will take that leg of the relay. Simon holds the British national record in the Single Buck so he is the obvious choice for that leg. Elgan and Glen are both strong in the chopping events – focussed training in the last three months has helped the team decide how these should be split. Elgan will take the Underhand Chop, whilst Glen will compete in the Standing Block Chop leg of the race.
If you want to catch all of the excitement of the World Championship, you can watch the action via a Livestream directly from Lillehammer. Starting at 6pm (GMT) on Friday (Team competition) and Saturday (Individual competition), the Livestream will be available on the STIHL TIMBERSPORTS® website, or on Facebook or YouTube.
If you are interested in taking part in TIMBERSPORTS®, STIHL also have a limited number of places available at a newcomers training camps each year. Contact timbersports@stihl.co.uk for further information.